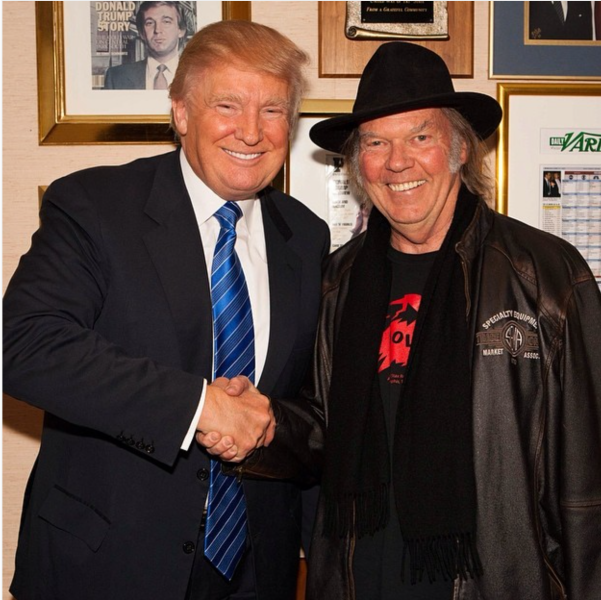 You know how Neil Young and Donald Trump both get that really squinty-eyed expression sometimes? Yeah, that's about all they have in common. Neil Young made that much clear yesterday when he blasted Donald Trump [Disclosure: Trump is the father-in-law of Observer publisher Jared Kushner] for using his song, "Rockin' In The Free World," during his presidential candidacy announcement, with Mr. Young claiming that the real estate and television mogul was not authorized to play the tune.
Of course, this isn't the first time campaigns and musicians have clashed. Below are some of the best conflicts between politicians and the musicians that really, really don't want them to use their music:
– Former President Ronald Reagan had what I'd like to call "selective hearing" during his 1984 run for re-election. Reagan often quoted the Bruce Springsteen mega-hit "Born in the U.S.A." during speeches and support rallies; however, he tactfully left out the part about mistreated Vietnam veterans and the overall horrified nature of the song. But Reagan won the election in a landslide so, thanks Springsteen!
– Newt Gingrich was sued for his use of "Eye of the Tiger" by Survivor during his bid for presidency in 2012. In typical politician fashion, Gingrich fought back, but tragically, the struggle was for naught—Gingrich didn't end up getting the Republican nomination, and his campaign was cut short.
[youtube https://www.youtube.com/watch?v=nz1QHaf75DU&w=560&h=315]
– Mitt Romney really just can't catch a break. During his campaign for presidency in 2012, Somalian-Canadian rapper K'naan banned the Massachusetts governor from using his anthem "Wavin' Flag." Silversun Pickups also denied Romney the right to use their song "Panic Switch" [Ed: Romney might've been better off without using that one…] and Twisted Sister's Dee Snider was less than pleased by the campaign's use of "We're Not Gonna Take It." Oh, and then he lost the election. 2012 was a rough year for Mr. Romney.
– But wait, a win for Romney! Cyndi Lauper spoke out against an attack ad against the presidential candidate that used her song "True Colors."
– 2008 brought hope to some. For Jon Bon Jovi, the Foo Fighters and Van Halen, it brought irritation. All three bands slammed presidential candidate John McCain for using their music during his campaigns.
– I know, I know, this list looks a little skewed against Republicans. But musicians have also lashed out against Democrats. Sam Moore sent then-presidential candidate Barack Obama a cease and desist letter in 2008 after he used the song "Hold On! I'm Coming" at some of his support rallies.
– Most recently, Axwell and Ingrosso asked presidential hopeful Marco Rubio to stop playing their song "Something New."
– This may not have been the most high profile, but it was undoubtedly the most hurtful. When Wisconsin Gov. Scott Walker used Dropkick Murphys' "I'm Shipping Up to Boston" before one of his speeches, the band tweeted at the politician to stop using the song, adding "we literally hate you !!!" Nasty, yes, but unquestionably effective.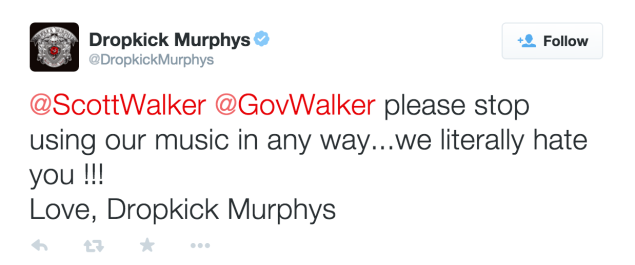 – Bonus round! Paul Ryan, Mitt Romney's 2012 running mate, never actually used a Rage Against the Machine song during campaigning, but the band's guitarist did refer to Ryan as "the machine" their rage is directed at, which is an accomplishment in and of itself.