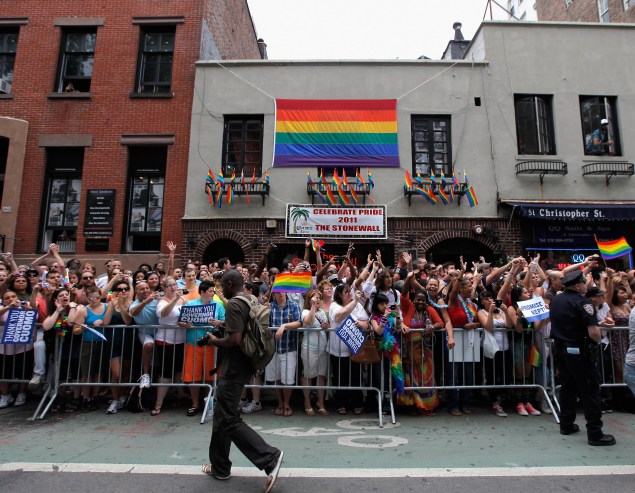 New York Democrats celebrated this morning after the Supreme Court ruled that the Constitution guarantees a nationwide right to same-sex marriage.
The narrow 5-4 decision came as an increasing number of Americans and elected officials say they support same-sex marriage, a stunning turnaround from just a few years ago.
At City Hall, officials hung five rainbow gay pride flags on the front of City Hall, where Mayor Bill de Blasio will officiate two marriages later today as part of a "pop up party" to celebrate the ruling, his office said. In a statement, the mayor said the day will "forever be memorialized as a pivotal moment in the history of our nation."
"Our country will finally afford millions of Americans the rights they have always deserved, but until now were unable to exercise. Today, this country is richer—filled with more equality, more acceptance, and more love than yesterday," Mr. de Blasio said. "And for the people of this city, where the movement for LGBT rights began in 1969 at the Stonewall Inn, we can be proud that we helped blaze the trail to this great victory."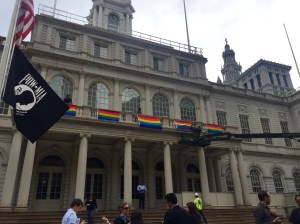 Gov. Andrew Cuomo cited the state's history as a "leader in marriage equality."
"When we passed the Marriage Equality Act in 2011, New York sent a message to the nation that it was time to end one of society's greatest inequities, and I am thrilled to see the Court join us on the right side of history," Mr. Cuomo said. "Dividing people into first and second-class citizens is not only wrong, it runs contrary to who we are as a nation. From Stonewall to Edie Windsor, New Yorkers have always been on the front lines of the fight to ensure equality and fairness for all. Today, we are proud New Yorkers and proud Americans. Today, progress marches on."
"This is an intensely meaningful, historic and affirming day in our nation's history," said Council Speaker Melissa Mark-Viverito. "This decision is a cause for celebration, but it also a cause for reflection. This has been an extended struggle going back decades."
"For a long and unfortunate time," she added, "millions of LGBTQ couples were denied the right to marry. In countless election cycles they were demonized, degraded and used as political pawns in electoral games.  But through it all, activists and allies persevered knowing that the cause of marriage equality is not only a moral and human right – it is also a constitutional right."
Public Advocate Letitia James concurred. "Words cannot fully express hat today's historic Supreme Court's decision means for millions of Americans who have been wrongly denied their most basic human rights for far too long. Today is not just a victory for the LGBT community, but for our nation's founding principle that all people are created equal. We cannot control who we love any more than we can control the color of our skin."
"Far too many couples have been denied protections by their governments, rights to legally commit to one another, and basic responsibilities as spouse and parents," added Congressman Charles Rangel, the dean of the city's congressional delegation. "The Court's ruling today makes it loud and clear that same-sex marriage is less about redefining the institution of marriage, but more so to ensure fundamental rights and dignity that gays and lesbians across the country deserve.
Thanks to the efforts of Gov. Andrew Cuomo, New York State legalized same-sex marriage in 2011. A similar vote had failed in 2009 and Mr. Cuomo, a Democrat, had to wrangle several votes from reluctant State Senate Republicans.
Less than a decade ago, even in liberal New York, support for same-sex marriage was not automatic. New York's senior senator, Charles Schumer, came out in support of same-sex marriage only in 2009. Hillary Clinton, now a proud backer of same-sex marriage as she seeks the White House in 2016, ran for president seven years ago while openly opposing gay marriage.
Even President Barack Obama, after years of "evolving" on the issue, announced his support for same-sex marriage in 2012.
Jillian Jorgensen contributed to this story.
This story has been updated with comments from Mr. de Blasio and Mr. Cuomo.