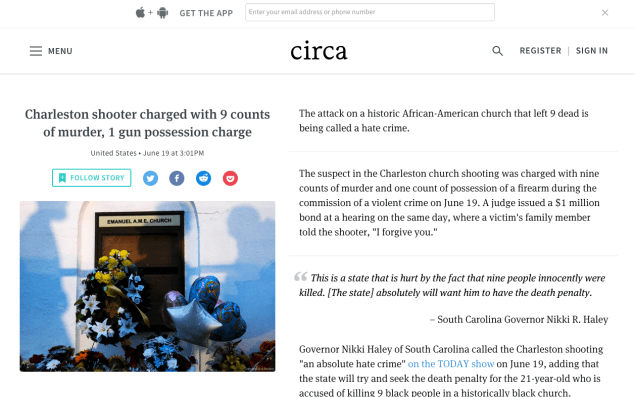 Circa, the news startup that launched in 2012 with talent poached from legacy news organizations like Reuters' Anthony De Rosa, is going on "indefinite hiatus," the site announced this morning in a Medium post written by co-founder Matt Galligan.
The reason for the shutdown? Money, or lack thereof. For the last few years Circa has relied on venture capital for its revenue stream, but the VC fund dried up and a deal with a new investor fell through.
"We have now reached a point where we're no longer able to continue news production as is," Mr. Galligan wrote.
A subscription or ad-based model would not have been enough to save the company, according to Mr. Galligan—and in any case that would have compromised the founders' vision for the site.
Circa's business model did pose some problems—it was marketed to consumers who wanted a quick summary of the news, with little fluff. The problem is that in the age of mobile, even long-established news organizations are doing the same thing—the lede of pretty much every New York Times story tells the casual consumer everything they want to know, so it's hard to build a following when you're providing a service that already exists. The app also could not be personalized for individual users—it was just a string of unrelated stories. (Twitter has the same problem, but hopefully Project Lightning will fix that).
In the final analysis, Mr. Galligan took a positive view of the Circa experience, writing that the site's (admittedly limited) success "proved that a small, scrappy team could go toe-to-toe with the news giants, if even for a modest audience."
While this is a great vision, it seems it wasn't the perfect business model. Godspeed, Circa crew—and better luck next time.