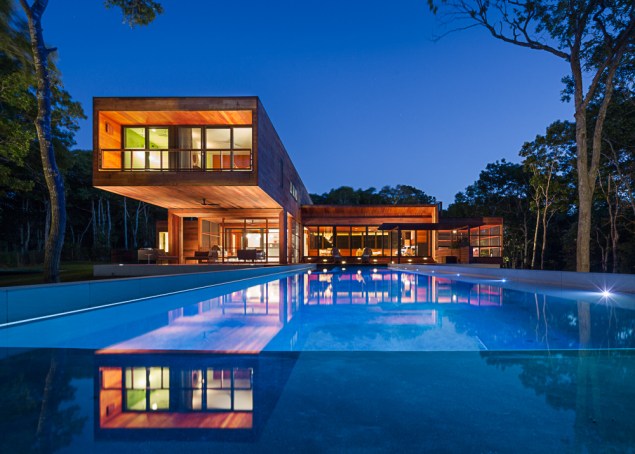 Lovely as the many gambrel-roofed Shingle-style homes of the Hamptons are, some prefer a more simplified design sensibility for their weekend getaway, in which case the modern five-bedroom at 137 Great Hill Road in Southampton should suit very well.
"There are not a lot of well-done modern homes out here," remarked Dana Trotter, the Sotheby's International Realty broker who has the listing for the Rangr Studio-designed home, built in 2013. "The owners had been renting out here for years and when they decided to purchase, after looking at all these cookie-cutter homes, they decided to buy land and do something special and different."
Alas, the family, which bestowed their 4,200-square-foot home with the moniker "Cabin in the Woods," hardly got to enjoy their efforts, having recently relocated from Manhattan to the suburbs, Ms. Trotter said, and concluded that they no longer needed a country retreat to balance out their urban existence. At least, not one with a tennis court, 80-foot-long infinity edge pool and private gym on 6.2 acres. And so, the "cabin" is courting buyers with a price tag of $5.95 million.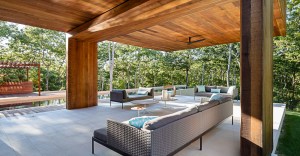 As the price suggests, a stay at the house would be a far cry from roughing it, with two terraced master bedroom suites, which mirror each other in cantilevered boxes on either side of the home. "For guests it's nice to have a proper master bedroom suite," Ms. Trotter said of the owners' decision to include two such suites rather than the standard one. The home also comes with three other normal bedrooms, 4.5 baths, and an abundance of screened-in porches, including one with a hanging fireplace—a nice spot to warm up after an evening swim.
Best of all, Ms. Trotter added, is that the home, despite its austere lines, feels very warm inside and out. "A lot of modern homes do feel cold, but this home is incredibly warm because of the use of wood," she said. "Its Spanish cedar exterior is very unusual—it's like one big cedar closet. The owners said that when they got back to New York all their clothes would smell like it."