The dinner guests began trickling, somewhat tentatively, through the doors of Soho's Chefs Club at 8 p.m. one Thursday night. Most looked a little nervous, as if perhaps they had dreamt up the minimalistic invitation that had arrived in their email inbox and in reality there was no dinner party happening tonight at all.
But three hours later, after a four-course meal in the restaurant's private room, the 15-person group that started off strangers was now abuzz with lively conversation. After all, these were outgoing 20- and 30-somethings, each flourishing in his or her own unique industry: some were tech entrepreneurs; others owned restaurants or nightclubs or their own fashion lines.
"Our motto is come interested, be interesting, and leave with new friends and connections," Will Malnati, a co-founder of The Point dinner series, told the Observer. Mr. Malnati, a partner at the tapas restaurant Toro, began organizing the events with Vanity Fair's Andrea Cuttler and United Talent Agency's Shauna Perlman in September of last year.
"We were the type of people that already got enjoyment out of connecting people and bringing people together, even if it was just a small group," Ms. Perlman said.
Now, The Point hosts one dinner party a month—though given guests' enthusiasm, the trio plans to increase it to two. Those invited hail from a variety of fields, and are a mix of the founder's own friends and recommendations from past attendees. There's no cut and dried point, if you will, to the gatherings, just a means of connecting like-minded creative types all "coming up together," as Ms. Cuttler put it, in New York.
"Hopefully a lot of them will be doing really cool things 20 years from now," she continued. "It's cool to be able to help each other out. We all need each other."
The Point is one of a growing number of social clubs aimed at connecting charismatic up-and-comers. At exclusive, borderline secretive, dinners, brunches and other events across the city, young professionals are seeking each other out. The goal could be networking, or scoring a date, or simply the pleasure of intellectual, in-the-flesh conversation.
Culinary student Stephanie Nass is the founder of Victory Club, a recurring series of lunches and dinners where guests are invited to eat exceptional food and talk about art. Members of the club range from ages 20 to 35, and pay between $50 and $100 per month (Ms. Nass is cagey about revealing the exact fee).
"I just couldn't believe something like this didn't exist," Ms. Nass told the Observer, "a platform for people to sit together and talk about culture and art and eat well on a Saturday afternoon."
Ms. Nass started by hosting dinners in her Upper West Side apartment. Guests could admire Ms. Nass' personal art collection (she owns "a bunch of David Seidners"), and eat food prepared by the host herself.
From there she began hosting larger events. She'd send invitations to a select group of friends, with instructions that they could each bring another friend of their choosing.
"People were clamoring to come," she said, recalling a luncheon at Casa Lever where a representative of the Warhol Foundation gave a talk. "Seventy people showed up. I was like, 'What the heck?' "
On a sunny Saturday in April, the Observer stopped by Michael's for a Victory Club brunch. After a talk on the restaurant's art collection by owner Michael McCarty, Ms. Nass directed the group of 30 or so guests to the back room, where each of us had been meticulously assigned to a specific table. Conversation bubbled like the bottomless glasses of Prosecco adorning our table, despite few of us having met before.
"All I want is the conversation," Ms. Nass said. "You could have the King of Saudi Arabia's budget, but if you don't have the right people, no one is going to have fun, and no one is going to fall in love."
That's right—finding love is a not-so-secret motive of many who attend these get-togethers.
"The best, best case is you meet your husband," confessed Zoe Katz, an outgoing young woman who attended the Victory Club brunch at Michael's.
"The second best case is you meet some great new friends or business contacts," she continued. "The worst case is you have to talk to some strangers for an hour at a meal and then go home."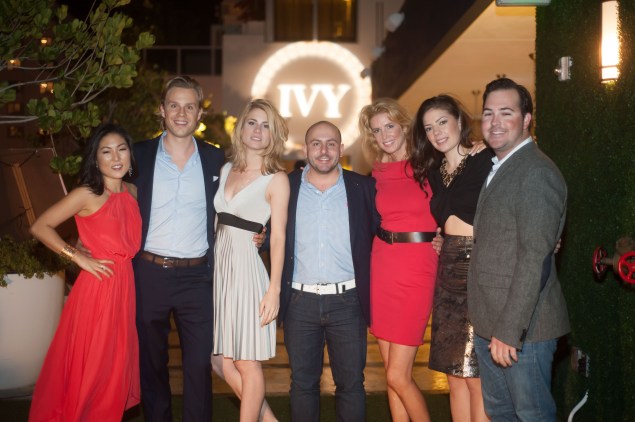 As new relationships spark in the back rooms of upscale New York venues, the idea of the social club for the young and successful is also playing out on a broader, national scale. For evidence, look no further than Ivy, the self-proclaimed "collaborative community dedicated to creating a better world."
Founded in 2013 by Harvard Business School classmates Beri Meric and Philipp Triebel, the community of young visionaries boasts close to 15,000 members and hosts events in cities across the country. There are fitness boot camps, lectures, museum tours, symphony performances. Members, who are selected through an application process, pay a $250 initiation fee, followed by $20 per week.
"We bring together entrepreneurs, artists, innovators," Mr. Meric told the Observer, "people passionately pursuing lots of different goals, but all people who care about creating a better world."
The events, Mr. Meric said, have spawned a slew of "multi-dimensional collaborations"—from friendships and romantic relationships to members employing each other, investing in each other's projects, and cofounding businesses together. He recalled the time a member was opening a retail store, and another member—an artist—created a sculpture to adorn the interior.
"We look for people who are looking to make a positive impact and are collaborative in nature," Mr. Meric said. "Somebody might be very successful on paper, but if they don't exhibit a community-minded approach, that's what we screen out for."
Indeed, with all of these social clubs, it's the quality of the guests that keeps the fire alive. At the end of our evening with The Point, the co-founders asked us all to think hard about friends who'd be good fits for the parties, and then write their names and contact information on the inside of our place cards. Vetted by us, they'd likely receive future invitations.
"No wallflowers," Ms. Cuttler had specified to us before the dinner began. "People that would really come and make the most of it."