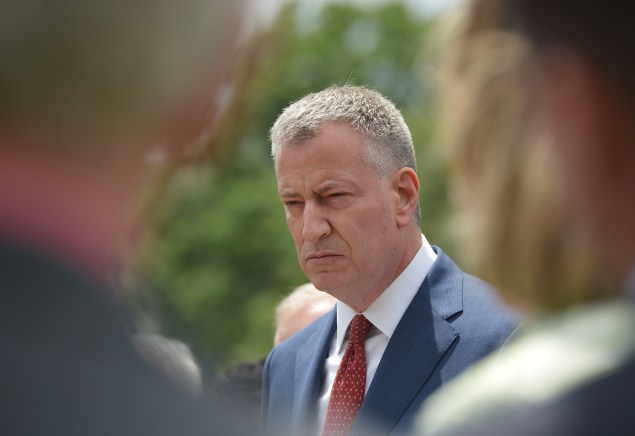 A slew of the city's most prominent nonprofit organizations are demanding Albany make mayoral control of New York City public schools permanent.
45 organizations, including the YMCA of Greater New York, the Harlem Children's Zone, Hispanic Federation and Ridgewood Bushwick Senior Citizens Council, joined a growing effort to pressure state leaders into renewing Mayor Bill de Blasio's oversight of the Department of Education.
"Over the past twelve years, mayoral accountability has been shown to bring real progress for our children. More students are graduating, attendance is improving, and our schools are safer," the nonprofit leaders wrote in a letter obtained by the Observer. "Our children cannot afford to go back, so we ask you to permanently extend Mayoral Control of New York City schools, or at minimum pass an immediate three-year extension so the vital progress in our school communities can continue."
This letter follows similar pleas from much of the city's congressional delegation, business leaders and the five borough presidents. Mayoral control is set to expire this month and Mr. de Blasio, a Democrat, is desperate to secure a renewal for as long as possible.
Though Mr. de Blasio originally sought to make mayoral control permanent, he will likely have to settle for an extension of three years or less. Assembly Democrats, who he is allied with, passed a three-year extension before the Republican-controlled State Senate passed a bill that only renewed mayoral control for one year while also increasing Albany oversight of the DOE budget. A deal has not yet been reached.
In New York City, there is bipartisan support for mayoral control and few want to return to the decentralized system former Mayor Michael Bloomberg dismantled in 2002. Corporate leaders and organizations who are not natural allies of the liberal mayor, like JPMorgan Chase CEO Jamie Dimon and charter schools operator Harlem Children's Zone, have united to fight for mayoral control.
At least one charter school leader was asked to sign onto Mr. de Blasio's letter and did not, sources say. James Merriman, the CEO of the New York City Charter School Center, was approached about adding his name to the letter but does not appear among the 45 signatories.
Renewing mayoral control is one of Mr. de Blasio's top Albany agenda items, along with strengthening rent regulations and reforming a real estate tax break known as 421a.
View the full letter below:

Dear Governor Cuomo, Senate Majority Leader Flanagan and Assembly Speaker Heastie,

As leaders of non-profit and community based organizations, we serve the needs of residents across New York City.  We know the future of our city rests on our ability to give every child the ability to succeed.  Therefore, we strongly urge you to pass permanent mayoral control of the New York City school system.

Over the past twelve years, mayoral accountability has been shown to bring real progress for our children.  More students are graduating, attendance is improving, and our schools are safer.

We have seen that mayoral control makes possible the coordination and focus that is necessary to achieve ambitious large-scale reform:  expanding pre-k to serve every child who needs it by September; launching Community Schools that meet students' social, emotional, and health and mental health needs; and focusing resources and accountability on the city's most struggling schools.

These initiatives integrate the combined resources of government and communities to tackle the big challenges our children face.  With streamlined decision-making, improved transparency, and a commitment to making families and communities partners, our schools are moving forward.  Our children cannot afford to go back, so we ask you to permanently extend Mayoral Control of New York City schools, or at minimum pass an immediate three-year extension so the vital progress in our school communities can continue.

Phoebe Boyer, President and Chief Executive Officer, Children's Aid Society

Anne Williams-Isom, Chief Executive Officer, Harlem Children's Zone

Sister Paulette LoMonaco, Executive Director, Good Shepherd Services

Jennifer Jones Austin, Chief Executive Officer and Executive Director, Federation of Protestant Welfare Agencies

Jose Calderon, Executive Director, Hispanic Federation

Jack Lund, President & Chief Executive Officer, YMCA of Greater New York

Rich Berlin, Executive Director, Harlem RBI

Bob Hughes, President, New Visions for New Schools

Richard Stopol, President & CEO, New York City Outward Bound

Peter H. Kostmayer, CEO, Citizens Committee for New York City

Bill Baccaglini, President & CEO, New York Foundling

Nancy Wackstein, Executive Director, United Neighborhood Houses

Michelle Jackson, Associate Director, Human Services Council

Jennifer March, Executive Director, Citizens' Committee for Children

Dianne Morales, Executive Director & CEO, Phipps Neighborhoods

Campaign for Children

Douglas O'Dell, Executive Director, SCO Family of Services

Grace Bonilla, President and Chief Executive Officer, The Committee for Hispanic Children and Families, Inc.

Jo-ann Yoo, Executive Director, Asian American Federation of New York

Gigi Li, Director, Neighborhood Family Services Coalition

Margaret Crotty, Exective Director, Partnership with Children

David Umansky, Chief Executive Officer, Civic Builders

Erica Hamilton, Executive Director, City Year New York

Jeff Ginsburg, Executive Director, East Harlem Tutorial Program

Sheelah Feinberg, Executive Director, Coalition for Asian American Children and Families (CACF)

Lena Alhusseini, Executive Director, Arab American Family Support Center

Lucia Gomez, Executive Director, La Fuente

Michael F. Rochford, Executive Director, St. Nicks Alliance

Lewis Zuchman, Executive Director, SCAN New York

Ramon Peguero, Executive Director, Los Sures

Alison Overseth, Executive Director, Partnership for After School Education (PASE)

David Nocenti, Executive Director, Union Settlement Association

Jim O'Neill, CEO, Sports and Arts in Schools Foundation (SASF)

Luis Garden Acosta, President, El Puente

James Cameron , Chief Executive Officer, Ridgewood Bushwick Senior Citizens Council

Dr. Mark Gonzalez , Chief Executive Officer, Aspira

Yvonne Stennett, Executive Director, Community League of the Heights

Mike Fitelson, Executive Director, United Palace of Cultural Arts

Juan Carlos Aguirre, Executive Director, Mano a Mano

Jose Tejada, Executive Director, Dominican American Society

Lucina Clarke, Executive Director, My Time, Inc.

Adrian Bordoni, Executive Director, Woodside on the Move

Philip Courtney, Executive Director, Urban Arts Partnership

Cheri Walsh, Executive Director, Exploring the Arts

Dominick J. Brancato, Executive Director, NY Center for Interpersonal Development