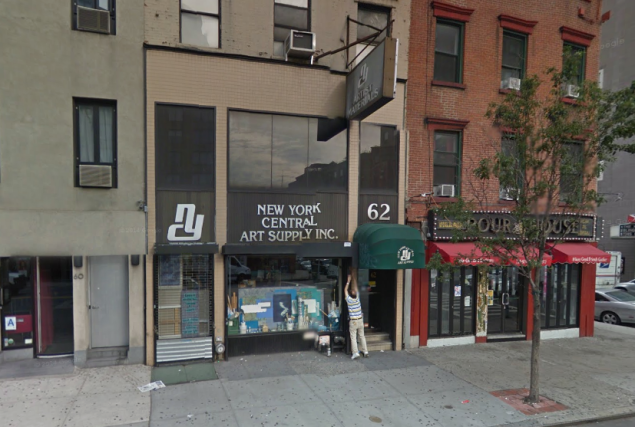 New York Central Art Supply Inc., the cramped and beloved five-story art supply store that has been in operation at its East Village location since 1905, could close by the end of the year and has already begun laying off employees.
The cutbacks are due to "lack of business," said an anonymous source. "They've downsized to one location, the store, which is putting many employees out of a job."
The company moved their frame shop into its warehouse location on 12th Street in 2012.
Pearl Paint, another landmark art supply store that once operated on Canal Street, closed it's doors last year. If New York Central closes, it would be the latest of many casualties for New York City's family owned and operated businesses, many of which are struggling to survive due to escalating real estate prices, the city's recent influx of chain stores, and the surge of Internet-based sales.
"The older staff has lifelong careers at NY Central, and as artists themselves working in an art supply store that never went digital, they are not prepared to work elsewhere," said the source. "You need basic computer skills for everything these days, something almost none of these people have." The knowledgeable NY Central staff runs the gamut from current art students to employees of 35 years, all of whom are fighting tooth and nail to keep the store alive
Known for its unparalleled selection of artist papers (estimated somewhere between 4,000 and 6,000 different types), its unique selection of sketchbooks, and its hard to find or obscure mediums, NY central has been the choice of many of the city's finest artists over the decades. Andy Warhol, James Rosenquist, Yoko Ono and Frank Stella began shopping there in the 50s, and they passed their predilection down to 80s art stars like Keith Haring and Jean Michel Basquiat. Artists such as John Currin, Eric Fischl and Kiki Smith buy supplies there today.
But the store's customers aren't limited to fine artists. Before they were mega-corporations, Ralph Lauren and Martha Stewart both bought numerous supplies there, and it has been a great resource to many in the fashion, retail and design industries.
So if you're a serious artist or just someone who needs quality art materials for a project, please consider supporting this unique and important part of New York City history.
NY Central Art Supply Inc. is located at 62 Third Avenue between 10th and 11th Streets in the East Village.