With great trepidation in December of last year I made the leap from private insurance to Obamacare, signing on to a plan made available through the New York State healthcare marketplace. For years I was covered by Oxford as part of my membership in the Authors Guild. It did not come cheap, however. The plan I chose cost me a little over $12,000 a year. For a freelance writer living in New York City, that's a pretty heavy expense. That's $12,000—not including co-pays, inpatient and prescription deductibles. The private insurance providers raised premiums over the years and invented new tiers of coverage so that you routinely paid more and got less. Many of the doctors I had been able to access a year earlier were no longer accepting the insurance coverage from the tertiary tier.
So I was grateful for the government subsidy and jumped into the ACA. I chose a plan that my GP of 15 years accepted. It seemed like a logical way for me to make the selection, since I was comfortable with him, he had knowledge of me and history with me and over the years the specialists he was able to recommend to me were also familiar with my medical history. With a subsidy based on my income, my monthly cost dropped by half, albeit with higher deductibles and higher co-pays. But while it was half the cost, it turned out to be twice the headache.
I soon discovered that this relatively comfortable network of family care providers was about to be broken up, which surprised me since I chose what was termed the "Platinum level coverage" offered by United Healthcare. I have had issues with arthritis over the years—spondylic arthritis (or spinal arthritis) is my pre-existing condition. This has caused me problems with rising from bed, sitting, walking, typing, climbing stairs, lifting, carrying and sleeping. It was exacerbated this last January when I was standing in a bus in the passenger well near the front when an SUV cut the bus off suddenly, the bus braked sharply, and I was swept off my feet and hurled head first into the front of the bus. I had one of those moments that men will have; I got up as quickly as I could, pronounced myself okay, got off at the next stop walked home very slowly and collapsed.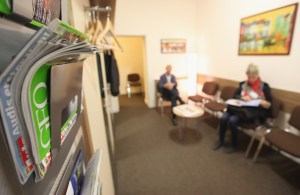 The next day, I could raise neither arm above my waist and I felt glowing pain shooting down from my lower back all the way into my feet. Moreover, I discovered that I could not lift a cup of coffee with my right hand. I called my GP who recommended an orthopedic doctor who I had seen a year or two earlier for tennis elbow. I called his office, but he did not accept my new insurance plan. Neither did the second or third person on my doctor's list of recommendations, both of whom I had seen before. The next day, my doctor's office manager rang up and passed along another name to me who she assured me did take the UHC Compass plan, platinum level. And having confirmed that on the phone with her secretary I made an appointment to see her at her private office where she saw patients once a week when she was not at Beth Israel Hospital. She recommended that I go for an MRI, which her office arranged for me. In her office, she had me take x-rays of my shoulder and it turned out that her equipment was incapable of producing sufficient detail. Nevertheless she gave me the information I needed to schedule an x-ray at Beth Israel Hospital and a referral to a Pain Management doctor. When I called to make an appointment with him, as is my habit, I inquired first about the insurance and having been subsequently told that he took this plan, I made an appointment with him.
I saw the pain management guy several times. In the first visit, based on the results of the MRI which showed a partially torn rotator cuff, a partially torn labrum and considerable narrowing of the spine, he prescribed steroids. After five days the pain moved from my shoulders and neck down to the right side of my lower back. I went back a second time and he administered trigger point injections to my lower back to relieve the pain. The pain became so extreme, I thought I was passing a kidney stone. I made an appointment with my GP, who tested for it. The results were negative. I returned back to my pain management doctor, who after consulting with a spine specialist agreed that my next step would be to receive an epidural injection in my lower back at Beth Israel's Spine Institute, where his office was. Two days before the scheduled procedure, though, I got a phone call from his secretary telling me that they had to cancel the procedure, because the doctor was no longer accepting my health insurance—the health insurance that he had accepted apparently in January, February, March and April—he was no longer accepting in May. And I was apprised of this in the middle of my treatment with less than 48 hours before the epidural procedure. If I wanted to go through with it, I was told I would have to pay out of pocket.
Later that day, I received an automated phone call from Beth Israel Spine Institute reminding me of my appointment which I then had to cancel automatically, lest I be billed for not showing up. It hardly mattered; the next morning I received a bill from the pain management doctor for more than $2,000 as if I had never been covered. When I called the doctor who had originally recommended this specialist to me, I was told that she, too, no longer was accepting my insurance plan and had become part of a suite of doctors p engaged in something called a "concierge practice," a setup which essentially allows physicians to see fewer patients but profit more. So I called Beth Israel's Spine Institute, where a very helpful secretary told me they had encountered this problem with a number of doctors who were, in fact, not staffers, but freelancers who in a sense rented space at the Spine Institute. But she said, I might investigate these three names who were in similar practices at Beth Israel's corporate partner, Mount Sinai Hospital (they didn't take my insurance either) or try the Spine Clinic, which was across the hall from the Spine Institute. "Is that like going to Nobu Next Door?" I asked. She didn't get the joke.
Over the next week I called United Healthcare several times to intercede, wondering how it was possible for them to allow doctors who were presumably locked in for a year to opt out of this system. If doctors were allowed to drop my coverage like this how could there be any continuity in my care? If healthcare insurers don't make it worthwhile for doctors to participate in the plans they offer on the ACA state exchanges then is it worth the government subsidy to a patient to wing it with doctors written up on Yelp? Who is governing the behavior of the insurers? I got no satisfactory answers from UHC, nystateofheath.gov, or my GP, who told me to write a letter to Dr. Ken Davis, the CEO of Beth Israel/Mt Sinai. But really I want to send this ludicrous bill to the state Attorney General, so the so that they might administer some pain on my behalf.
Still in debilitating pain, I made an appointment with a licensed acupuncturist. Before my session I was asked for my healthcare ID and then proceeded to have a very thorough session. I have to say that when I stood up, I could feel an immediate change in the pressure I had felt in my lower back and even in the first few steps to the reception area, I could sense a palpable improvement. I wasn't cured, but I was encouraged to go back. The point is, I felt better. The man at the desk looked up, handed me back my UHC insurance card and said, "Your insurance won't pay for this."
Maybe the millions of dollars wasted on pointless and fruitless challenges to the ACA would pay for this. I want to feel better. I want to thank someone for caring. Not yet.