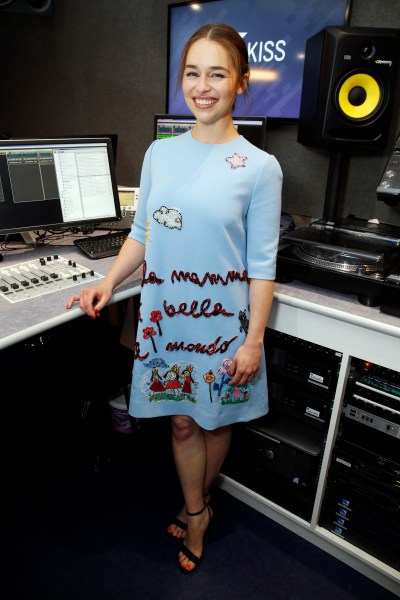 Game of Thrones's fifth season may be over, but star Emilia Clarke is still fully embodying her role, it seems.
On a visit to a London radio station today, the actress wore a darling blue dress from Dolce & Gabbana's recent line celebrating motherhood and pregnancy. The outfit choice was especially fitting, given that Ms. Clarke plays Daenerys Targaryen—also known as the Mother of Dragons—on the hit HBO show.
Game of Thrones addicts that we are, we also couldn't help but notice the dress bears a graphic of three crowned figures. Could Ms. Clarke be referencing Danaerys's three dragons? Or the prophecy stating that the Dragon—i.e., the person who'll save humankind from the terrifying hordes of beyond-the-wall ice zombies—"shall have three heads"? Perhaps we're stretching a little too far.
D&G came under fire around the time they debuted the line, when founders Domenico Dolce and Stefano Gabbana told an Italian magazine they opposed gay marriage, gay adoption and IVF. "I call children of chemistry, synthetic children," they said at the time. They later backpedaled, following social media furor and a call to boycott D&G by Elton John.