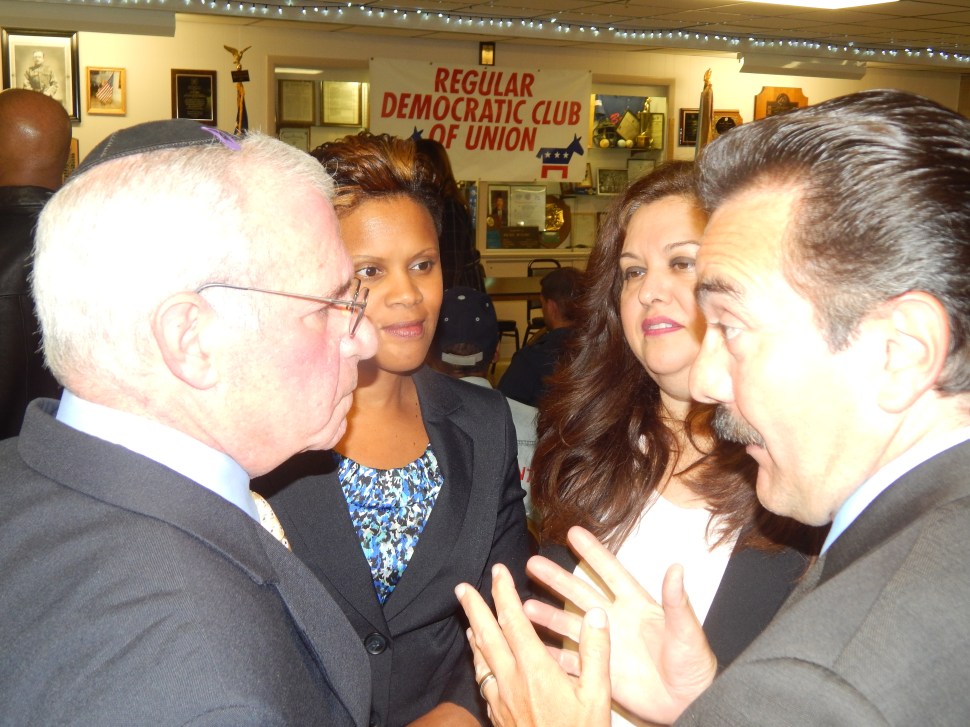 As political personalities vie with numbers for attention amid North v. South theatrics, backroom budget talk among members inevitably drifts to leadership considerations.
Speaker Vincent Prieto (D-32) is due up again in November and while he parades as one of the key components of the North Jersey Quad Alliance among county organizations and a proponent of gaming on the ballot in this cycle, the number 12 keeps ominously repeating. That's the number of South Jersey caucus votes and the starting point for any effort to unseat Prieto. When people don't get what they want in those backrooms the hum of criticism begins to intensify for northern leadership.
So far, sources say, people are mostly getting what they want in terms of scattered budget goodies. There's $2.5 million to pay for an ambulance company for Cooper Hospital in Camden that found its way into the budget, for example. "South Jersey is getting more than its share," a source assured PolitickerNJ.
But rather than simply comply with the demands of his South Jersey brethren, Prieto is doing something almost unheard of in the Gov. Chris Christie era: he's making life difficult for the south by pushing the northern gaming question for inclusion on the ballot this – not next – November.
Northern – and Southern – casino backers argue the benefits for South Jersey in terms of generating revenue to boost the southern mecca's flagging fortunes, but politically Senate President Steve Sweeney (D-3) is doubtful about the question this year. "He's concerned about the 1st and 2nd districts and the viability of this passing this year," said a source.
George Norcross III doesn't want it this year, sources say.
Prieto's moving forward with it anyway.
"Vinny is making a name for himself – that he will not be beholden to Steve Sweeney," said a caucus source. "His attitude is 'not on my watch.'"
He can – in the larger universe – because he's got plenty of buttressing company.
Whether he can muster the requisite votes for casino gaming is another story, particularly when different regional voices want to be heard.
But getting casino gaming done and keeping the speakership are two separate issues, and on the second of these Prieto appears to be firmly in command.
Indeed, there's another reason why at least at this point it would be difficult for the south to mount an offensive against the sitting speaker, a threat, for example, that hung over then-Speaker Sheila Oliver (D-34) in 2011 after she had served just one two-year term in the position. Oliver stared that down to last for another two years. But it was painful.
As it stands, right now, today, it's plainly difficult for the south to muster sufficient votes to oust Prieto, who is personally popular in the caucus, sources say. People who might stand to gain – those soldered North Jersey allies, for example – from his downfall don't want to oppose him, Assembly Budget Chairman Gary Schaer (D-36) of Passaic County among them, say sources.
It is difficult to picture Assembly Majority Leader Lou Greenwald (D-6) summoning and harnessing sufficient intra-caucus irritation to supplant Prieto. or Assemblyman John Wisniewski (D-19). Then there's the type of candidate along the lines of Albio Sires, who famously said, "Speaker of what?" when told the allied powers wanted to boost the first term assemblyman onto the throne of legislative power.
Aside from causing South Jersey fingers to drum furiously on desks as he moves forward with 2015 casino gaming for the north – a move that could uncomfortably box in Sweeney, his upper house counterpart – and routinely getting photographed in attitudes of blissful support with Jersey City Mayor Steven Fulop (Sweeney's 2017 nemesis), the twinkling eyed Prieto just hasn't rankled anyone in others counties to the point of deserving a tomahawking, sources from Bergen, Middlesex, Mercer and Hudson insist.
Maybe the south could try to cobble together some alternative out of contributing pieces in Union County – maybe – but it would need Republican support to get it done. So far, that support appears lacking. In fact, Prieto appears to be moving forward with the casino question with the cooperation of Republicans.
"I am grateful for his help," said Assemblyman Ralph Caputo (D-28), chairman of the Assembly Gaming Committee and a longtime backer of northern casinos.
"I think he's beat expectations," said one source, referring to Prieto. "Hes not a manipulative person. He has all the things needed to be a good leader in that job. I think the one who's struggling a bit right now is Sweeney, who's gotten out ahead of himself on the casino question. The north doesn't support him, and there's Prieto, working hard to send this [the casino question] over to the senate. Prieto wants to put it on the ballot."
The absence from the quad county alliance event of Sweeney's longtime North Jersey ally, Essex County Executive Joe DiVincenzo, was noticeable, but ultimately arguably not meaningful; as one source said Sweeney, not Prieto, should occupy himself with counting votes toward retaining his own power, given the senate president difficult position on gaming.
But this is a fluid situation.
In terms of the northern casino question alone, "I don't know how he gets to 48 [votes in the assembly] to pass it," a source told PolitickerNJ.