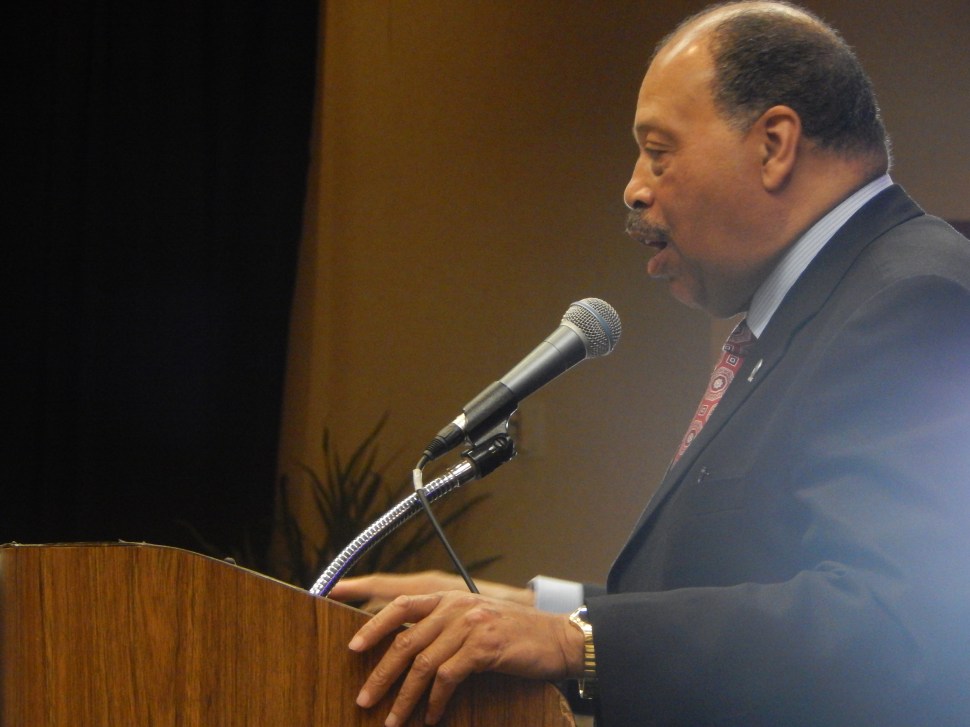 TRENTON – A few hours before a Monmouth County fundraiser for Hillary Clinton, Democratic State Party Chairman John Currie kept his public focus on Governor Chris Christie, trashing the Republican on the eve of Christie's Livingston High School campaign launch.
"Tomorrow he's gonna tell it like it is," said Currie this afternoon on a conference call with reporters, a reference to the governor's campaign slogan. "He might even tell you to sit down and shut up. Listen to me he is not telling it like it is."
Currie cited Christie's record, noting how the New Jersey economy is a failure, floundering in jobs loss compared to neighboring states.
"We've had nine credit downgrades since he's been governor," said the state party chairman. "He holds the records for the most downgrades any governor has ever had. This bad economy isn't a national problem, it's a Chris Chrisite problem."
Currie zeroed in on what he called the mismanagement the governor showed in his administration, which led to Bridegate.
"I would suggest he resign," he added, noting Christie's absences from New Jersey as he campaigns for higher office.
The chairman had fun with Christie's selection of Livingston High School as the setting for his Tuesday kick-off.
"He first met David Wildstein at Livingston High School," Currie said, referring to the former Port Authority official (and former editor of this website), who earlier this year pleaded guilty to federal conspiracy charges in the George Washington Bridge scandal. "Telling it like it is? The governor said 'I barely knew Wildstein.' But we now know they had a relationship since high school. Chris Christie even shared his first beer with David Wildstein. They've come a long way since they spent time at Livingston High School.
"No matter how loud or offensive he is, he not telling it like it is," Currie added. "Chris Christie is not a straight shooter. He is just as arrogant as he has always been."
Speaker Vincent Prieto (D-32) also criticized Christie on the call.
"Telling it like it is is not accurate at all," said Prieto. "For starters, he refused to give details on comprehensive immigration reform."
Echoing Currie, Prieto also said he thinks the state would be better off if Christie resigns while he runs for president.