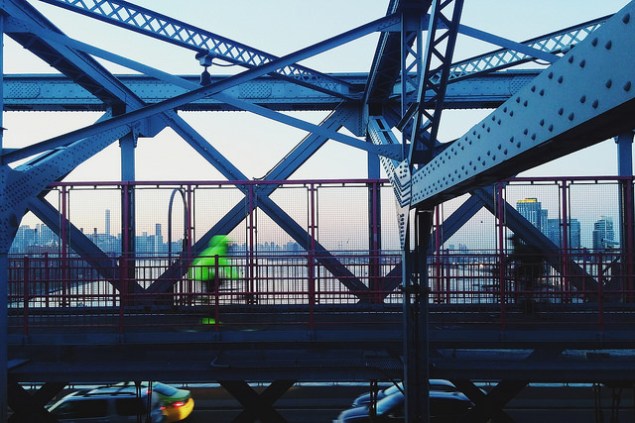 A lot of people are into pretending they're minimalists these days, but for those with a taste for dated opulence and $29 million, there's an Upper East Side manse that would be perfect for you at 7 East 84th Street. Curbed reports that the 8-bedroom home belongs to noted tenants rights lawyer David Rozenholc, who bought it with his wife in 1996. It's currently done up with classical statuary, complicated drapery, loud wall paper in golds, creams and reds and tufted beds tucked into canopied alcoves.
On a related note, for all the tiny house hype, data from the Commerce Department shows that 46 percent of single-family homes constructed last year had four or more bedrooms and more and more of them had three car rather than two car garages, according to The Wall Street Journal.
A rich man with a dream for futuristic green condos in Chelsea recounts to The New York Times how it all went wrong: there were the existing SRO tenants, the cantilevered pod-like penthouse the neighbors objected to, the interior waterfall and the rotating garage that he conceived of because he hated parking his own Porsche on the street. Now he's decamped to Connecticut, sails full-time and vowing to move to New Zealand because he no longer feels he's living in the America he once knew.
From a few days prior: a case has been decided in favor of the tenants at the Evelyn, a rental to condo conversion at 101 W. 78th Street whose developer Newcastle was found to have improperly tried to convert it. The New York Times reports that they will live rent free for two years. "The free rents, which will compensate tenants for having to put up with dusty, noisy and potentially unsafe conditions, could result in considerable savings for the 11 affected rent-regulated and market-rate units." More than the living conditions, however, was that developer induced tenants to move out before the condo offering plan was approved by the attorney general.
Lincoln Center has selected Municipal Art Society president Vin Cipolla to lead its portion of the $100 million campaign to renovate Avery Fischer Hall, The Wall Street Journal reports. Mr. Cipolla is leaving his position at the Municipal Art Society as soon as a replacement is found and will begin a paid position at Lincoln Center by the end of the month.
Wiliiamsburg's Trash Bar is closing down June 27, Gothamist reports. No longer of a piece with the glitzy neighborhood, the bar found out it would need to leave last December due to something like quadrupling rents. The owners are considering relocating to Bushwick.
It's also hard to make an ice cream company a going concern in New York City, Crain's reports.
Neighbors of a heating company executive who kept a wolfdog locked in his Bergen Beach backyard complained sufficiently such that he sent the dog to a friend who runs a wolfdog sanctuary, according to DNAInfo.
Finally, a dead whale washed up on the beach in Coney Island, Gothamist reports. It was likely killed by a boat.