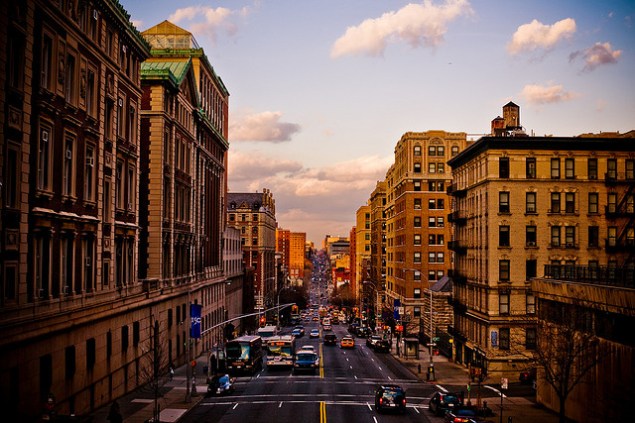 In a move that is none too encouraging, the New York Legislature agreed to a five-day extension of rent regulations as negotiations continue, The New York Times reports. The rent regulations expired on Monday and tenants advocates have feared that a prolonged lapse may raise legal issues—or at least serious headaches—for some tenants. It's unclear why the legislature waited so long for a stop-gap extension.
Also none too encouraging for rent-regulated tenants in Morningside Heights is a expanding landlord's move to install gates across the base of their buildings' stoops, barring many long-time residents from using one of the neighborhood's preferred social  spaces, according to The Times, and sending a none-too-subtle message that they want to replace them with higher-paying Columbia students. The landlord, the Orbach Group, owns about two dozen buildings on 109th between Amsterdam and Broadway.
The latest chapter in the saga of the masturbating broker is even weirder and more ridiculous than the ones that came before. A marketing strategist representing Robert Khodadadian, who was sued by his former employer Eastern Consolidated for allegedly sending a video of himself masturbating to a teenage intern, sent bogus court documents to The Real Deal in an attempt to get the website to remove old articles about Mr. Kohadadian's alleged indiscretion because, his representative said, they "violated the rulings of a court decision." The Real Deal, however, had suspicions about the "decision" they received: "it was full of spelling and grammatical errors; had a filing date before the date of signing (the date of signing should come before the filing date); and perhaps most conspicuously, contained an "APPROVED" stamp, which TRD had never come across in reviewing hundreds of court documents." After checking with the State Supreme Court judge who supposedly signed it, they confirmed that it was indeed fake and that the forgery could have legal repercussions. You have to kind of admire the chutzpah. We guess?
The Design Trust for Public Space and the DOT put out a study that found that there are almost 700 miles of "unused" public space beneath the city's highways, bridges, subway tracks and railways, space which they claim, at least in some cases, could be used for parkland or retail, Crain's reports. Though as anyone who has ever passed beneath a highway can tell you, not all elevated transit systems make for pleasant spaces to spend time under. The study suggested alternate uses for the space beneath Broadway Junction in Brooklyn and the Queensboro Bridge, among others.
Now on to the celebrity gossip: Jason Sudeikis and Olivia Wilde have sold their Meatpacking District two-bedroom for $3.8 million, according to The Post, decamping along with the rest of the city to Brooklyn. Clinton Hill, specifically, where they reportedly bought a mansion.
In other celebrity real estate news, Johnny Depp has listed his French estate for $26 million, according to The Wall Street Journal. Which sounds like a break-up sale to us (following his split from Vanessa Paradis and subsequent marriage to Amber Heard this February): "The sale includes Mr. Depp's furniture, books, DVDs, art and many of the actor's other personal belongings." Among them, apparently, the decor of a "wine cave" with a " 'Pirates of the Caribbean' motif, with skulls and brightly colored scarves."
If you're looking for less of a long-term celebrity real estate investment, there's always Mary-Kate Olson and Olivier Sarkozy's former Village love nest (hardly a selling point, we know), which is renting for $26,500 a month, The Real Deal reports.
Given all the brouhaha around New York's surging residential market of late, it should come as no surprise that more and more people want to get in on the action: Crain's reports that are 13,532 real estate brokers in the city at present, the highest number in 15 years.
Harlem's epically charming, oldest townhouse, a delightful clapboard affair that was listed for $3.65 million in March, may have found a buyer, according to Curbed. It is, of course, landmarked.
And so might a number of other long-backlogged properties soon be: The Wall Street Journal reports that the Landmarks Preservation Commission, which six months ago had proposed wiping some 96 long lingering applications—a plan it dropped among public outcry—will hold hearings for the properties this fall, with decisions expected by the end of next year.
* Correction—a previous version stated that Robert Khodadadian had sent bogus court documents to The Real Deal, but it was a representative of Mr. Khodadadian who sent the bogus court documents. Mr. Kohodadadian claims he had no knowledge that the documents were being sent.