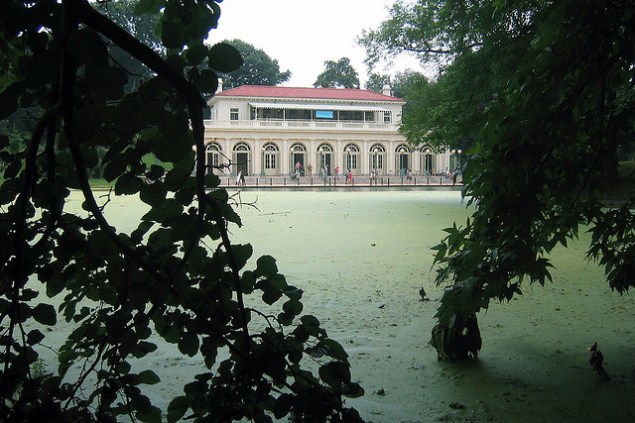 Back on the horse: despite its own not-so-stellar experience with tower B2 BKLYN (nee just B2) at Pacific Park (nee Atlantic Yards), Forest City Ratner has hired an executive to run its modular housing division, Crain's reports—a strong indication that it plans to continue modular construction after the tower is completed. Last year, FCR resolved a dispute with its contractor on that project, Skanska, by buying them out of their shared production facility in the Brooklyn Navy Yard.
This is impressive: a Bed-Stuy programmer has mapped the prevalence of Airbnb listing by neighborhood, according to Curbed. Even better, his site, Inside Airbnb, also maps single-family home rentals vs. apartments and where the same owners have multiple listings.
Not at all impressive: Brooklyn's Community Board 3 has voted against a proposal that would have linked existing bike lanes in Bed-Stuy and Crown Heights, according to DNAInfo. Which will not, presumably, stop any bicyclists from traveling between the two neighborhoods, but will just make them much less safe and more aggravating to drivers when they do. Modest changes to the transportation infrastructure are not, perhaps, best left up the local community.
Also in Brooklyn: the city has reactivated the South Brooklyn Marine Terminal, Capital New York reports, and the Economic Development Council, which has a master lease on the port, is looking for maritime tenants. The move, via the de Blasio administration, is to increase cargo ship traffic while reducing truck traffic on the road.
Michelle Williams has abandoned her BoCoCa townhouse for a rambling Victorian mansion in Ditmas Park, The Ditmas Park Corner reports, embodying a migration trend first declared such by this very publication. The house is, of course, on Albermarle Road. And who could blame the actress for wanting to move into what broker Mary Kay Gallagher termed "the Tara of Prospect Park South."
Maybe Steve Cohen should engage Ms. Gallagher's services to punch up the listing for his One Beacon Court penthouse, which The New York Daily News reports is back on the market, asking an almost-reasonable $79 million after first listing for $115 million in 2013. Subsequent price cuts, though no sales contract, have been forthcoming. As the News notes, "The penthouse is now just one among hundreds of mega penthouses asking top dollar in Manhattan."
When it comes to home renovations, Millenials aren't particularly keen on green materials or smart technology, according to The Wall Street Journal. Not many of them own a house in the first place (thanks student loans), but the study posits that their lackluster enthusiasm might have something to do with cost consciousness.
Broadway isn't, and probably shouldn't be, landmarked in its entirety, but a lot of preservationists were miffed when the Landmarks Preservation Commission declined to landmark 21 buildings between 89th and 109th streets that had been proposed as part of the Riverside-West End Historic District, according to The Times.
In minor news, DDG received a zoning variance on a pair of Tribeca towers (retail/residential) it wants to build at 100 Franklin Street, which will exempt the developer/designer from having to set back the upper floors, according to Crain's. In exchange, DDG has agreed to fix up the small park across the street.
And in really freaky news: the story of the Westfield, New Jersey family that fled their newly purchased house after receiving notes from a really creepy house stalker who identified himself as "the Watcher" could be made into a movie, according to LAIst.