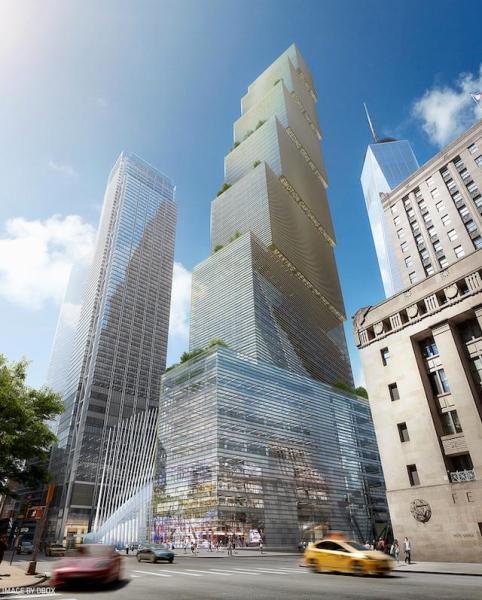 Renderings of the final World Trade Center tower has been revealed in, weirdly, Wired. Designed by Bjarke Ingels, 2 World Trade Center will try to have it both ways—serious but not without personality: "From the World Trade Center's Memorial Plaza, the new building will appear slender and serious. But from other perspectives, like the one looking south from the fashionable neighborhood of Tribeca—where Ingels lives and where we were having breakfast—the stepped tower will present a more madcap personality: Ingels' 21st-century reinterpretation of one of Manhattan's Jazz Age ziggurats." The tower is slated to be the home of 21st Century Fox and NewsCorp.
As some structures rise, others fall: Brotherhood House, the boxy, distinctive structure at 560 Seventh Avenue designed by William Lescaze will soon be no more, The New York Times reports. The six-story structure achieved fame as the Project Runway house, but was built in the 1960s as a community center to promote religious tolerance. "By 1974, however, with brotherhood at a low ebb in New York City, Brotherhood House was out of business. The synagogue bought out Brotherhood-in-Action. Three years later, Mr. List bought out the congregation, which remained in the building on a 99-year lease, paying an annual rent of $1. (You read that right.)"
Times Square for food snobs? (You also read that right): The Wall Street Journal samples the wares at The Taste of Times Square to see if there's more to the reviled restaurant scene than boneless wings and pasta bowls. The verdict? "Most fare ranged from middling to startling. For the first time in my life, I encountered a chocolate cake I couldn't eat."
Some things never change, like the eternal battle to fit big furniture into tiny spaces. DNAInfo speaks with some rueful New Yorkers who did things like remember to measure their apartment's dimensions but forgot to measure the doorways. "As rents continue to skyrocket… more tenants are forced into smaller apartments. But that doesn't stop many  — especially transplants — from trying to fit big stuff into their tiny spaces since they often overestimate how much space they'll get considering the price tag."
Speaking of overestimating space: many New York apartments are breaking the law by advertising as two-bedrooms when the second bedroom lacks a window or skylight as mandated by law, according to Crain's. The feature tends to be more prevalent in condos than rentals, they claim, because condo owners are unlikely to sue themselves.
Brooklyn can be a pain in the ass to get around these days, but it wasn't always so: Gothamist has a map of the 1930s trolley system that shows just how connected the borough used to be.
The frenzy over 421-a is reaching a fevered pitch as the deadline for renewal approaches, with interest groups all excitedly championing their own causes, Capital New York reports.
And finally, Gothamist rides along on Realtor.com's double-decker bus open house tour of New York real estate.