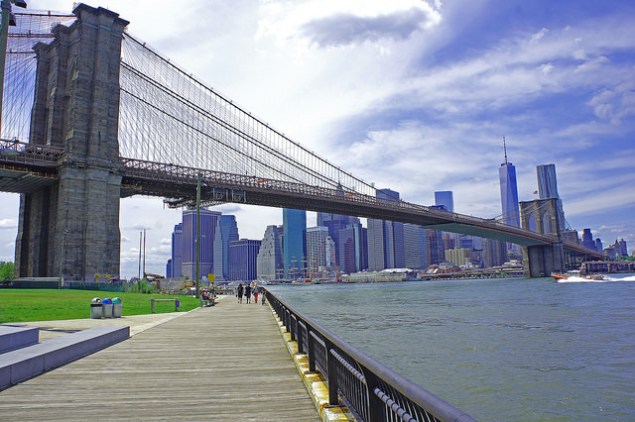 Has Bill de Blasio given up hope of 421-a reform? Capital New York reports that when speaking to reporters on Sunday, the mayor focused his attention on pushing for stronger rent regulations. At least in this he and Cuomo are mostly aligned, as is the Democrat-dominated Assembly, though Capital notes that "the Republican-led State Senate has yet to pass any bill on the subject. On Friday, the Republicans introduced a bill that extended rent regulations for eight years with few changes."
If a new rent regulation fails to pass by Monday night when the old one expires, landlords may try to take advantage, the mayor warned, turning over rent-stabilized units to market-rate when their leases expired, according to The Wall Street Journal. Landlords say, however, that the mayor is just fearmongering.
Moving on to 421-a reform, Yimby points out that the current tax system, which places a far heavier burden on rental properties than on single-family homes, condos and co-ops, already disproportionately rests on the shoulders of low- and middle-income renters, with tax caps, assessments and existing abatements favoring by far wealthy people, properties and neighborhoods. To minimize the tax burden on all categories of property by low- and middle-income buildings would likely only make it worse.
So what if the city just offered a tax break to any and all landlords of rent-stabilized buildings who promised to keep their buildings affordable for a significant length of time? Atlantic Cities asks. The answer, via a Furman Center study, is that it may well work, but it would also be massively expensive.
The growth of non-union labor in major development projects has led to more compromises from unions on wages and hours, The Wall Street Journal reports.
A group of aerosol artists who painted at 5Pointz is suing developer Jerry Wolkoff, according to The New York Daily News, saying that he didn't give them sufficient time to retrieve their work before he whitewashed the building. A previous lawsuit, which sought to stop the destruction of 5Pointz, also under the U.S. Visual Artists Rights Act, was filed in the fall of 2013 before the whitewashing occurred.
A judge has ruled in Toll Brothers' favor after a lawsuit brought by civic groups over the Brooklyn Bridge-view blocking Pierhouse development, according to The New York Times. The judge agreed that the view-obstruction was unfortunate, however, "the government made 'a conscious decision' to allow the project to be built at its current height "for reasons relating to economic sustainability," that rooftop "appurtenances" containing mechanical equipment may legally exceed that limit and that because opponents failed to file their challenge within the time allotted by law, construction could proceed."
A Boerum Hill Bodega is protesting a rent increase from $3,500 a month to $10,000 with an "artisanal price hike sale" in which everything will be roughly two-and-a-half the cost of what it usually is, Gothamist reports.
Meanwhile, in Chelsea, GustOrganics is going under after switching to a vegan menu last year, a move that lost the restaurant its considerable CrossFit/paleo crowd who had been so enamored of the meaty menu that they even sent hate mail when it changed over, DNAInfo reports.
After a series of failures, some retail spots get a reputation as cursed. But that doesn't stop new businesses from trying their luck. Crain's speaks with the owner of Patrizia's, a Brooklyn pizzeria which elected to move into a spot on the corner of East 26th and Second Avenue that already hosted two failed pizzerias.
No public access? In East Hampton, a popular public beach could soon go private after a judge ruled that 4,000 feet of beachfront is actually deeded to a handful of homeowners' associations and private owners who have been trying for years to limit activities there, according to Crain's.
Finally, a wedding at the Waldorf Astoria is not a setting where many would expect to receive a gunshot wound, but a nuptial celebration turned sour when a guest's gun accidentally went off at the reception, according to The New York Daily News. No one died, though several people were injured. We hate to say it, but… seems like a bad omen?