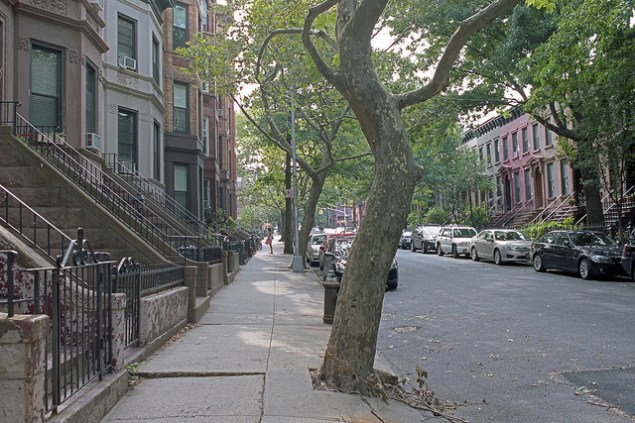 The big news yesterday was that leaders in Albany had put together a "framework" for the renewal of rent regulations and 421a, with a very much middle-of-the-road 4-year extension, which, in Gothamist's opinion, fails renters by only raising the rent at which vacancy decontrol is triggered from $2,500 to $2,700, a "solution" that likely means that thousands of rent-regulated units will be lost.
When it comes to 421a, meanwhile, it will be extended for another six months, provided legislators can agree on a deal with labor, limping along in an injured fashion after having been decoupled from rent regulation. Tenant advocates complain that separating the two will mean the end of any leverage at all for Democrats trying to pass tenant-friendly legislation.
At least the governor seems to be pleased. According to The Times: "in an interview Tuesday night, Mr. Cuomo said tenant activists have 'never been happy' with a deal struck in Albany on rent regulations. He argued he was not getting sufficient credit for Tuesday's agreement, which he said represented the most significant improvement to rent laws in decades."
Long Island City's growing stock of luxury real estate has dominated the market, but the de Blasio administration says that it will push for more affordable housing in the neighborhood, Crain's reports, as well as taller development in some areas. Developers, however, say that rising land costs increasingly mean that they're shying away even from luxury rentals.
And even as the national housing market improves, it is leaving more and more of the middle class stuck in rentals, for which they are paying higher and higher monthly sums, The New York Times reports.
The Hotel Chelsea is a Wall Street money pit, The Wall Street Journal reports. After working out a deal that appeased the historic building's many rent regulated tenants, the renovation is more than a year behind schedule and considerably over budget. "The hotel, closed since 2011, isn't expected to open before 2017, while the owners spend millions of dollars a month on renovations, interest payments and other costs, these people said. The cash drain has prompted the owners to hire broker Eastdil Secured to help refinance their debt, borrow more money and bring in another equity partner, these people said."
Another famous landmark, South Street Seaport, has been named one of the most endangered historic sites in the country by the National Trust for Historic Preservation, according to DNAInfo. The Howard Hughes Corporation is planning to redevelop the site and the city's Economic Development Corporation is also looking to demolish a landmarked building that they say can likely not be saved.
Is Uber causing gridlock? The City Council and the Mayor think that they might be and have proposed capping the number of car-for-hire services until they can see whether or not they're causing congestion, according to Crain's. At least, it's clear that there are many, many more such vehicles on the road than there used to be: "more than 25,000 new for-hire vehicle licenses have been issued since 2011, increasing by 63 percent a market that includes livery cabs and black cars."
"The rate at which new cars are coming onto the road is tremendous," TLC commissioner Meera Joshi told the paper. "I think it's something we all see traveling in and around Manhattan."
A building in the midst of being demolished near the corner of Tompkins and Hancock that collapsed yesterday, Gothamist reports. A spooky-looking luxury building is slated to rise on the site: "Developer Vasco Ventures reportedly bought four properties—including the collapsed building, two other townhouses, and a vacant lot—last year and is planning to turn them into a six-story, 35-apartment complex called Hancock Manor."
Finally, and oddly, Extell has decided to change the name of the now-rising Nordstrom Tower on 57th Street to Central Park Tower, Curbed reports. Earlier this week, they decided to name their Lower East Side development One Manhattan Square. We guess they like the generic?