Everything old may be new again, but sex is always the same—new only to those who have never tried it (or its many variations). In the case of The Qualms, at Playwrights Horizons by Bruce Norris (Clybourne Park), the theme is swinging. Or, at any rate, some aborted attempt at wife-swapping that peters out (no pun intended) at just about the point when somebody usually announces intermission. The best thing about The Qualms is that is has no intermission at all. It just peters out anyway.
In a condo at the beach, four couples sit around sipping chardonnay and pondering the importance of monogamy in a free-range society where technology has replaced human relationships and everyone is bored to death enough with their significant others to crave sexual distractions with other people's significant others. All leading, of course, to an exercise in partner exchange that is not unlike the Tupperware socials of yore. (One gal even brings a banana pudding.)
Aging hippie Gary and his banana-brain wife Teri are grilling a pork loin. They are joined by interracial arrivals Deb, plus-sized and over-eager, and her lover Ken, who says he's heterosexual but dresses flamboyantly and minces outrageously. Next come Regine, with an accent from Martinique, and Roger, an ex-Army redneck. The only couple new to the club is newlyweds Chris and Kristy, who has strained her neck in Pilates, which should give you an idea of what pretentious time-wasters these Hamptonites are. It also gives another woman the idea of massage therapy as a way to get Kristy out of her pants and into a towel. Since everyone else at the party has had each other more often than goat cheese, they have no "qualms" about getting started. Chris and Kristy are the nervous ones—shy and awkward and uncertain about what erotic direction to take. They needn't worry. The party room designated for forbidden frolic has a 20-minute time limit for couples, half an hour for threesomes.
Unfortunately, nothing ever happens but they all talk a lot—about climaxing on the face ("It's actually good for you; it ex-foliates"), violence ("violence is sexualized and sexuality is pathological") and other topics from The New York Times Magazine section. The problem is that none of it is believable. It is highly dubious that eight people get together to swap wives and spend 95 minutes talking about politics, war and the definition of freedom. Despite their insisting that this is a judgment-free zone, they question and challenge every moral concern of newbie Chris (Jeremy Shamos), who finds sexual promiscuity akin to sexual abuse, and thinks the others are all depressing and creepy and a little sad. This brings out the worst in everybody, so they label Chris conservative and old-fashioned and wreck the house. The final scene is completely silent as they pitch in, sweep up the broken glass, clear away the debris, put the condo back together, and finally get around to eating the banana pudding. What took them so long?
The actors are good (especially Mr. Shamos, who has the baffled look of an old dog whose face has been stroked the wrong way), and director Pam MacKinnon moves eight people around the condo living room with effortless purpose. But the fact remains that The Qualms fails to make much of a point about sex or anything else. If you want to see a fascinating, somber mixture of hilarity and touching character revelation about an orgy that goes wrong, see the new film The Overnight, in which the usually repulsive Jason Schwartzman reveals a B-I-G surprise, in more ways than one.
***
The best theater last week was on the cabaret stage at 54 Below, where luscious and multi-talented Michele Lee unveiled her new tribute to the jazzy genius of composer Cy Coleman on his 86th birthday. The show was called Nobody Does it Like Me, after the rousing Cy Coleman-Dorothy Fields number Ms. Lee introduced in the Broadway musical Seesaw. With the keen support of ace pianist Ron Abel, Ms. Lee blended jazz, pop and other amalgamated rhythms, even finding a way to segue the upbeat declaration of the title song from I Love My Wife with the bitter burn of "I'm Gonna Laugh You Right Out of My Life," proving it's a lovely thing to hear when you're the wife but what if you're the other woman?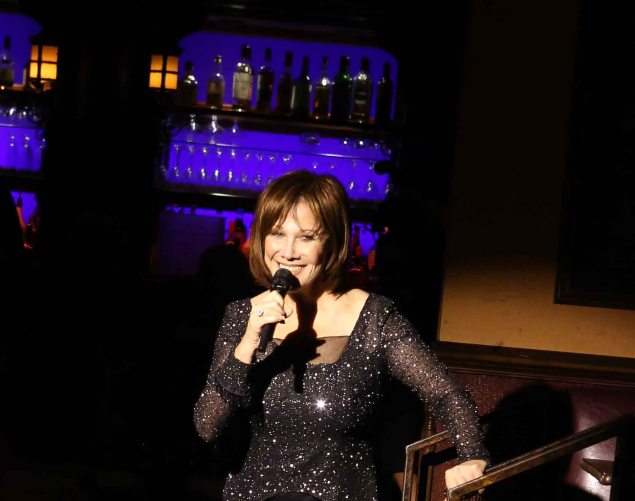 Most of the material was a finely honed collection of show tunes from other Coleman musicals such as Sweet Charity, The Will Rogers Follies and Barnum, but there were some hit songs with Cy's cleverest and most prolific lyricist, Carolyn Leigh, and even one marvel called "It Started with a Dream" from Pamela's First Musical, a collaboration with Wendy Wasserstein and David Zippel, which has (unbelievably) never been produced. It's time somebody rectified that mistake immediately. Michele Lee can still stop a show with the looks, range and power to electrify. Beautiful, confident and funny as hell, she's a musical marvel, and when it comes to probing the Cy Coleman catalogue, nobody does it better. When she sings a song, it stays sung.
***
For Judy Garland's 93rd birthday, Seth Sikes, a new kid on the block from Paris (Paris, Texas, that is) with a voice loud as a cymbal and brassy as Merman singing a duet with a trumpet belted out small gems and big treasures alike to a sold-out house screaming for more. With so much vibrato he rattles the fillings in your teeth; he hits a lot of notes, and he doesn't always hit the right ones, but they all rock the beams anyway in the basement where the notorious Studio 54 used to be. You wonder if this clean-cut all-American boy can slow down long enough to approximate a sig or something resembling nuance. But he is infinitely more musical and less obnoxious than the ghastly Rufus Wainwright, who once droned and drilled his way through a tribute to Judy at Carnegie Hall like a wounded animal caught in a trap.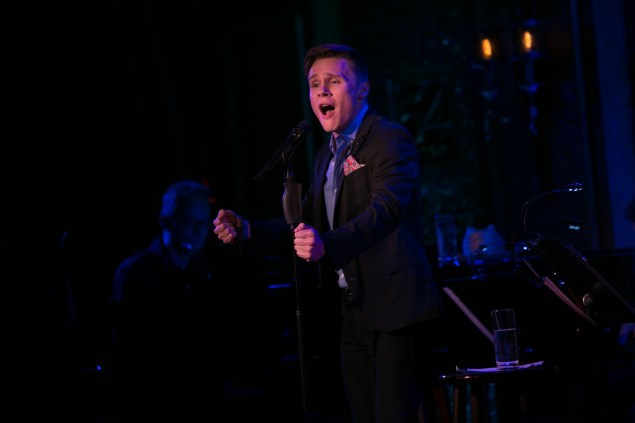 Mr. Sikes, on the other hand, can really sing. He also plays a shaky trumpet. His horn needs work. So does his phrasing. You have to admire his enthusiasm and envy his indefatigable energy. Hopefully, he will take it down a notch and learn there is more to singing than yelling your head off. Right now he belts out "How Long Has This Been Gong On?" the same way he belts out "The Trolley Song." When he tackles a ballad like Jerome Kern's "Don't Ever Leave Me," it's like a choirboy auditioning to be a chorus boy. But he has thrilling ideas. The overture to "Over the Rainbow" leads to—surprise!—the lilting showstopper "Happy Harvest," from Garland's final MGM musical, Summer Stock. What he lacks in technique, he makes up for in enthusiasm. And to his credit, he does not try to imitate his singing idol. This is not a Jim Bailey drag show. He's already developing a fan base of Judy addicts and there's no telling how far Seth Sikes will go. As soon as he realizes you don't have to knock every song out of the ballpark and adds some variety to the menu, I predict even Louis B. Mayer couldn't slow his progress.