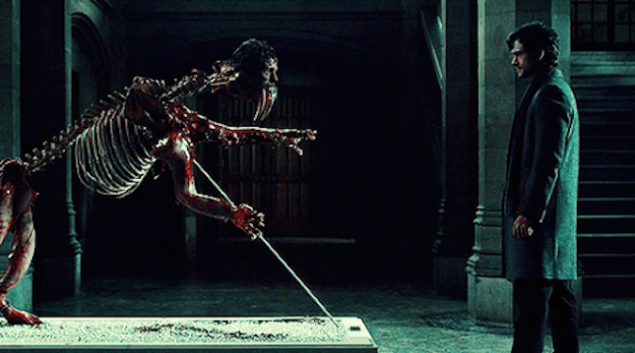 But just because Hannibal won't be dining out on NBC's bill doesn't mean that the meat will be left to spoil. Can we just drop the pretense and strip away our artifices of a one-sided clock that is also a stag that sometimes morphs into a snail?
Hannibal
isn't over.
Hannibal
will be picked up, either on a better-suited network, like FX or AMC, or it will go the route of
The Mindy Projec
t and
Arrested Development
get itself a streaming content deal. Because what NBC didn't take into consideration was that while their coveted demo seemed to be shrinking, the cult fandom behind the series was growing hungrier by the day. Fans of the show—which came out of the box crafted for the age of Tumblr with its 
stunning visuals
, homoerotic undertones just
begging for slash fiction action
, and
GIF-able moments
—have already taken to Twitter with their
#SaveHannibal campaign
, supported by the show's producers. "
Fannibals
" were
assured by Mr. Fuller
that the show's panel would still be presenting at San Diego's Comic-Con with new footage from its Red Dragon storyline. (Sadly, my favorite character,
Mason Verger as portrayed as Michael Pitt in the second season
, has already been replaced by Joe Anderson, so we'll need a really BIG new Big Bad.)
Hannibal won't die, because everything that can happen, happens. Hannibal was canceled and it will be uncanceled. If not, I'll start the damn Kickstarter for the project myself. After all, for all my minor quibbles with the show, I still spent last summer planning my wedding to have a "Hannibal-meets-Carcosa" theme. From a purely aesthetic standpoint, watching Hannibal is always an experience that leaves me feeling like one of the oft-quoted tags of the story: This is my design. And soon, a network will be smart enough to make it theirs as well.