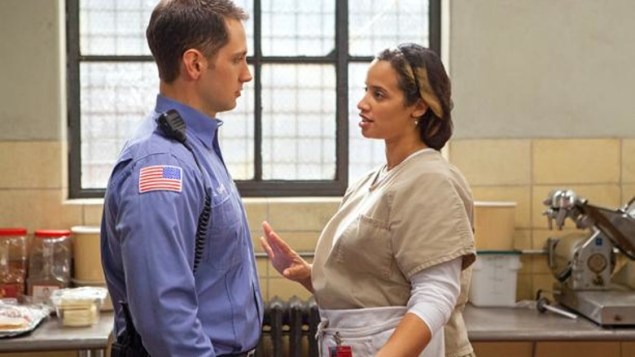 Find the rest of our Orange is the New Black recaps here!
To me, Orange is the New Black is a nearly perfect show. The acting is flawless, the writing is balanced and sharp, and the show skillfully plays between drama and comedy. There is one resentment I harbor against the prison series: I hate Daya. Her story line for the last two seasons have centered around a romance with corrections officer John Bennett and her resulting pregnancy, a plot that is unnecessary, inconsistent, and boring.
Daya's inconsistency is on full display in 'Bed Bugs and Beyond,' when Aleida (Daya's meddling mother, whose dialogue is comprised mostly of the single line "I am your mother" and sneering) meets with Pornstache's mother (guest star Mary Steenburgen). The plot here gets muddled, as it's confusing to remember that virtually no one actually knows Bennett is the father of Daya's child, but rather assume it was Pornstache's supposed rape that got her pregnant. Pornstache's mother, Delia Powell (played wonderfully by Mary Steenburgen) meets with Aleida, unbeknownst to Daya and Bennett, and announces her intent to adopt Daya's child and raise it as her own.
After the meeting, Daya and Bennett attack Aleida, claiming they are more than capable of raising the child. However, once Aleida raises logistical issues (where the baby will live, and in what conditions), Daya immediately turns on Bennett. Daya switches back and forth: she's madly in love with Bennett, she's aggressively criticizing him, she'll never give up her baby but hey, might not be a bad idea after all.
Dascha Polanco, who plays Daya, is almost always stiff, mostly unlikable on camera. Her dialogue is weak and carelessly written, surprising for a show that prides itself on high quality writing. Daya's romance with Bennett often appears forced; Ms. Polanco's chemistry with Officer John Bennett (Matt McGorry) is nonexistent. It's hard to believe that the two are in love; it's even harder to believe when virtually the only scenes of the two together after Daya is pregnant features the inmate berating Bennett for some reason or another.
Her lack of consistency isn't a sign of growth: it's the sign of a half–baked character. The weakness of the plotline is disappointing, considering Mr. McGorry's talent. His flashbacks are sweet—we see him bored on base while serving in the army, making a music video to "Hollaback Girl" and executing body rolls with surprising ease.
When Bennett visits Ceasar to see the conditions in which his child would be raised (he himself cannot take the infant home, as it is allegedly not his), he panics. This could have something to do with Cesar pulling a gun on his son when the teen complains about soggy french fries, but I digress. The next two episodes Bennett is suspiciously absent; by "Finger in the Dyke," the fourth episode of the season, Daya resigns herself to his permanent disappearance, smoking a cigarette in frustration. It seems as though this plot line has come to a halt, at least for a while. Which is something to be thankful for, considering the other (much more exciting) stories OITNB has to tell.
Like, for instance, Nicky Nichol's and her doomed heroin venture. Nicky and corrections officer Luschek go into business together, attempting to sell some snuggled heroin. The sale goes smoothly, but Luschek is caught with some heroin and promptly blames Nicky, who is shipped off to spend the rest of her sentence in maximum security.
Natasha Lyonne, who plays Nicky, flexes her dramatic muscle quite nicely here. Ms. Lyonne is known for her raspy voiced one–liners, so she rarely gets to do much dramatic work. However, when she does, she shines. Her hoarse voice is infused with panic as she realizes her predicament and by the end of the episode, as she enters max, eyes dead and somber. Nicky taking sole responsibility for the drugs is an interesting juxtaposition; her flashbacks show her blaming everyone and anyone for her addiction. There's some kind of twisted, sick poetic justice in her maximum sentence.
Kate Mulgrew, who portrays Red, gives one of her strongest performances to date in "Empathy is a Boner Killer." As Red sees Nicky leaving, she sprints forward and shouts, "I need to talk to her. I need to talk to her! I'm her mother, goddammit!" The exchange between Nicky and Red, along with Red's horrified expression when Nicky is forcibly dragged away, is heart wrenching. Seriously. I watched the scene isolated, out of context, and still got choked up. Oh, and Ms. Mulgrew speaks fluent Russian in this episode. She is originally from Iowa. Let us all take a moment to celebrate her talent.
Some nice dramatic work is also done by Taystee (Danielle Brooks) and Crazy Eyes (Uzo Aduba), with Taystee aggressively trying to convince Crazy Eyes that Vee is dead, only to have them both break down in tears. It's a bittersweet moment between the two, and the climax of Taystee's increasingly maternal role in Crazy Eyes's life.
Moreover, Caputo comes to the rescue, selling the prison and effectively saving it from dissolution. Caputo has emerged this season as a decidedly more likable character—he genuinely cares about his job and inmates, and works to protect them.
Oh, and Piper and Alex started dating. But at this point, does anyone really care?