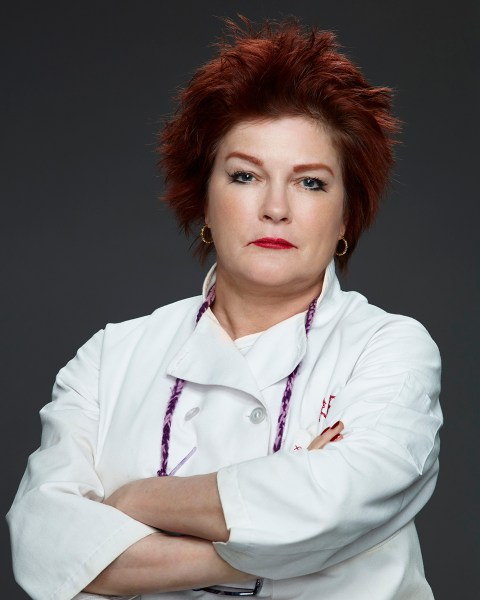 Kate Mulgrew isn't one to mince words. Maybe it's the three hit television shows (ABC's soap Ryan's Hope, Star Trek: Voyager, and Orange is the New Black), or her recently released memoir Born With Teeth. Perhaps it's just her forty year career, her perpetual existence among a flurry of scripts—but no matter which way you look at it, you've got to admit: Kate's got charisma.
Or perhaps, it's Red who has charisma. Red, Ms. Mulgrew's vivacious Russian Orange is the New Black counterpart, exists as an extension of Ms. Mulgrew herself, rather than finding her beginning and end in Litchfield Penitentiary.
However, Ms. Mulgrew's characters don't always come as naturally. The actress describes how her roles evolved as, "Unpredictably. The parts that have formed and shaped my career were unexpected, and when I embraced them I was also mystified at the size of my passion for them."
This holds true for Ms. Mulgrew's turn as Captain Kathryn Janeway on Star Trek: Voyager, which ran for seven years beginning in 1995. Despite Ms. Mulgrew's lack of "understanding of science fiction before I took that part," she found herself "falling disarmingly in love with [Janeway]." (Of course, Ms. Mulgrew wasn't the only one in love with Captian Janeway—the actress fondly describes fans of Star Trek: Voyager as "ferociously devoted.")
However, "Red was an altogether different thing because she was far more immediate…it was one of those things of alchemy, sort of like kismet, she just flew into my imagination. She was residing inside me for many, many years, perhaps she is a unique part of me organically. It was just an instant fit. My feeling about Red is a deep one, a profound one, as if we're doing something together. Does that sound insane to you?"
Of course, it's not insane. It's the mark of an actor well versed in her craft. Kate speaks of Red with a familiar, loving caress—she often refers to her character in first person, seamlessly slipping from "she's" and "her's" to "I's" and "me's" when discussing the intricacy of her Orange is the New Black identity.
And Red certainly is intricate. The beginning of season three introduces a new Red, one who's spent over a decade in jail and finally sees her remaining two years as manageable, even vaguely hopeful. Orange is the New Black excels when exposing the grim realities of the American prison system; we saw Taystee's release and, upon her inability to acclimate to life without the order of jail, her return. So how will Red—who's grown, if not flourished in prison—reconcile her outside life as a submissive wife hopelessly entangled with the Russian mafia?
Ms. Mulgrew muses, "It could be it's that very struggle that makes Red interesting. It's conflict, it's what burns inside of her…what defines her now? Prison? Or the experience she has before she went to prison? I don't think she even knows anymore. But my longing to rise above it, I think, is always present."
Again, we see Ms. Mulgrew and Red blended into one. But, as Ms. Mulgrew argues, "Everything about her is arguably parallel to everything about me at this point in my life. She is a woman of a certain age, she has lived boldly, she has used her wits and her intelligence and she has made mistakes…I understand all of these things. I understand them very well."
She understands Red so well, in fact, that she managed to translate her Irish Catholic background into her portrayal of a staunchly Russian woman. Red's background, Ms. Mulgrew assumes, "Is a Russian Orthodox [one], has formed every decision she makes, just as my Irish Catholic one did me. Once again, we meet on the same footing, we meet on the same bridge."
But while Red grew up in the depths of Russia, Ms. Mulgrew herself hails from Iowa, born to an Irish couple. Like Red, however, her life was marked early and often by tragedy: among other things, she recounts in Born with Teeth the death of both of her sisters and her rape. However, Mulgrew focuses on her decision to give her infant daughter up for adoption while filming Ryan's Hope.  Ms. Mulgrew and Danielle were eventually reunited while the actress worked on Star Trek: Voyager, and have enjoyed a close and supportive relationship since.
On her decision to share the story of her daughter, Danielle, Ms. Mulgrew explains, "The whole story of my daughter was hard to write, because I had kept it so close to myself for so many years. This is not a story you go singing through the streets with, it's very, very hard to tell the story of what happens to women, and in this case, what happened to me, as a young girl, and shaped the rest of my life. Every person I loved from going forward would be influenced by this regret, this agony, and then when I found her, twenty years later, the extraordinary effect it had on my life, and my children's lives."
Ms. Mulgrew approaches her life's challenges with the same way she approaches her roles: with a thoughtful, bright intensity and a dash of self–deprecating humor. When reflecting on her past difficulties, Ms. Mulgrew merely exclaims, with just a hint of Red's candor, "What's difficult is realizing that 42 years have passed! In a blink!" And then, a pause. A hint of contemplation. "I'm telling you, it's difficult to understand the velocity of life."