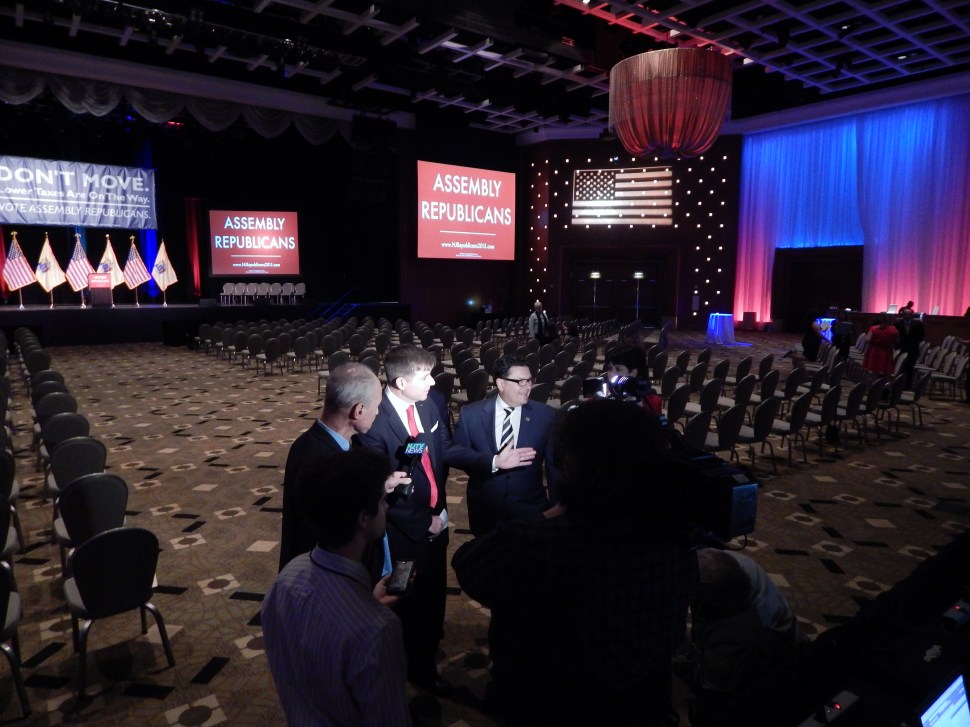 The Assembly's Republican Budget Officer has some advice for reporters covering this month's budget negations in Trenton: don't expect any groundbreaking compromises.
"Rerun your old stories, rerun our quotes," Assemblyman Declan O'Scanlon (R-13) told reporters at a Assembly Republican press conference outside the statehouse today, when asked whether this year's budget season would be a repeat of last year, when the legislature approved a spending plan that did little to offer long-term solutions to the more serious fiscal issue facing the state, such as pension and benefits or the Transportation Trust Fund.
Lawmakers are likely to kick those cans down the road again this year, O'Scanlon said, with the two parties specifically at odds over how to move forward on the pension issue after a Supreme Court ruling found that they could not force the state's hand in fully funding the system under a 2011 law. Republicans have joined Gov. Chris Christie in pushing for further reforms to the pension system, which would again involve putting off a scheduled FY2016 payment to the fund, while Democrats have dug their feet in alongside public labor unions, vowing to propose a budget that includes a full pension payment, paid for by a millionaires tax.
But Christie vetoed a similar millionaires tax from a $34 billion Democratic-sponsored spending plan last year, and there's little to no chance, particularly with his impending presidential plans, he'll have a change of heart this time around.
Thus, gridlock.
"It's going to be smoke and tax increases and mirrors and tax increases and completely unworkable — and it will have tax increases," O'Scanlon said, blaming Democrats for the gridlock. "We already know what the budget is going to look like, we've know it for two months, when our friends on the other side of the aisle made what was a phony, false, destructive promise to simply fund the pension system. The money is not there. It's going to take $2 billion extra, and I promise you, it's not there."
Republicans want Democrats to concede to the pension reform proposals put forth by the bi-partisan commission that Christie convened late last year, which include freezing the current system and moving active public employees onto a hybrid of a traditional defined-benefit pension plan and a 401(k)-like defined-contribution plan. But union leaders, with the support of Democrats in Trenton, walked away from negotiating those reforms earlier this year.
O'Scanlon called it a "real disservice to the people that they claim whose side they say they're on."
"Because the longer we put off dealing with this, and accepting the governor's pension commission recommendation, at least coming up with a mutual agreement, the deeper the hole gets," O'Scanlon said. "It's no service to teachers to pander to them. It's really shameful. We're going to see a budget that is completely unworkable, and they know that the governor is going to fix it. They have the luxury of doing whatever they want, and they'll do it."