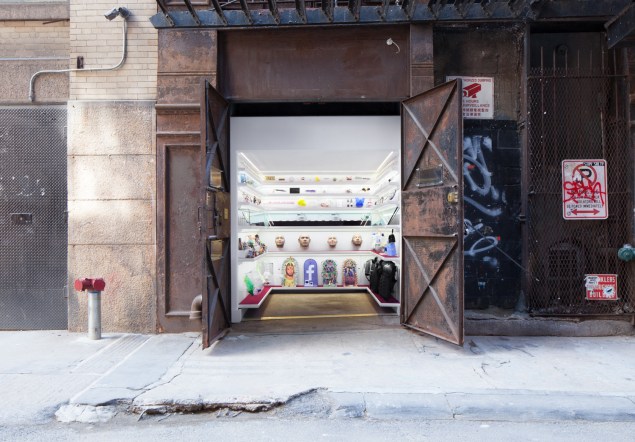 Most days, Chinatown's Cortlandt Alley is an inconspicuous if cinematic spot. Lined with locked iron shutters and a smattering of graffiti, it's perhaps best known as an occasional backdrop for various Hollywood police procedurals. Yet on a humid weekday evening, a large crowd had gathered outside No. 4, a defunct freight elevator, to attend the opening of a new exhibition hosted by its current occupant, Mmuseumm. 
The tiny space—described by co-founder Alex Kalman, 29, as "a modern natural history museum"—houses a compendium of contemporary curiosities and seemingly random cultural artifacts. Hailed by some as the world's smallest museum, it has gained a following among in-the-know tourists and city dwellers since its 2012 opening.
This year's iteration, also known as Season 4, threw open its doors after a confetti-laden performance by local soprano Elizabeth Novella. As the crowd swelled, guests lined up to view the collection in groups of three or four (no more can reasonably fit inside the 36-square-foot space) while outside, a free hot dog stand provided dinner for guests. Among the seemingly miscellaneous objects on display: a collection of cornflakes indexed by an English woman named Anne Griffiths; a depiction of the evolution of the coffee lid; and items once removed from people's bodies by a Massachusetts doctor. A series of homemade gas masks particularly caught the Observer's eye. The gas masks, Mr. Kalman said the following day, are an example of "the infinite creativity of the individual."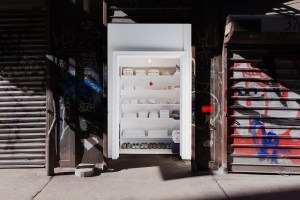 Unveiled alongside the Season 4 show was the inaugural exhibition of Mmuseumm 2—an annex of the original, situated just a few doors down and boasting even smaller dimensions. The storefront space had been taken over by artist Maira Kalman, Mr. Kalman's mother, to recreate the closet of her own mother, Sara Berman, who died 11 years ago. 
"My mother was an extraordinary woman," said Ms. Kalman, who dished out sesame star cookies (her mother's recipe) and pink lemonade to guests. "Very chic, very funny, very beautiful, but not vain. She only wore white." The closet is testament to that. Shelf after shelf holds neatly folded stacks of white clothing, punctuated only occasionally by a bottle of Chanel No.19, a watch, or a pair of loafers.
"She kept everything in perfect order. To me it's [an] insight into our desire to create some order or beauty in our lives," Mr. Kalman said. "The Met has the recreation of Queen Victoria's closet, and the Mmuseumm has Sara Berman's."