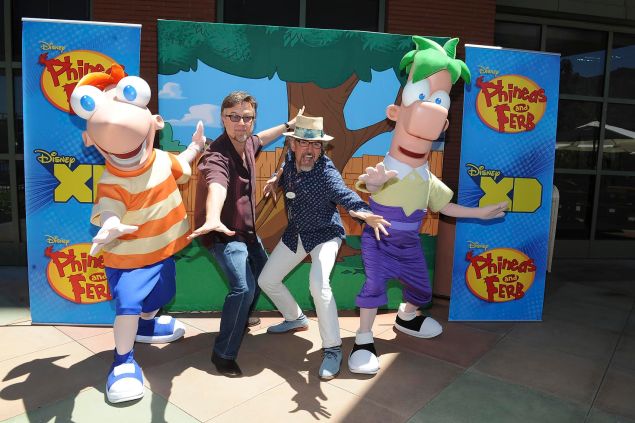 There were some tears, lots of roaring laughter, and several sentimental sighs as the finale of a popular show rolled on a big screen earlier this week.
When the episode concluded, it felt like a little piece of childhood had ended for all of us, no matter what your current age.
The funny, witty, endearing Disney series Phineas and Ferb is wrapping up its run on Friday night, with the aptly titled episode, "Last Day of Summer."
For seven years, the title characters have used every day of their (until now) never-ending summer vacation to dream up and construct some truly amazing and absolutely fun inventions.
But now, sadly, like all summer vacations, this one was destined at some point to end and that time is now. Phineas and Ferb's 104th day of summer closes out after 126 episodes, five one-hour specials, and a Disney Channel Original movie.
For the uninitiated, Phineas & Ferb is an animated musical comedy about two step-brothers who invent elaborate devices to have outrageous adventures, much to the chagrin of their sister, Candace. The show also features Perry the Platypus (aka Agent P) whose mission is to foil any and all plots perpetrated by a rather unsuccessful 'evil' scientist named Dr. Heinz Doofenshmirtz, who's famous for his hilarious rants and 'inator' inventions (Shrink-inator, Changenator-inator, Remote Control-inator, etc.)
Filled with original musical numbers, pop cultural references, celebrity guest stars and many jokes aimed at adults, Phineas and Ferb offers something for every age group. (And the songs are just downright catchy!)
"Animated cartoons don't usually get to say goodbye," says creator Dan Povenmire. "So, we felt like it would be nice to be able to wrap it up. It's going to play forever on [the] Disney [Channel]. There are so many episodes that by the time you're done watching all of them; you'll be ready for the first one again. It was just a nice way to say goodbye."
Phineas and Ferb comes from the minds of Povenmire and Jeff "Swampy" Marsh, who worked together on The Simpsons and Nickelodeon's Rocko's Modern Life. Povenmire provides the voice of Dr. Doofenshmirtz, while Marsh voices Major Monogram, Perry's secret agent boss.
One of the hallmarks of the series is the inclusion of musical numbers in every episode, all created and performed by Povenmire and Marsh. "It's really interesting," says Povenmire, "We were making music for years hoping to hit the charts and then we sold the show and quit trying to have a hit song on the radio and that's when the music from Phineas & Ferb hit the Hot 100 chart — right between Pink and Beyoncé. I remember we looked at each other and just said, 'how does that happen?'"
While the music from the series may have become a hit as soon as the show was on the air, actually getting Phineas and Ferb on television was no small feat – it took 13 years to sell the series.
Once the animated show found its home with Disney and was in full swing, the pace of production ramped up dramatically. "At any given time we were working on, well, it felt like, about 20 episodes at a time," says Povenmire. "We'd be fleshing out the story for one episode, putting the music together for another, editing another, and so on. It was non-stop, but in a good way because the end result was totally worth all the work."
Another slight struggle that ensued was the creators' desire to make Dr. Doofenshmirtz a divorced single father to a teenaged daughter. "That led to some meetings at Disney," explains Marsh. "We said, 'there are a lot of kids out there with divorced parents and we want them to see that it's ok.' Once we said that, the powers that be understood what we were trying to do and they embraced the idea."
When the decision to bring the series to a conclusion was made, things understandably began to slow down. "We were no longer writing multiple episodes and eventually we were down to just working on the finale," explains Povenmire, adds Marsh, "We went from juggling a lot of balls to just juggling one ball."
Povenmire admits that certain moments led to some serious personal reflection about the series as he says, "The production part of the show has been down for a while and we were over it, or so we thought, but then it was officially announced recently that the show would end so I tweeted it and suddenly there were hundreds of tweets saying really beautiful things." Upon remembering this, Povenmire began to cry, continuing with, "I started crying like I'm doing right now." Marsh picks up the story here, saying. "So he calls me right then and says, 'are you seeing this,' and I was already reading the tweets and crying too!" Povenmire reveals, "We had several crying sessions during all of the 'lasts' – last shoot, last song, things like that, and I thought we were sort of all cried out, but it didn't occur to me that there were so many people out there who would be touched when they heard the news and here we were seeing it in all these tweets and messages we were getting and it really moved us."
The level of sentimentality caught the pair off guard, as did a few other things during the course of the series. "We were really taken aback by how quickly the series took off," says Povenmire. "We felt like, 'we're funny guys, we can make a funny show,' but it got much bigger than we thought it would. We were also surprised by the growth of Swampy's character, Monogram. He was just supposed to get the audience up to speed because Perry doesn't talk, but then he got his assistant Carl and this whole life and he was really interesting and funny. And, the whole backstory thing for Doofenshmirtz came from two of our writers. They pitched it thinking we wouldn't like it but it really caught on and became a real piece of the series." Marsh adds, "There is so much that came from the minds of people working on the show. It's nice to feel like we created an environment where everyone got to contribute. That makes me feel good. We take credit for the ideas, but most of them came from our team," he says with a laugh.
Reminiscing about favorite episodes, Povenmire quickly says, "Oh, we have a list of favorites. We loved "Rollercoaster" because Swampy and I did it ourselves. For me though, I think my favorite is "Summer Belongs to You," which was our first hour long special, the last 11 minutes is maybe the best thing we've ever done. That song is one of our favorites and it says a lot about the series. And, of course, we also love this finale. I can't watch the finale without tearing up." 
Speaking specifically of the finale, Marsh reveals some of the creative process in putting it together, saying, "We had an idea for a long time about doing a "groundhog day-ish' story and it seemed like a good fit." Povenmire adds, "We like that idea because it's sort of like getting an extra day – in this case an extra day of summer, and that's never a bad thing, right?"
At this point, Povenmire reveals some of the philosophy behind Phineas and Ferb's actions, saying, "We made a lot of choices early on – like that Phineas and Ferb are never disobeying their mom. They do things that will get them in trouble but they don't know what will get them in trouble. They don't have a frame of reference for that. Candace is not trying to hurt them, she's going for fairness. No one's ever motivated by meanness. We thought all of these things were very subtle within the narrative, but people who watch it get it. I'm thrilled that it actually came through."
To this Marsh adds the things that he hopes other content creators will take away from the series. "What I want people who are making shows to get out of this is that you can never go wrong overestimating the intelligence of kids. You can make a show without being mean, filled with jerks and idiots and that you can put big words in and it's ok. You can do classical music, and folk and rock 'n' roll and rap and kids will get it. Stop dumbing down the subject matter. We fought for that. We fought for treating kids as smart and clever and everyone we started hearing from got that."
It will be hard to watch these boys of summer, Phineas and Ferb — and Povenmire and Marsh — leave but the creative duo behind the characters don't think the door is absolutely slammed shut on future Phineas and Ferb episodes. "Never say never," says Marsh. To give further hope, Povenmire adds, "They're still making Scooby Doo episodes and we're sort of the Scooby Doo of a generation so I could imagine ten years from now someone dusts this off and, without or without us involved, they make more."
Thankfully, with so many episodes still on air for everyone to enjoy, summer with these kids will never truly end.
Disney is sending Phineas and Ferb in style. A marathon of episodes is currently airing on DisneyXD and will continue right up to the finale, "Last Day of Summer," which airs on Friday, June 12 at 9:00 et/pt. The show will then continue to air daily on DisneyXD and Disney Channels around the world.