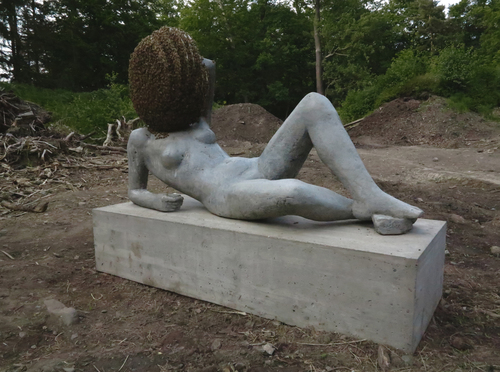 First he planted a massive aquarium on the roof of the Met, and now he's set to make MoMA's sculpture garden a home for honeybees. Pierre Huyghe is definitely having a very New York summer. Recently purchased by MoMA, the French artist's widely acclaimed and popular work Untilled (Liegender Frauenakt) [Reclining female nude] (2012), will be shown in the museum's Aldrich Rockefeller Sculpture Garden from June 16 though mid-August.
The piece features a cast concrete female figure reclining on a plinth, with a real beehive for a head. It was first shown at dOCUMENTA (13) in Kassel, Germany where it was praised by critics, and later included in Mr. Huyghe's retrospective exhibition shown at the Centre Pompidou in Paris, the Museum Ludwig in Cologne, and the Los Angeles County Museum of Art (LACMA).
The bees that inhabit Untilled's hive are free to roam as they please, and visitors will find them buzzing about within a pretty wide radius of the work. (If you're allergic, we wouldn't recommend you get too close.) The Observer had the chance to see the work on view at the Pompidou, where it was displayed in an outdoor courtyard along with programmed precipitation that created environmental variables like fog, rain, and snow. While the environment at MoMA's sculpture garden may be slightly different than previous iterations, the core concept remains the same: exploring the relationship between humans and bees as the insects continue to build the hive and transform the sculpture on view.
We reached out to MoMA to see if Human, the striking white Ibizan hound with a painted pink leg, would also be found at the garden this summer. A representative from the museum confirmed that Human won't be joining the exhibition this time. The dog—like many other living elements that have become signature to Mr. Huyghe's work—was part of the original installation at dOCUMENTA (13) and his retrospective.