Gentlemen, the sartorial race of the summer is well underway and keeping up is absolutely mandatory. First it was the London Collection: Men's, which just wrapped up a whirlwind four days of fashion shows and parties in the U.K. Now, the well-heeled men of fashion are taking over Florence for Pitti Uomo (although if you can't make it there, we've rounded up the hot Italian spots to visit in New York this summer).
Long gone are the days when a simple black suit, white shirt, and basic leather loafers would suffice as a stylish getup. In order to maintain a place on the modern best-dressed roster, a penchant for quirky and eye-catching accessories is necessary. This includes, but is not limited to: hats from a fine milliner, a luxurious silk pocket square, three tanned inches of exposed ankle, a masculine bracelet made of hammered gold and a wardrobe of sneakers that play well in both casual and dressy settings. It's no secret that the men's fashion market is quickly catching up to the women's in regards to sales numbers, and it shows. Men's stores of all types now offer more categories than ever before, catering to this new generation of shoppers who wants to stock their closets with much more than the bare basics.
As the email invites for New York Fashion Week: Men's start to roll in, there's no time like the present to start prepping your outfits for the shows and parties that are due to hit the city in just less than a month. For now, these images from the streets of Florence should suffice for inspiration. And keep a keen eye out for the accessories here, as we all know the devil is in the details.
Ascot alert: Way more unexpected than a super skinny tie, or a bow tie of any hue, an is ascot the most notable way to mark your status as a menswear connoisseur. Plus, this particular fellow is more or less synonymous with the definition of dapper.
Ditch the classic dress shirt: When the mercury climbs over 70 degrees, we all start to feel sympathetic towards those who have no choice but to wear a suit day in and day out. While we'd recommend sticking to the dress codes your office requires, those working in more creative offices should feel free to leave their dress shirts tucked away in their closet. Instead, introduce a rotation of lighter tanks and t-shirts to wear underneath blazers of all colors and cuts. We love how blogger Giotto Calendoli paired his pinstripes with a grey tank, which also happens to coordinate with his distressed felt hat.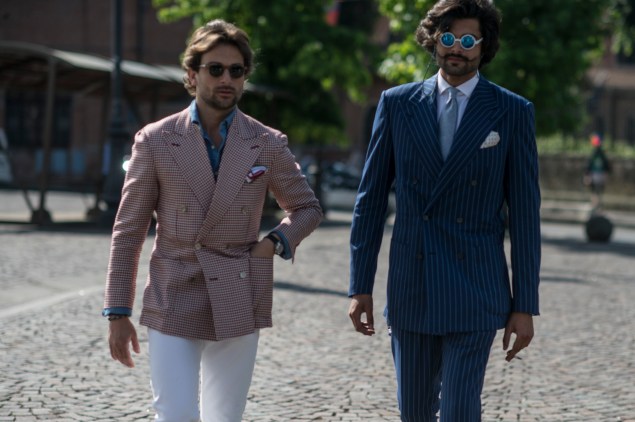 Do the denim: However, if pairing a blazer with a t-shirt feels like sacrilege, why not try out a denim dress shirt instead? Not only does it feel fitting for steamy summer days, but it plays well with busy patterns as well as a wide range of color palettes.
Bag it up: The man bag tends to carry around a bad reputation, but these smart accessories are perfect for toting around portable phone chargers and snacks between shows. The two examples here maintain their status as masculine accessories, featuring clean lines, no bells and whistles, and neutral colors. We approve.
#SquadGoals: If all else fails, just surround yourself with a slew of well-dressed buddies. Feel free to raid their closets freely, just make sure your outfits don't match too closely.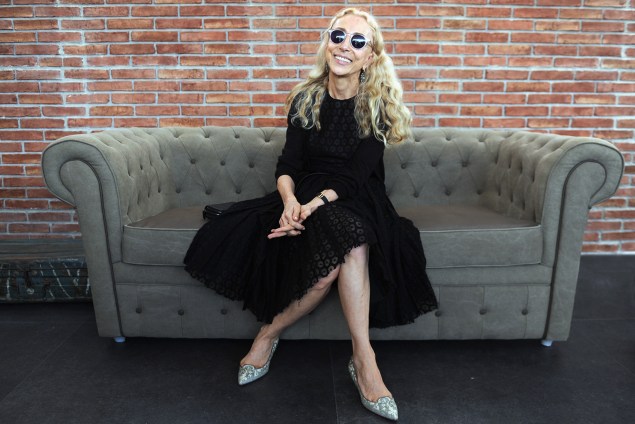 And finally, one for the ladies…In order to stand out from the legions of stylish men, we love how Vogue Italia's Franca Sozzani wore a feminine silhouettes and girly flats. But in stark black and with a bold pair of shades, she's telling the boys that she's not one to mess with. So rather than trying out styles that are boxy and borrowed from the boys, this is an opportune time to embody a ladylike intrigue in prim and proper dresses and skirts.