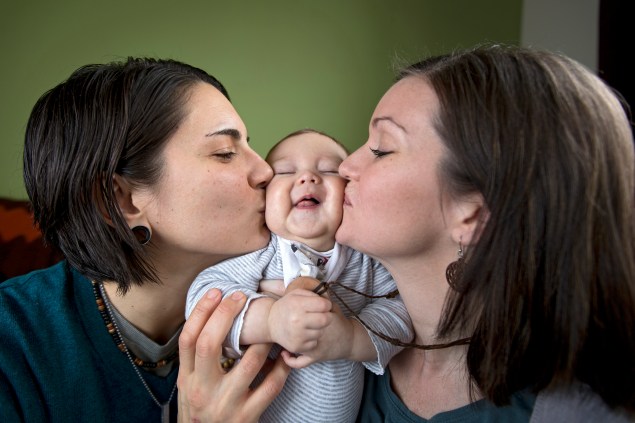 Kelly Noe and Kelly McCracken spent their morning glued to the computer screen in their attorney's office in Ohio, manically refreshing the live SCOTUSblog for news of the opinion that would either ensure their happiness or fracture their lives. Their one-year-old daughter, Ruby, was playing happily, oblivious to the tension building in the room of attorneys, paralegals, and plaintiffs.
Ms. Noe and Ms. McCracken were two of 30 plaintiffs involved in Obergefell v. Hodges, the Supreme Court decision legalizing same sex marriage nationwide. The couple, represented by Lambda Legal, fought for the right to have both their names printed on Ruby's birth certificate.
"We all screamed, and then we all cried, and then we all sat in silence for a solid ten minutes and just stared at each other, then we all screamed again," said Ms. Noe of the moment the decision came.
Throughout the country, many plaintiffs in historic marriage equality cases rejoiced.
When Nicole Dimetman and her wife, Cleopatra DeLeon, learned of the groundbreaking news, "We just started screaming, squealing a little bit, crying, trying really hard not to disturb the baby," Ms. Dimetman said, "The only thing I could think of was, we won."
The couple are lead plaintiffs in another landmark gay rights case, DeLeon v. Perry, which sought recognition in Texas for their Massachusetts marriage.
Within 30 seconds of the 5-4 Senate approval, James Brenner was calling his husband, Charles Jones, to relay the good news.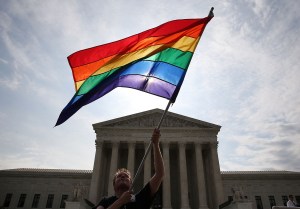 "The fact that it's happened is just a dream come true," said Mr. Brenner of the historic decision. The lead plaintiffs in a case in Florida, Brenner v. Scott, Mr. Brenner and Mr. Jones were married in Canada in 2009 and are elated to see their marriage will now be officially recognized.
"This is a terrific day for all Americans because it verifies that our system does work," Mr. Brenner said. "As Thomas Jefferson said, the rights of the majority must always be upheld but never abused, and that in cases where the majority abuses the rights by doing something like voting on civil rights of lesbian and gay couples, the judiciary steps in and fixes it. And that's what we saw happen today."
Citing a Macklemore lyric ("a certificate on paper isn't gonna solve it all but it's a damn good place to start"), Mr. Brenner pointed out that this isn't the end of the fight for LGBT rights. "Now you can get married in Florida but fired the next day for being gay, so there still is a lot of work to do," he said.
But for couples like Ms. Noe and Ms. McCracken, a much-needed break from the fight is due. "It feels good to say that I don't think anything is in store," said Ms. Noe, "We don't have to fight anymore. We just get to be normal."
To celebrate, the couples, overwhelmed and overjoyed, are attending mass weddings and other celebrations in their respective states to commemorate the perfect kickoff to Gay Pride weekend and, as Ms. Dimetman said, "a historic day for our families, but also all of America as we become a more perfect union."