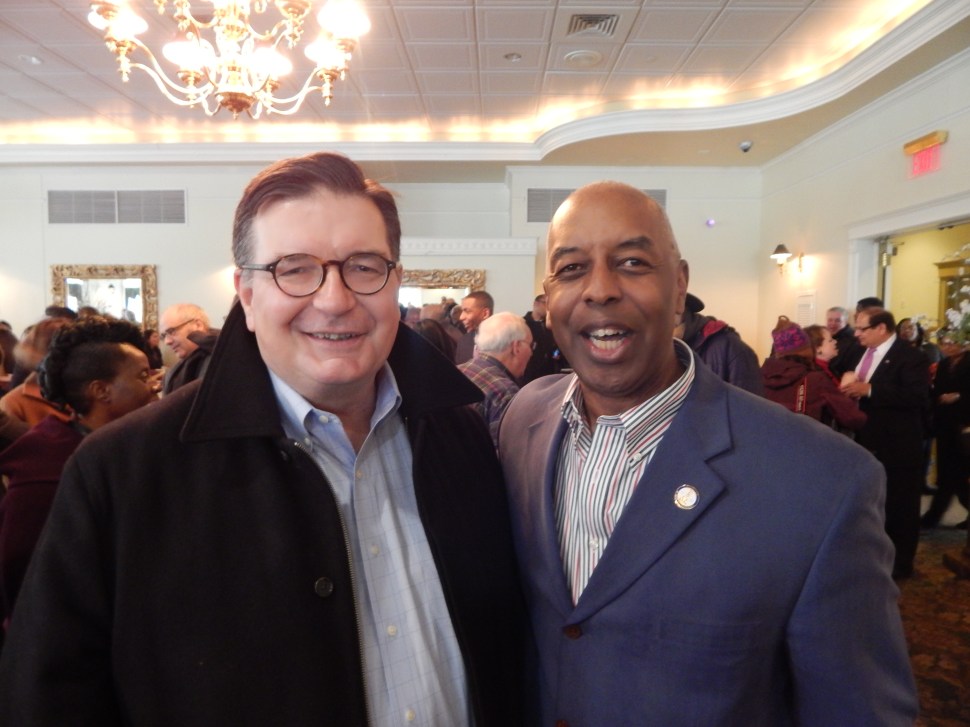 TRENTON — Mercer County Executive Brian Hughes says he supports a regional initiative by Central Jersey lawmakers to get a casino in their districts — and offered to host it in his own county.
"Right off the bat I've said the riverfront, just because we already have some development down there and it's easily accessible," Hughes said, referring to currently underutilized waterfront property in Trenton, where most of the state's offices are located. "Lord knows the state of New Jersey has enough parking down in Trenton that is certainly not used after four o'clock and makes it an ideal location."
Hughes support for additional casinos in the state — which he says should be placed in Central Jersey and North Jersey, rather than North Jersey alone — comes amid heated debate in Trenton over whether to expand gaming beyond an economically-squeezed Atlantic City, to which its been limited for the last 30 years. North Jersey lawmakers have proposed a constitutional amendment that would authorize the legislature to erect casinos in three of their own counties — Bergen, Essex, and Hudson — while Central Jersey lawmakers have responded with their own amendment, one that calls for one casino in Central Jersey and one in North Jersey only. South Jersey lawmakers have been caught somewhere in the middle, with most opposed to the prospect of added casinos in the state and the affect many fear it will have on Atlantic City's already depressed gaming market.
Whether or not either of those amendments make it to the ballot this year for a voter referendum, as some have suggested they ought to, will likely depend on the directive of Senate President Steve Sweeney (D-3), who has said he is open to North and Central Jersey gaming but who has expressed concern over the impact such a referendum would have this year, with Assembly seats in certain battleground districts up for grabs this year. North Jersey lawmakers, led by Assembly Speaker Vinnie Prieto (D-32), may be mounting their own campaign to get the question on the ballot this year, though it's unclear whether they'll have enough votes to get it moved.
There are a number of lawmakers whose support for such an effort remains unclear, including Central Jersey lawmakers like Assemblyman Reed Gusciora (D-15) and Assemblywoman Liz Muoio (D-15), both of Mercer County, and North Jersey lawmakers like Assemblywoman Annette Quijano (D-20) and Assemblyman Jamel Holley (D-20), both of Union County.
Hughes, for his part, says he's protective of Central Jersey's interests, and hopes Gusciora and Muoio would be too.
"I'm supportive of that bill," Hughes said of the Central Jersey amendment, which lists as potential locations for a casino Mercer, Hunterdon, Middlesex, Monmouth, Warren, or Somerset. "But we'll see where it goes. Frankly I'm not sure any constitutional amendment is going to make it to the ballot this year, but we'll see."
Prieto needs 48 votes in the Assembly, together with the Senate's 24, to get the question on the ballot before an August 3 deadline. Republicans have signaled their support for some form of expanded gaming in the state, but with two of their own caucus members facing Democratic challenges in some of the most competitive districts in the state this year — Assemblyman Chris Brown in LD2 and Sam Fiocchi in LD1, they might find it safer to wait until next year.
Hughes suggested it might be better to wait until next year to hold the referendum, when higher turnout numbers will give lawmakers a better sense of statewide support.
"If it were earlier, and included Central Jersey, I think that'd be fine. But we have a traditionally low turnout this year, with nobody on the national or statewide ballot, and I think you'd want to get a larger sense of a change of this magnitude maybe when more people are going to turn out," Hughes said.
Still, Hughes isn't underestimated the power of upstate lawmakers when it comes to issues like this.
"You know, the guys up in North Jersey have a lot of political clout when it comes to something like that," he said. "But I always thought the Central Jersey bill was necessary for studying the pros and cons of building a casino here."