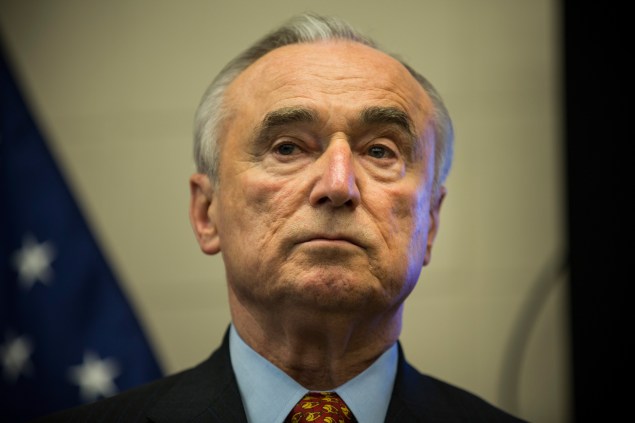 In an effort to combat a spike in shootings, the NYPD will flood 10 high-crime precincts throughout the five boroughs with additional cops about a month earlier than last year, Mayor Bill de Blasio and Police Commissioner Bill Bratton said this afternoon.
The initiative, known as "Summer All Out," was launched last July to counteract the traditional rise in shootings that occurs during the summertime. Though overall crime is down, there have been 135 homicides through May 31, up from 113 in the same period a year ago. The number of people shot has also jumped from 467 to 510.
"Summer All Out will make a difference all over the city," Mr. de Blasio said at press conference at the 44th Precinct in the South Bronx, where shootings are on the rise. "Summer All Out was one of the tools that helped to make a difference, that was applied in the right way and it helped to turn things around."
A total of 330 officers will be distributed among 10 precincts, officials said. All are in predominately minority areas, including the South Bronx, the North Shore of Staten Island and eastern Brooklyn. On average, 15 to 25 cops will be sent to each precinct and police officers will receive two days of training before entering the new neighborhoods.
Despite the City Council and Mr. Bratton's call for 1,000 additional officers, Mr. de Blasio insisted the police force currently in place would be sufficient to combat the shootings. He also said new technology, like ShotSpotter, would also help.
"We are addressing the situation with our existing resources and I think were doing it effectively," Mr. de Blasio said.
Crime is a sensitive topic for Mr. de Blasio, the first Democratic mayor in two decades. Running on a platform of police reform in 2013, Mr. de Blasio has insisted progressive governance can coexist with an effective police force. Right-leaning critics and tabloids have hit Mr. de Blasio repeatedly for any uptick in crime.
Officials said Summer All Out was a success last year, running from July until October. Homicides dropped about 26 percent during that time period, Chief of Department James O'Neill said.
Mr. O'Neill, along with Mr. Bratton, sought to downplay the notion that cops were being added to the precincts earlier than usual because police were overly worried about the uptick in shootings.
"We just wanted to get ahead. Every year, during the late spring and early summer we do see a rise in violence," he said. "So we just wanted to stay ahead of it this year."