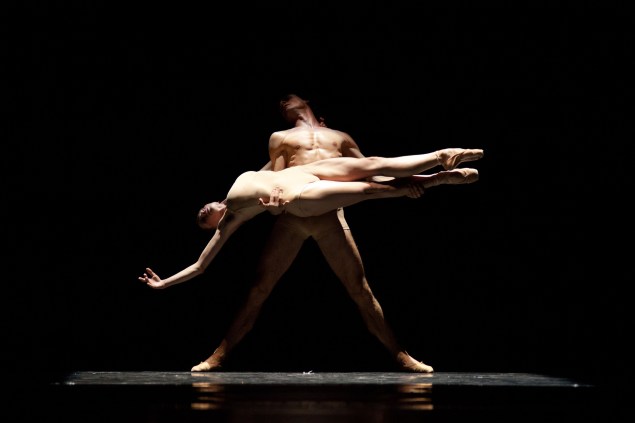 Why, you may ask, would the Polish National Ballet—almost 90 strong, with a repertory ranging from the classics to Balanchine and Ashton, from Béjart to Kylian to Forsythe—arrive in New York (at the Joyce) with 23 dancers and three recent pieces, two of them by Krzysztof Pastor? Could it be because the company's artistic director is none other than … surprise!—Krsysztof Pastor? Possibly. His two pieces (Adagio & Scherzo, to Schubert, and Moving Rooms) are no better or worse than dozens of other similar European works of the past 25 years. In fact, they're more competent than many, but competence isn't what we go to the ballet for.
Moving Rooms (to Schnittke and Górecki) "does not illustrate anything," Pastor tells us, "though it does contain many inspirations." I detect only two: William Forsythe, who with his sometime muse Sylvie Guillem has done so much to distort ballet in our time. And the Dutch National Ballet, that breeding ground of overwrought athleticism, where Pastor danced for a decade and where he's still resident choreographer. This dance aesthetic is basically Euro-centered, though it has its outposts here—in Boston (the art of Elo Jorma), Houston, Aspen/Santa Fe, and other benighted venues.
The two Pastor pieces are very much alike. There's a general aura of angst that suggests his spiritual comfort zone—highly charged angst plus a few eclectic references, not only to Forsythe but to Balanchine and others: a nod, even, to Agon, which apparently has taken since 1957 to reach Poland. The latter stretches of the Schubert piece—that is, the Scherzo—somewhat disperse the gloom.
Pastor's dancers are strong, attractive, energized. They carefully deploy elements of ballet—the women, on pointe, with almost exaggerated arched and pointed feet, the men with careful double air turns—and they haven't been asked to succumb to the current mania for overhead lifts. On the other hand, they've not just succumbed to but seem addicted to those ear-high extensions that Guillem inflicted on the world. Since Pastor is choreographing for companies around the world, it's fortunate that he can put ballets together efficiently, though it would be more fortunate if he had something original or interesting to tell us. But as the old Polish proverb has it, "You can't have everything."
As for the third piece on the Joyce program, I'm afraid I have to report that it was yet another Rite of Spring, which I had hoped was on sabbatical after its 2013 centenary year. This version, first seen here in 2006, is by the Israeli Emanuel Gat, and it has the virtue of an original concept: no implacable community slaughtering The Chosen Maiden, just two guys and three gals in a tightly contained space—red rug, red lighting—trading salsa moves and some nice swing dancing. (I was immediately reminded of the Lindy Hop of my boyhood years.) Well, why not? Anything goes! But Stravinsky's great score is long, and alas, five nice-looking people doing salsa soon wear out their welcome.
From the Joyce to St. Mark's Church in the Bowery is just a hop across town, but the distance between the Polish National Ballet and the New York Theatre Ballet is about as far as you can go and still be in the same art form. Diana Byer's revitalized company of 12, now that it's found a splendid new home in the church, is back doing the Lord's work, with its delicate repertory and dedicated performers. A universe away from Eurotrash, it's English-oriented, restrained, witty, tasteful—and yet revolutionary in its insistence on sticking to its roots, even in new repertory.
Its program last week was framed by England's two great choreographers of the 20th century, Ashton and Tudor—in fact, it opened with Ashton's first ballet, Capriol Suite, a group of formal dances based on 16th century models: the Pavane, Bransles, etc. Both stately and lively, it reveals that as early as 1930 Ashton knew how to put a ballet together and make his dancers look good by not demanding too much virtuosity from them while insisting on style. As staged by Amanda Eyles, Capriol Suite was well served by the formal large spaces of the church, and its period costumes, by Ashton's early collaborator William Chappell, were handsome, though perhaps the young men would look happier if their semi-bloomers weren't dusty rose.
Tudor's Dark Elegies, one of his most famous works, at first seemed somewhat naked without a proscenium arch, but since it's a work of communal mourning (set to Mahler's Kindertotenlieder) it soon seemed at home in its church setting. This piece is not new to the company, and they perform it with reverence and feeling, although some of the dancers appeared a little young for the gravity of the subject. The baritone Darren Chase filled the Mahler songs with manly feeling.
Other than Two Timing, a short, clever piece by David Parker—he provides the "music" by tapping and clapping, while the company ballerina, Elena Zahlmann, ingeniously responds—the new works were also English. Cat's Cradle is the third ballet for NYTB by English-born and trained Gemma Bond, currently a demi-soloist at ABT. It features eight dancers weaving around, under and through long sashes—a challenge that perhaps calls too much attention to itself. But this was an accomplished piece.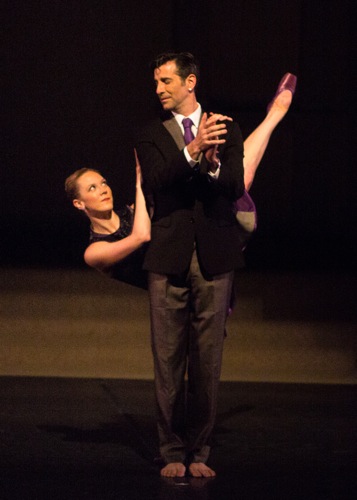 The heart of the program was a work by the first-rate Richard Alston, one of England's finest choreographers, who has established a happy working relationship with New York Theatre Ballet. Such Longing was created 10 years ago for his own company, but has never been seen in America before. It's to a group of Chopin piano pieces, mostly mazurkas, beautifully played by Michael Scales. The ballet was performed by four of the company's leading dancers, including its anchorman, the splendid Steven Melendez, and although it lacks the overarching structure and brilliant variety of Robbins' Dances at a Gathering (clearly an influence on Alston), it creates and sustains a plangent mood of its own. As always, Alston is fluent and inventive, incapable of vulgarity or pretension. I don't understand why his work isn't regularly seen around the country—but in a world of Jorma Elo and his ilk, why should I be surprised?