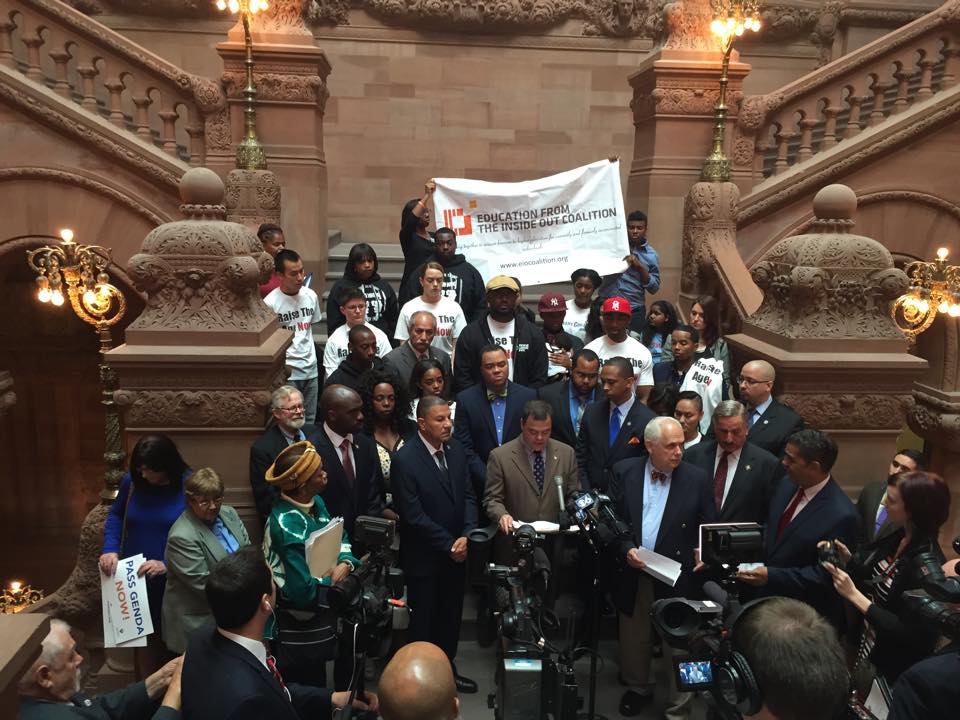 For the Education from the Inside Out Coalition, education should be accessible to all.
Tomorrow, activists led by the EIO Coalition will make education available for everyone through their #FreeCity Action Day. By creating pop-classrooms in both Brooklyn and Harlem, the Coalition hopes to raise awareness of the systematic barriers in education that shut down undocumented, low-income, and incarcerated or previously incarcerated community members from the often privileged spaces of higher learning. Saturday's conversations will be a way for participants to share tools towards community solutions to end mass incarceration and criminalization.
The EIO Coalition works towards placing remedies on policies that affect the accessibility of higher education. According to the organization's Community Organizer Dionna King, the organization currently has three main goals: removing "the box" in higher education and reinstating New York's Tuition Assistance Program (TAP) and pell grants inside correctional facilities.
"The crux of our work, a huge part of it, is speaking about how higher education isn't something that should be a privilege, it's a right," Ms. King told the Observer. "It's something that should be accessible to everybody, regardless of the fact if you're undocumented, whether you're low-income, whether you've been impacted by the criminal justice system."
Saturday's pop-up classrooms are mirrors of the EIO Coalition's mission. The non-partisan collaborative is committed to alleviating the issues that individuals with past criminal justice involvement face, but it focuses primarily on removing the higher education barriers for these individuals. The Coalition hopes that through this, they will be able to reduce recidivism in the future and increase opportunities for individuals following release.
---

"If people aren't in higher education, they aren't exposed to policy analysis and how people form policy," Melody Benitez, research and advocacy associate at Class Size Matters, told the Observer.

---
Classes on Saturday will be facilitated by a wide variety of leaders, including Columbia and Brooklyn College professors, financial planners, activists and artists. All topics covered in Saturday's classrooms will cover issues that stem from mass incarceration, systematic racism, and state violence—community trauma, restorative justice, financial literary, policy analysis, and the history of housing in Brooklyn are just some available classes. Over 30 individuals have helped bring the event together.
The inspiration behind #FreeCity Action Day came from Ms. King's own personal experiences. After a realization that her work was done in more privileged spaces of higher education, Ms. King, who's been planning tomorrow's event since April, decided to try and bring education to everyone.
"I found myself speaking in a lot of privileged spaces and a lot of spaces of academia about issues that relate to mass incarceration," Ms. King said. "There's this weird moment where I'm just speaking to people in positions of privilege about access when they are actually there, so how am I bringing more people into this work and what does that mean as an organizer that I'm not speaking to people who are directly impacted?"
Kenton Kirby of the Crown Heights Community Meditation Center will be leading a workshop on community trauma—how trauma of individuals impact members of the community.
"One thing I want people to understand is that hurt people hurt people," Mr. Kirby said. "If someone can walk away with that understanding, it will give them a better understanding of how the communities have been impacted by trauma."
Melody Benitez, a research and advocacy associate at Class Size Matters, will be teaching basic policy analysis, and hopes to spark up conversations about how policy affects all individuals.
"I want [attendees] to walk away with a lot of things going on in their head, thinking about how policy impacts and creates these things that are happening in our everyday lives," Ms. Benitez said. "When we talk about mass incarceration and the policies that created it, we have to think about policy and how it was designed. If people aren't in higher education, they aren't exposed to policy analysis and how people form policy."
Ms. King says she hopes that those who visit Saturday's classrooms will leave feeling a commitment towards the policy work done by the EIO Coalition. She wants attendees to feel more connected to people and the community. Her ultimate goal, though, is to bring in as many people as possible to these types of events.
#FreeCity Action Day will be at no cost, taking place Saturday, June 20 from 10 a.m. to 5 p.m. at Marcus Garvey Park in Harlem and Herbert Von King Park in Brooklyn. According to Ms. King, the parks are within "two communities that have been impacted by low levels of educational attainment and high levels of incarceration."