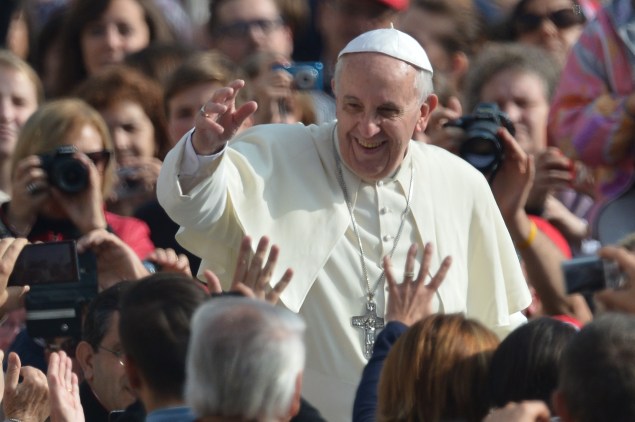 Pope Francis is famous for the ways in which he eschews technology—he has publicly stated that he no longer watches television, and he also warned young people about wasting time on the Internet.
But in other ways Francis is the most tech-savvy pontiff yet. He called the Web a "a gift from God" when used properly, and he also tweets frequently to keep the world's Catholics up-to-date on teaching.
The pope continues his love-hate relationship with technology in his new encyclical Laudato Si, released this morning. The document's main topic is climate change—Pope Francis laments that the world is turning into "an immense pile of filth" and offers prayerful solutions to environmental problems.
The pontiff also makes clear, however, that technology is inextricably linked to climate change issues. Rather than engaging frivolous uses of technology, scientists would do well to focus on ethics. In Francis' words, "When technology disregards the great ethical principles, it ends up considering any practice whatsoever as licit…A technology severed from ethics will not easily be able to limit its own power."
This critical opinion of technology is not surprising—nobody expects the pope to endorse server farms n an encylical.
What is somewhat surprising is Francis' larger point—rather than lambasting technology as a whole, he instead says scientists should channel their efforts into creating technology for the common good.
"If an artist cannot be stopped from using his or her creativity, neither should those who possess particular gifts for the advancement of science and technology be prevented from using their God-given talents for the service of others," Francis writes.
In one sentence, Pope Francis not only compares technical knowledge to artistic prowess, he also says technological talents are "God-given." This is a new tone and a new frontier for a church that many feared was technically and scientifically backwards.
Pope Francis concludes Laudato Si by referring to it as a "joyful and troubling" document. The same is true of the views on technology expressed therein—though he warns that misuse of technology could rapidly lead to the planet's destruction, he also embraces it as a tool that those with scientific know-how can use to save Earth.
Renewable alternatives to fossil fuels and plastics are still far in the future, but many tech companies have already started making changes which gel with the pope's message. Apple is powering data centers with renewable and solar energy, and Google is also using green power and clean energy for its operations.
Tech companies finally agree with the Church about something—Pope Francis really is a miracle worker.