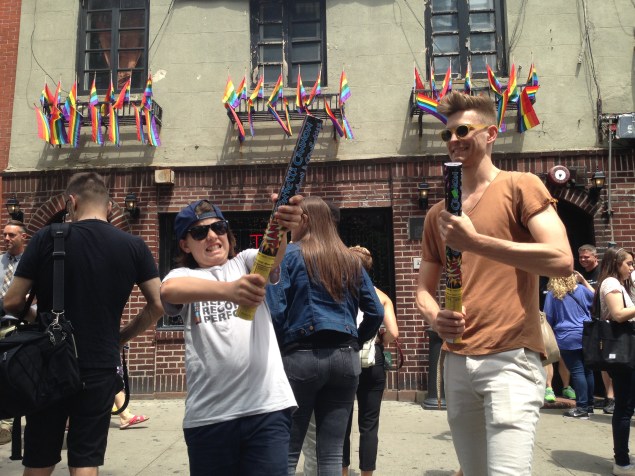 Within an hour of The Supreme Court's decision legalizing gay marriage throughout the country, party people, activists and supporters descended in droves on the Stonewall Inn, storied birthplace of the modern gay rights movement. By 11:30 a.m., roughly 100 people gathered together outside the Greenwich Village landmark, cheering and waving flags.
---

'I just got off the internet and the right wing was going crazy on Twitter, so I think this is gonna send them over-the-moon crazy!' Kate Walter said.


---
"This particular battle is not really about marriage— it's about [Justice] Kennedy's statement, and what it says about human dignity," said John Jensen, 32, eyes barely visible beyond his dark aviators, who played hooky form work to join friends at Stonewall. "And I do think he timed it. This is the third of his big decisions—it was announced out on the same day that two of the other landmark decisions came out, the Lawrence and the Windsor cases both came out on June 26."
The Supreme Court ruled in Lawrence v. Texas that a Texas law criminalizing intimate conduct among two people of the same sex was unconstitutional on June 26, 2003. Ten years later on June 26, 2013, the court ruled that the Defense of Marriage Act was unconstitutional in United States v. Windsor. The ruling called DOMA a "deprivation of the equal liberty of persons that is protected by the Fifth Amendment."
Mr. Jensen said that growing up in Wyoming, Matthew Shepard's murder was a ghost that loomed large. In 1998, Shepard was abducted by two men in Laramie, Wyoming, tied to a split-rail fence, pistol whipped and left to die in the cold.
"Matthew Shepard was not a shock [as to] what could happen to a boy like me in Wyoming," said Mr. Jensen. "I didn't come out until I left the state, as I was raised in a Mormon community that was a little bit gentler around violence— but the emotional violence around homophobia was intense.
"Growing up in Wyoming, the idea as a child that I could ever have someone recognize a union with a man is something that I never even imagined. I can't imagine what that little kid would feel like on a day like today, to have very important people in the country say that my desire to be with a man is worthwhile, so I came here to honor this place."
Meanwhile Boris Gashot, 12, stood outside Stonewall with his brother Justin and Justin's boyfriend, taking in the magnitude of a historic day. "This is an amazing week! I'm just really happy for lots of people," he said. "I was told about what happened, the first riots at Stonewall, and look at us now! So happy." He and his brother then set off roman candle firecrackers outside, after a passing garbage truck, honking to the revelers, had gone.
Also making pilgrimage to The Stonewall that day was Jeremiah Johnson, 32, who said that this decision on the gay marriage debate enables other community issues to be on the bargaining table. "I work for the Treatment Action Group in HIV activism, and am really excited that we can sort of move on into the issues that affect the health and well-being of our community," he said.
Mr. Johnson remembered his upbringing in the rural Parker, Colorado, while standing outside in a salmon colored tank top. "There were no gay-straight alliances in high school," he said. "And it was no place to talk openly about what it was like to be a young gay man struggling with exploring my sexuality. That secrecy and that lack of conversation really led me to grow up with a lot of shame, and I've struggled a lot with valuing myself, feeling like I deserve happiness and I deserve a connection with somebody else."
The community is monitoring social media closely, vigilant for signs of an expected backlash from the right-wing. "I just got off the internet and they were going crazy on Twitter, so I think this is gonna send them over-the-moon crazy!" said Kate Walter, 66. "I don't wanna hear that today, or this week. Don't rain on my parade, please."
"My happiness is directly correlated to [Justice] Scalia's impotent, choked rage," said Charley Donnelly, 24. "My joy will be measured in Scalia Harrumphs forevermore."
Several people in the crowd praised Justice Ruth Bader Ginsburg. Chase Whiteside, 27, showed up to celebrate Justice Ginsburg's vote in a t-shirt bearing Ginsburg's likeness and identifying her as 'The Notorious RBG'. "This was either going to be the last weekend that gay couples couldn't get married or the first weekend that they could," he said. "Ruth knew we wanted to party on Pride weekend."