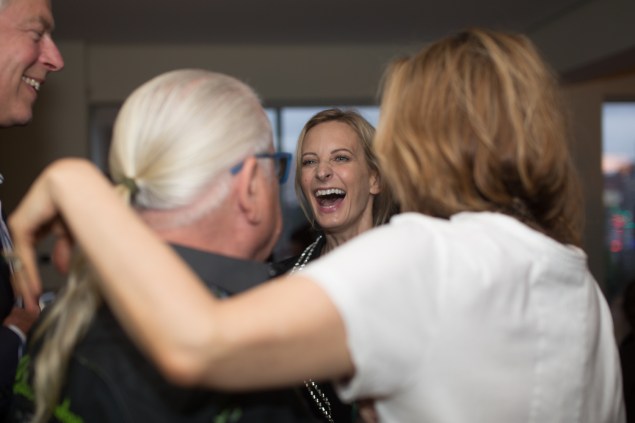 "No one from the Upper East Side here," noticed Wednesday Martin's husband, finance guy Joel Moser, scanning the room brimming with thin, gorgeous blondes in tight black dresses and men in glasses with extra-large frames and extra-small designer jackets.
"Here" is Silvano Marchetto's Houston Street party for Wednesday Martin's Primates of Park Avenue, held last week before The New York Post and The New York Times accused her of making up too much of her memoir to call it anthropology. The Houston street party should not be confused with the next night's uptown dinner, at Lesley Stahl's townhouse, which was closed to the media. Or lobbyist Suri Kasirer's party for Ms. Martin last Friday in Southampton.
I last saw Ms. Martin in 1989, at Yale graduate school, a moment she (accurately) describes as "louche." Ms. Martin, who arrived in New Haven having studied sororities and attended a Buddhist poetry school Naropa, went on to immerse herself in literary theory, the gay club scene, swing dancing, and stepmotherhood before examining (and unnerving) 1 percent moms.
The other night, Ms. Martin, in a black Prada jacket and a T-shirt reading Primates, beamed as the co-host, cartoonist Marisa Acocella Marchetto, toasted: "I met Wednesday at Erica Jong's…"
---

"Wednesday," noted guest Adam Rolston, an architect, "came to New York to invent herself. As we all did."

---
Charging around the room was her husband, the owner of Da Silvano, which provided raw clams, oysters, salmon sashimi, and hunks of parmesan cheese. Ms. Marchetto's mom made cake pops and a cake with cake top photos of the Primates of Park Avenue jacket. "They're Rice Crispie treats," someone said.
By the sangria stood Gary Meister, a music producer (he grew up on the UES!) in a porkpie hat, who went to U of Michigan with Ms. Martin."She broke my heart," said Mr. Meister. And "she won poetry awards I didn't win."
A group of gay men who knew Ms. Martin from the '90s club scene and activist circles, had a different take. One may have proved unwittingly prescient; "Wednesday," noted Adam Rolston, an architect, "came to New York to invent herself. As we all did."
Loring McAlpin, a curator who started the AIDS Activists artcollective Gran Fury, recounted the time Ms. Martin downed straight vodka and Xanax before boarding a plane.
The star of the evening flitted about, flanked by her publicist. "Sweet Smell of Success meet…" Ms. Martin trailed off.
I worked the room.
"Wednesday is a wonderful woman," Mr. Marchetto informed me. Blonde Gretchen Maull Berger, 29, a handbag designer, whom Ms. Martin describes as her "mentee," agreed.
"Wednesday gives me advice."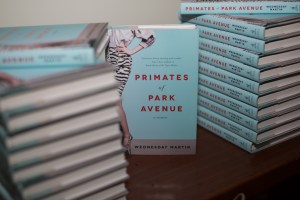 Such as?
"How to maintain work-life balance."
Mr. Marchetto cranked up the music. We were downtown.
Annie Sparrow, an Australian-born doctor who met Ms. Martin through her last book, Stepmonster, yelled that The New York Times Op-Ed piece about wife bonuses "was something to talk about!"
Near the buffet, Veronica Gonzalez Peña, an avant-garde filmmaker and novelist, and the fashion designer Lucy Barnes shouted about Ms. Peña shooting Ms. Martin's screenplay, My Name is Violet, the story of a wife deciding whether to be faithful. Ms. Barnes, who met Ms. Martin on the North Fork, where her 14-year-old son mistook the petite social researcher for a datable peer said: "the thing people don't understand is her soppy side."
Suddenly, at 8 p.m. Mr. Marchetto began blowing his whistle. Guests filed out, grabbing their gold baseball caps and Loro Piana coats.
We piled into an SUV and headed to the UWS, where Ms. Martin and I dined at Dovetail.
Oddly, Ms. Martin spotted Lesley Stahl on the other side of the restaurant.
"She is so beautiful. And so tough."
She leant in to share her polished non-1 percent take-away from Primates.
"Nobody's life is any more worthy of study than anybody else's."