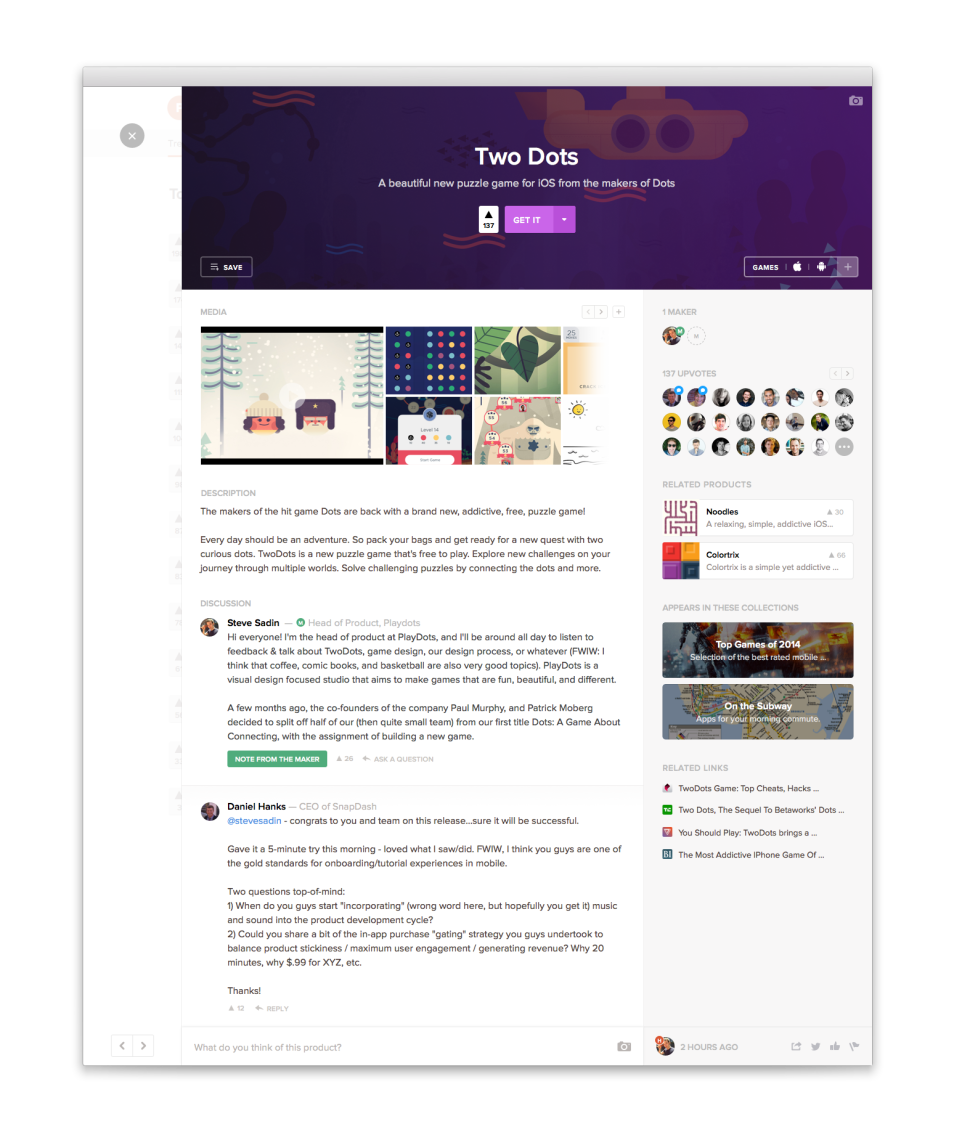 Launching a video game is tough. Even a great game can get lost in the morass of the Steam or either of the major mobile stores. As of today, there's a new way to build some fans by putting it front of some the most dedicated technologists out there.
Product Hunt is opening a new Games channel. It's their first new channel since the company launched in late 2013, and it will be helmed by Russ Frushtick, a cofounder behind the influential videogame site from Vox Media, Polygon.
Mr. Frushtick covered games across a variety of media outlets for twelve years before leaving Vox last August, according to a post he made on a bulletin board on his last day.
If you aren't familiar with the site, Product Hunt is a popular way for debuting new tech creations and getting feedback from interested technologists and fellow founders. A strong debut for a product on the site can yield an enormous amount of buzz. Only invited members of the Product Hunt community can post new products to the site. "We're kind of a crowd-generated, curated feed," Erik Torenberg, a member of the company's founding team, told The Observer during a phone call.
One of Mr. Frushtick's first jobs was to help the existing team and community make a list of game tastemakers to reach out to and invite to join the games channel's closed Beta, according to Mr. Torenberg, so that game makers and gamers would be well represented when the new channel went live.
The stream of what's new is powerful. Networking app Caliber got twice as much traffic from Product Hunt as it did from TechCrunch during its first two weeks live, according to HuffPo. The Observer has recently written about a productivity app and a method for finding soulmates that we found on its daily thread of creations.
Yesterday, everything on Product Hunt was startup focused. There were three channels at the top of the page: Home (all the new products), Activity (the people you follow) and Collections (groups of products that users had put together).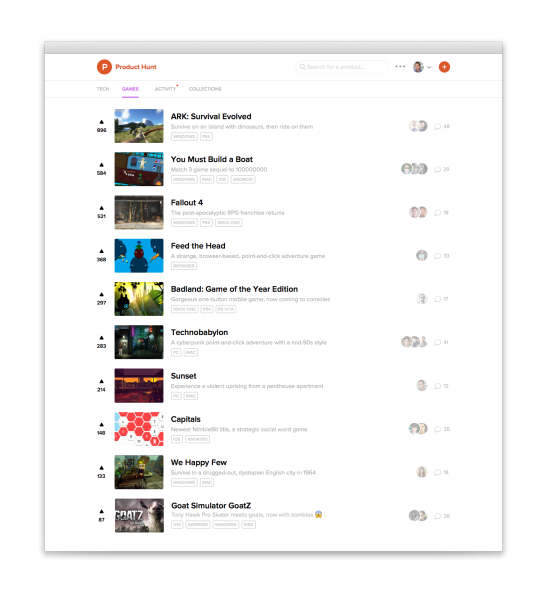 Now, the first two channels are Tech and Games. An individual game's page will have a look like that seen at the top. Activity and Collections follow in their prior spots.
"One of the reasons we are doing a games channel is because people are hunting for games on Product Hunt (and books, too)," Mr. Torenberg said, "but a lot of other people don't know they can find games there." It's not just for video games. Any kind of game is welcome on the channel, he said. Looking forward, the company is considering rolling out a space on the site for users to post projects in the Beta phase, for early adopters and people who love to test.
The new channel was built with regular feedback from the site's community. "Since the beginning, we've involved the Product Hunt community, sharing early mockups and asking for feedback," Mr. Torenberg wrote in an email. "We shared mockups of the Product Hunt redesign with some of the community members.  Hundreds of folks provided feedback on the InVision mockups."