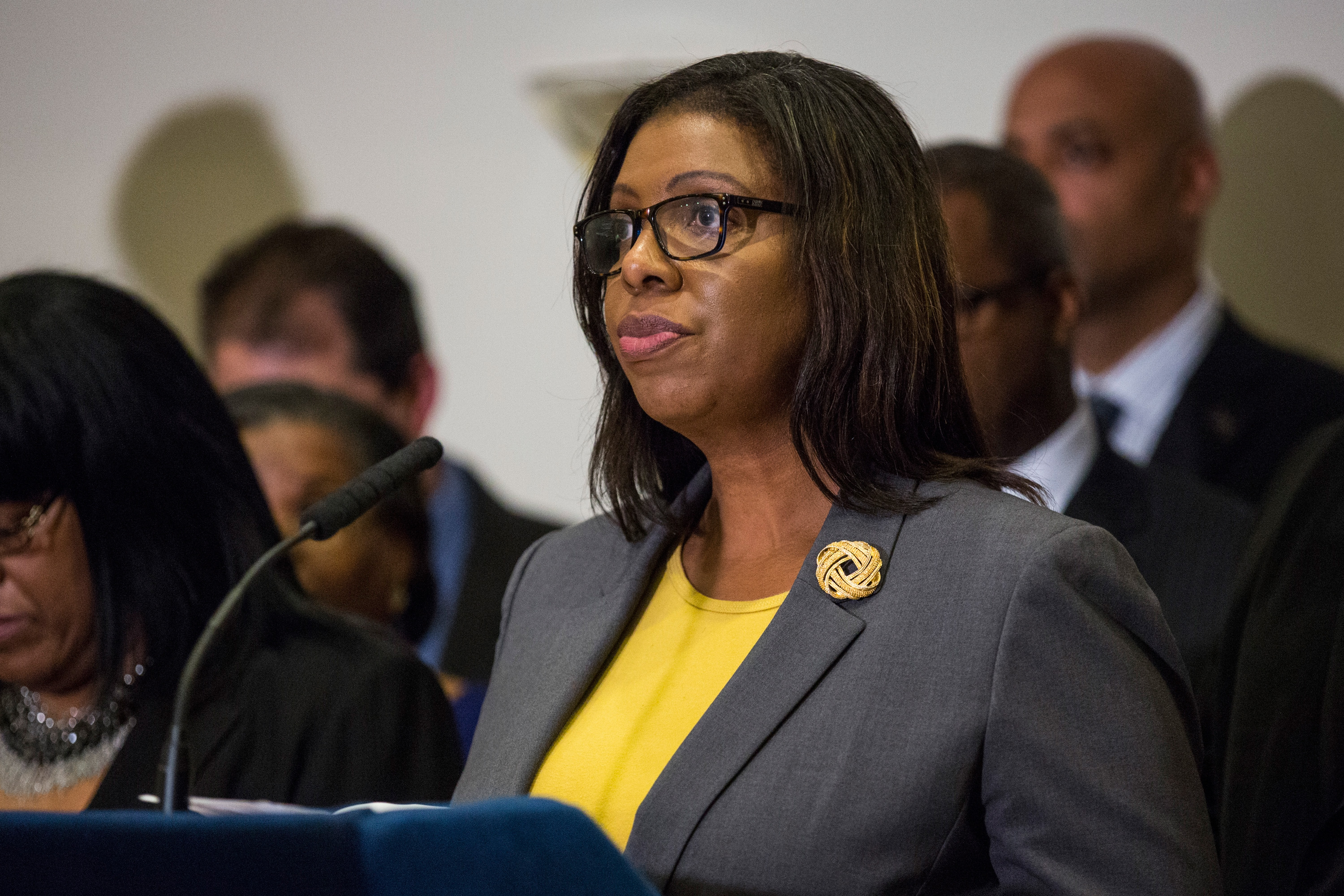 Lawmakers won't be able to reform the grand jury process if they don't know the details of whether "something went terribly wrong" in the Eric Garner case, Public Advocate Letitia James' office argued in an appeal of a judge's decision not to release minutes from the secret proceedings.
Ms. James' attorney today filed a reply brief with the Appellate Division, Second Department, which is expediting the hearing of her appeal after a Staten Island Supreme Court judge ruled in March she had not proven a "compelling and particularized need" for a court to release grand jury documents.
"The public needs to know whether something went terribly wrong in this particular grand jury proceeding, as is almost universally assumed based on very limited concrete information, and, if so, whether specific legislation, investigation, or policy change will help remedy the problem and ensure the integrity of the system," the brief reads.
Garner was killed after police used an apparent chokehold, a procedure that is against department guidelines, to wrestle him to the ground in an attempt to arrest the man for selling untaxed cigarettes. A grand jury impaneled by former District Attorney Daniel Donovan—now a congressman—declined to indict police officer Daniel Pantaleo, caught on tape putting his arm around Garner's throat, or anyone else in the death.
The decision has led to scrutiny of the state's grand jury system, as almost no information about what the grand jury was presented in its nine-week deliberations has been released. That's in contrast to the Michael Brown case in Ferguson, Mo., where much of the grand jury proceedings had been made public. Grand jury proceedings are typically secret in New York and elsewhere to protect the identity of the accused in case he or she is not ultimately charged, but in this case Mr. Pantaleo's name has been public for months.
In her appeal today, Ms. James' office argued specifically that reform of the grand jury system—attempts to appoint special prosecutors, or increase judicial oversight of grand juries, or create easier access to grand jury minutes, all of which have already been floated—can't happen effectively without more information about what happened.
"Without more information about the Garner proceeding, the public and public officials are left to tinker with the essential machinery of the grand jury in the dark, based on an untested presumption that something went gravely awry, and even, if that presumption is proved correct, without the details necessary to craft a legislative response tailored to actual rather than perceived problems," the brief reads.
What happened in the case "will directly impact policymakers' positions on which measure should be adopted," the brief argues.
The brief also responds to arguments made by the district attorney's office, which said the people with "legitimate interest" in the case are the residents of Richmond County, and that Ms. James did not represent them. The public advocate's office argued that people beyond the county had such an interest—and that even if it were just Staten Island residents, Ms. James is their elected representative.
Ms. James is requesting the court release all grand jury instructions—which would indicate what charges the jurors were told to consider, all questions the grand jurors asked, the testimony of Mr. Pantaleo, and all non-testimonial evidence.
"Public officials cannot reach an informed decision about what happened and what reform measures are appropriate because they do not know what occurred," the brief reads. "In the absence of transparency, public officials are put in the position of having to assume a conflict of interest when local prosecutors investigate misconduct by police."
The public advocate is not alone in seeking the release of information from the grand jury. A slew of media companies and free press advocacy groups have also filed a brief supporting her effort. Those signing are: Reporters Committee for Freedom of Press, Advance Publications, Inc., American Society of News Editors, Association of Alternative Newsmedia, Bloomberg, L.P., Buzzfeed, Cable News Network, Inc., The Center for Investigative Reporting, Courthouse News Service, Daily News, LP, Dow Jones & Company, Inc., First Amendment Coalition, First Look Media, Inc., Investigative Reporting Workshop at American University, The McClatchy Company, MediaNews Group, Inc., The National Press Club, National Press Photographers Association, The New York Times Company, News 12, Newsday, LLC, North Jersey Media Group Inc., NYP Holdings, Inc., Online News Association, Radio Television Digital News Association, Reuters America LLC, The Seattle Times Company, Society of Professional Journalists, Tully Center for Free Speech, and The Washington Post.
Medgar Evers College is also filing a brief in support.