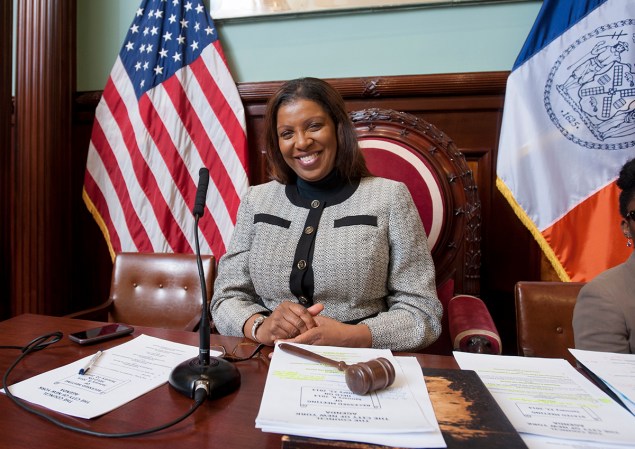 Public Advocate Letitia James has spent plenty of time talking about the NYPD, but New Yorkers might be surprised to learn it's a topic that hits close to home: Ms. James' sister is a police officer.
The public advocate disclosed her sister's job on Conflict of Interest Board filings with the city today, when she was asked whether she was related to any city employees. She listed her sister, Loretta James, as a police officer.
Plenty of lawmakers are related to city employees—teachers, firefighters, cops—but with the death of Eric Garner in police custody last July and the assassination of two NYPD officers in December, no city agency has had as high a profile. And Ms. James, a Democrat, has spoken about these issues repeatedly—calling for grand jury reform after a Staten Island grand jury opted not to indict the police officer involved in Garner's death, pushing for the use of body cameras by all police officers, and, like other lawmakers, offering sympathy after the death of the officers, Rafael Ramos and Wenjian Liu.
But Ms. James has rarely, if ever, mentioned her sister's job. The Observer could find no published references made by Ms. James to her sister's profession online.
"Public Advocate James is very proud of her sister's service to the NYPD. For privacy and security reasons, we would refer any specific questions to the NYPD," a spokeswoman for Ms. James' office said.
Someone close to Ms. James said that her sister is simply a private person and that Ms. James, being a very public position, has respected that. While she's spoken of how police cameras can help police by exonerating them if there's a false report of impropriety, and has discussed the losses felt by police families when a cop dies in the line of duty, she has not taken those moments to note her own family connection.
The discretion is a bit unusual in politics, with elected officials often talking about the everyday, relatable jobs their relatives hold, or the ways their family might be influenced by legislation. Whenever Mayor Bill de Blasio discusses veterans affairs, he notes his father was a World War II veteran who struggled with mental health issues after the war. Vice President Joe Biden has often spoken about how his wife, Dr. Jill Biden, is an educator in community colleges.
Ms. James has long been active on issues of police reform, including during her time in the City Council before she was elected to her current citywide post. Before that, Ms. James was an attorney with the Legal Aid Society, where she worked as a public defender.