"This is what I think," said Candace Bushnell, as an empty bottle of Veuve bobbed aft up in its ice bucket, like a model of the Titanic. "All you journalist guys have got to chill the fuck out. Seriously."
Ms. Bushnell was eating lunch with a reporter in the hot Connecticut sunshine to discuss her latest novel, Killing Monica. It's about a best-selling author plagued by the success of her most popular character, Monica: an idealized, shoe-obsessed, gal-about-town, made famous on-screen by an actress called SondraBeth Schnowzer.
"Journalist guys" have been asking whether this is a roman à clef about Ms. Bushnell's own experience with Carrie Bradshaw, the heroine she created in her iconic Observer column, "Sex and the City," which developed into a cultural-phenomenon HBO series, followed by two feature films, that became synonymous with their star, Sarah Jessica Parker.
"C'mon!" Ms. Bushnell said, incredulous that any comparison could be made between the two. "[Killing Monica] is so clearly fiction. To me, this book is a work of art."
In the novel, SondraBeth Schnowzer infuriates the author character, P.J. Wallis, by becoming more closely associated than herself with the fictional heroine she created. But this has nothing at all to do with Sarah Jessica Parker?
"No!" said Ms. Bushnell, emphatically.
What about the similarity between their names? (Described by one Killing Monica character as, "that ridiculous name that no one can remember.")
"You know, names come to me," she replied. "And when the name comes to me, that's it. I can't change it."
It was a beautiful day at the Mayflower Inn, which provided the inspiration for Wallis's Connecticut estate in the novel. But on the deck of its restaurant, Ms. Bushnell insisted there were zero parallels between herself and Wallis, Schnowzer and Ms. Parker, or even Carrie and Monica (whose signature drink is pink champagne, not the cosmopolitan).
And the subject was clearly beginning to annoy her.
"If you start reading the book and you start thinking that, I would say this: Put the book down, it's not for you," she said, her voice getting louder with irritation. "You don't have a sense of humor, you don't understand imagination or creativity, and honestly, if you're going to go into the book thinking that, just don't read it!"
So we ordered more champagne, and let the matter drop.
Well…she did admit one thing.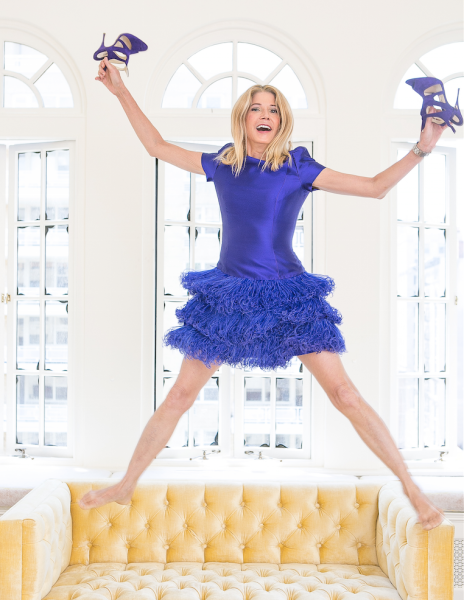 The date weekend that the fictional Wallis has with a U.S. senator in Palm Beach is based on a real-life experience, the author conceded. It was a trip she shared with former New York senator, Alfonse D'Amato, who was then recently out of office, 62, and more than 20 years her senior.
"My grandmother, who was Italian, loved him," she recalled fondly.
"I mean, seriously, it was the most exciting thing that ever happened in her life. I was like, 'Grandma, we're just friends. And he's a bit older!' "
Ms. Bushnell is a bit older herself now, and at 56 is embracing a gentler pace of life.
"I kind of like to be checked out by 10 p.m.," said the one-time lioness of New York nightlife. She refers to herself as "young-old," and mentioned that among her friends, they have a saying: "Fifty-six is the new 60."
Not that she has ceded any of her style to the passage of time. At lunch on a very hot day, she was flawlessly composed in Alice and Olivia cargo shorts, a Paul Smith "Men Only" floral shirt, and acid-orange, Emporio Armani penny loafers. Her whip-thin figure is the kind prized in society wives and racing dogs.
"You know when you read on the Internet for 'one trick to lose weight without exercising?'" she said, digging into an iceberg wedge salad.
"I read an article about standing, as opposed to sitting, and what it does to your body. So I moved my computer to the kitchen counter. And of course my housekeeper is like, 'Really?' And I'm like, 'Yahh.' So I stand, and I swear, I didn't do anything, and I lost two pounds in a week."
Ms. Bushnell covers both bases in the Connecticut versus the Hamptons argument, by having a home in Roxbury, where she has been coming for almost 20 years and maintaining a presence as a summer regular in the East End, which she finds agreeable to her new, lower-key lifestyle.
"The great thing about the Hamptons is that you really can live in the Hamptons and not live in the Hamptons in the Hamptons way," she explained, sounding for a moment like a cross between Peggy Siegal and Gertrude Stein.
"Two of my best girlfriends just moved to Sag Harbor. And it's so much fun to go there and visit them! It's so cute, and of course, they're both single women, and they both have these little houses, but they're charming. And it's so easy to get around and walk everywhere.
"We'll go to Baron's Cove for dinner, and I have to say, I love it. It's like an old New England club that would maybe be on a lake. The food is great, the look of it is great; it's so cool and so much fun."
And her advice to anyone preparing for their freshman summer in the Hamptons?
"Take a Xanax. Because it's a really, really long drive in the traffic. And then when you get there, there's more traffic."
Being a good guest is also important.
"If you're a houseguest, you always want to bring things," she said. "Offer to pay for dinner, bring some booze. People will often bring little things to eat, but then if [the hosts] have everything planned to eat, and then people bring this extra food, it's like, 'I don't have any room in my refrigerator.' So the best thing is to ask, 'can I bring something?'"
And on the subject of booze, you might want to take it easy.
"I've seen people pass out on the lawn," Ms. Bushnell recalled. "I am not one of them, at this point. Although, I have passed out in my room, on the rug, in the Hamptons. Not yet on the lawn. But you know, it happens. And the best thing [for hosts] to do is, like, 'O.K., here's some coffee. Let's get you home.' Best not to make to big deal out of it."
Ms. Bushnell's Killing Monica book tour will take her to the Southampton Arts Center on July 30, after national stops including Chicago, Los Angeles and Nashville.
Another promotional effort is a line of branded emojis, aimed at women and currently awaiting approval by the Apple App Store. They're actually very cute: previewed on Ms. Bushnell's phone, images included a yellow prescription bottle representing "painkillers," an airport flip-board meaning "delayed," the app-dating staples "swipe left" and "swipe right," and, for good measure, "bitch face."
She said the emojis are a 50/50 partnership with a developer, requiring an investment on her part. It's new business territory for a woman famously burned on her deal for the hugely profitable screen adaptations of "Sex and the City."
"Technically, I have net profits. Which means, I think, when I die? I mean, literally in 40 years," Ms. Bushnell said of her cut of the Sex and the City film and TV income. "It's a business where they pay the people they need to pay first. I would put it this way: There's a lot of flexibility in the accounting."
Still, she refuses to dwell on the past.
"My feeling is, I'm just going to do something else and make more money," she said. "I created a line of emojis! I ain't lookin' back for revenue, let me put it this way. I'm looking forward."
Ms. Bushnell says she is gratified that when she makes personal appearances these days, more young women are asking for business advice, "when it used to be just about dating."
In a scene near the end of Killing Monica, a feminist leader says, "I hope P.J. Wallis made a lot of money from her own creation, but I suspect she did not."
The character continues: "When a woman contributes to the entertainment industry, she is not rewarded justly. Because women may do what they do and be geniuses, but it is still men at the top who make decisions, including how much money the women will be paid. It is men who are lining their pockets with the efforts of women. It is men who have made millions, maybe billions, from Monica."
Maybe it's not just "journalist guys" who will read that as a comment on the difficult lessons learned from selling "Sex and the City" to Hollywood.