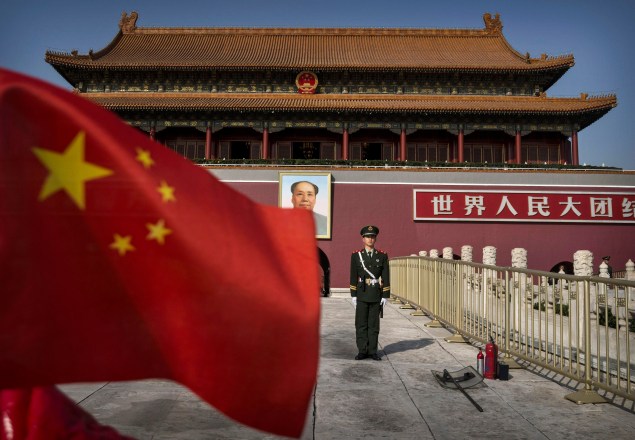 China has accelerated the pace of construction of artificial islands in the South China Sea, territory disputed by most of its neighbors that America's Pacific Fleet commander, Admiral Harry Harris, calls "The Great Wall of Sand." China is also deploying a fleet of "white hull" paramilitary vessels—larger than the Coast Guard fleets of Japan, Vietnam, Indonesia, Malaysia, and the Philippines combined—that is harassing ships of other nations and supporting China's installation of oil wells in disputed waters. To what end? China is claiming virtually the entire South China Sea, a vast area that extends 1,700 miles south of its border, along the coasts of Vietnam, the Philippines, and all the way to the shores of Borneo.
In response to this territorial land-and-sea-grab, Defense Secretary Ash Carter publicly criticized China for the expansion. And he said the U.S. wouldn't shy away from confronting Beijing.
We are now hard-pressed to provide the physical presence to make good on promises to allies.
Congressman Randy Forbes (R-Va.) is the chairman of the House Armed Services subcommittee on sea power and chairman of the House China Caucus, and among the keenest observers of the region. His approach to China's clear strategic shift—"a deliberate and well-resourced strategy to achieve de facto control, as a precursor to sovereignty, over the South China Sea"—is less rhetorical and more substantive. In an exclusive statement to the Observer, Mr. Forbes said, "China is pursuing a deliberate strategy to achieve de facto control of the South China Sea. All nations interested in maintaining peace and prosperity in the Asia-Pacific region have an obligation to oppose Beijing's destabilizing behavior. Just as the U.S. emphatically rejected China's illegitimate Air Defense Identification Zone (ADIZ) in the East China Sea in 2013, the United States today must make clear its commitment to freedom of navigation and the peaceful resolution of territorial disputes. Stability in East Asia requires a firm American response to Beijing's destabilizing behavior."