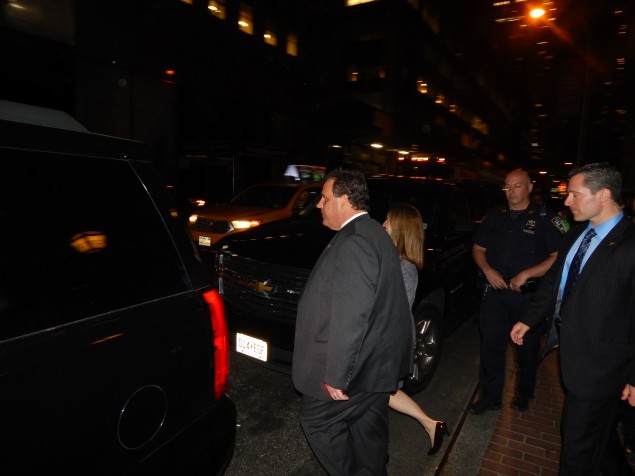 Gov. Chris Christie kicks off today amid sinking ratings, unflattering perceptions, and skepticism about his presidential chances from home state voters, according to a number of Rutgers-Eagleton from the past year.
Discontent among New Jerseyans has been fueled by Bridgegate and other allegations against Christie and his administration dating to January 2014. While Christie was an early frontrunner for 2016 due to unprecedented post-Superstorm Sandy ratings highs – at his peak, Christie had a 70 percent favorable rating in February 2013 – his announcement of a presidential bid comes during his lowest point in public opinion to date as governor.
"Announcing a presidential run with low or declining ratings back home is not unprecedented," said David Redlawsk, director of the Eagleton Center for Public Interest Polling and professor of political science at Rutgers University. "Governors Bobby Jindal of Louisiana and Scott Walker of Wisconsin are in similar situations. Voters elsewhere may not care that much about how New Jerseyans feel, but Christie's decline has to hurt, especially when his original appeal stemmed from his bipartisan efforts and leadership in the wake of Superstorm Sandy."
Christie's 2016 campaign slogan – "Telling it like it is" – takes advantage of the straight-talking attitude for which he is best known, but New Jersey voters have cooled to his brashness. Negativity toward Christie in the past 18 months has pervaded judgments on Christie as a person (now seen as more bully than trustworthy), his job (no rating crosses the 50-percent mark), and his chances for 2016 (more than four in 10 New Jerseyans said they have worsened recently). Christie was viewed as a beacon of bipartisanship in the Sandy aftermath, but now even Republicans in New Jersey have become less inclined to rally behind him.
All results described here are from previously released Rutgers-Eagleton statewide polls of New Jersey adults, with registered voter subsamples, contacted by live callers on both landlines and cell phones. All past Christie-related releases, ratings, and other reports can be found at: http://eagletonpoll.rutgers.edu/governor-christie/ including disclosures and margins of error.
After benefiting from his unique personal style for a solid year post-Sandy, perceptions of Christie's positive character traits began to decline following his Bridgegate press conference in January 2014. By April 2015 fewer than half saw the positives: "smart" (49 percent), "strong leader" (39 percent), "effective" (26 percent), "fair" (21 percent) and "trustworthy" (17 percent). The last three reached all-time lows that month, with trustworthy falling furthest since Bridgegate. These were many of the same characteristics that saw large increases for Christie right after Sandy struck.
Negative descriptors, on the other hand, have climbed steadily during this same period, with solid majorities calling him "arrogant" (57 percent) and "stubborn" (64 percent) by April 2015. Nearly half have said he is a "bully" and "self-centered." At the same time, only 10 percent said the term "presidential" suits Christie "very well."
Moreover, while half the state's voters felt proud and enthusiastic about him immediately after Sandy, only 30 percent now feel positive. But 40 percent feel "contempt" or "worry."
"Christie has always branded himself as a tell-it-like-it-is kind of guy, and sometimes – like with Sandy, or even his 'Get the hell off the beach' moment during Hurricane Irene – it has definitely worked for him," said Ashley Koning, assistant director of the Eagleton Center for Public Interest Polling. "But the Jersey tough guy approach seems to have worn thin, and the traits for which he was praised during some of his finest displays of leadership are now working against him."
The turn for the worse in perceptions of Christie's personality is strongly connected to a precipitous decline in Christie's favorability and job approval ratings. Ratings are now a far cry from when Christie polled at or near the top of the 2016 Republican pack; both favorability and job approval are now more negative than positive (net negative) and at their lowest points ever.
In the April 2015 Rutgers-Eagleton Poll, Christie's favorability rating was just 38 percent, while 48 percent felt unfavorable. Fifty-four percent of voters disapproved of his job performance compared to 41 percent who approved. His job grade has similarly taken a big hit, compared to what New Jersey voters awarded him pre-Bridgegate; 70 percent give him a C or lower, with a quarter of this group failing him.
Approval on specific issues has also dropped, including such nationally significant issues as taxes (26 percent approval) and the economy (31 percent), at their lowest levels ever. Approval on Sandy recovery efforts is no exception. This was once the governor's strongest issue area, garnering almost 90 percent approval, but only about half this number still approved by April 2015.
"For a good while, Sandy was the biggest driver of Christie's overall ratings," said Koning. "Despite mediocre approval in other areas, Christie's leadership immediately before, during and after the storm singlehandedly carried him to unprecedented highs through his re-election in 2013. But as 2014 brought an onslaught of allegations against his administration, the lengthy Sandy bump vanished, and the governor's numbers have not recovered.
During the early part of 2015, Democrats and independents remained relatively steady in their negative assessments of the governor. Republicans, however, registered a double-digit approval drop between February and April. Among GOP voters, job approval was down 10 points to 69 percent and disapproval up 11 points to 27 percent in April. Republicans' impression of Christie also took a hit to 68 percent favorable; a far cry from the almost unanimous backing Christie once received from this group.
Meanwhile just a quarter of Democrats and 36 percent of independents felt favorable. New Jersey Republicans have split over Christie's performance on important issues. On their top concern, taxes, Christie is in the red with GOPers – 44 percent approve of his approach, while 49 percent disapprove, according to the April survey. Republicans have been slightly more positive on the economy and jobs (47 percent approve, 44 percent disapprove). By comparison, Christie receives approval from only about a quarter of Democrats and independents in these two areas.
"Christie losing Republicans in his own state – a group known to be more moderate than Republicans in other parts of the country – can translate into a big problem for him nationally," said Redlawsk. "Whatever the case may be as to why New Jersey Republicans feel this way, Christie now lacks full support from his base at home – not an ideal way to kick off a presidential campaign. Still, Christie is a great campaigner, and early primary state voters reward the kind of personal connections he has been able to make in the past. Christie may be down, but he's not quite out."
Most New Jerseyans do not see Christie as a good president: in April just 24 percent said he would make a good president; 69 percent said no, a 10-point increase in negativity since a February poll.
But a slim majority of voters most positive toward him do see Christie as a good president: 53 percent of Republican voters and 55 percent of those with a favorable impression of Christie.
New Jersey voters have been mixed on the likelihood of Christie ultimately becoming the Republican nominee. In April, 44 percent believed his chances had worsened in recent months, 46 percent said they were about the same, and just 6 percent said they had improved. "At this point, there is no reason to think anything has changed here in New Jersey," noted Koning. "The last two months have not been any better for Christie than any of the other months since Bridgegate brought his high flying ratings crashing down. Only time will tell if his campaign can turn it around."