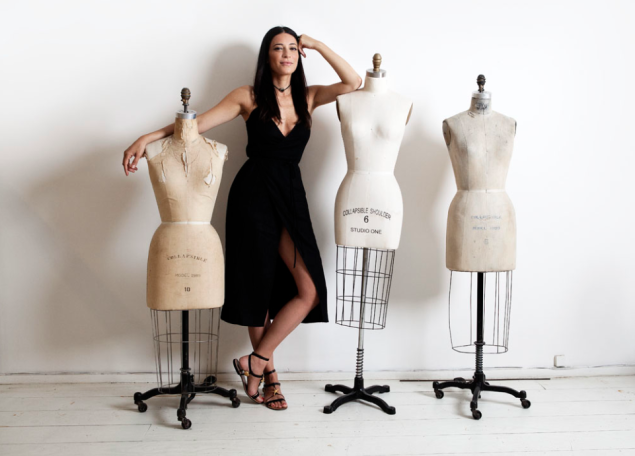 With brand mantras such as "Lower your neckline, not your standards," and "We make killer clothes that don't kill the environment,"  fashion brand Reformation has made self-confidence and sexiness combined with sustainability, cool. The downtown LA-based label—which has stores in a variety of cities including New York—has taken an empowering and eco-friendly approach to reaching consumers. Their message has reached Taylor Swift, Rosie Huntington-Whiteley, Alexa Chung and Sophia Bush along with a healthy coterie of non-famous fans, since the brand's launch back in 2009.
The idea for Reformation really came from founder Yael Aflalo's desire to make a difference. "There were a number of events in my life [that led to the company's formation]," said Ms. Aflalo. "Learning more about the environment, building the traditional apparel company as well as looking at other industries that had really innovated on their own business models and innovated on the sustainability front and [it became about] really integrating those elements."
By creating women's clothing with sustainable fabrics and vintage fabrics, Reformation has become a brand  loved by eco-friendly consumers and chic millenials alike (Reformation's target demographic is between the ages of 27 and 32). The brand's ethos is to combine ethical clothes, really great value and dramatic improvement with regards to sustainability—something that can sometimes be a rare find in the retail market. You also won't find Reformation at any department stores, outlets or pop-ups: the brand has eliminated retail markups by making their clothing available only online and in their own boutiques. For dedicated Reformation fans, this can be a blessing and a curse because the launch of new collections often sell out quickly online—and the pieces may or may not make a comeback.
Reformation has even carefully crafted the names of its particular lines, like 'The Obvious Collection,' and 'I'm Up Here,'—showing that they want women to be respected and feel respected in their clothing. For Earth Day this year, the brand even created a 'Low Carb Collection,' which showed the brand using the least amount of Carbon Dioxide yet in their garments. The result: another incredible marketing campaign encouraging consumers to be more conscious about the clothes they wear.
See also: Sustainable Fashion Brands Push Forward
Reformation's creative collections certainly aren't stopping there. Up next for the brand is the debut of the second line for "Don't Call Me Cute"—a collection of bolder patterns, designs and plunging necklines. "[The collection] is much more summery," said Ms. Aflalo of the newest pieces. "We noticed that really baby pastel colors do well with the taller ladies, but petite ladies don't like it. So, [these pieces are] really bolder [with] stronger colors. There's a lot more strength [in it] and [it creates] a powerful look."
With this particular collection, Ms. Aflalo and Reformation wanted to tap into the "type of woman who wasn't getting everything she wanted from the fashion industry." The latest "Don't Call Me Cute" garments show a step in that direction, but as Reformation is proving, they're using their various line debuts as an opportunity to listen to what consumers are really looking for with empowering marketing initiatives.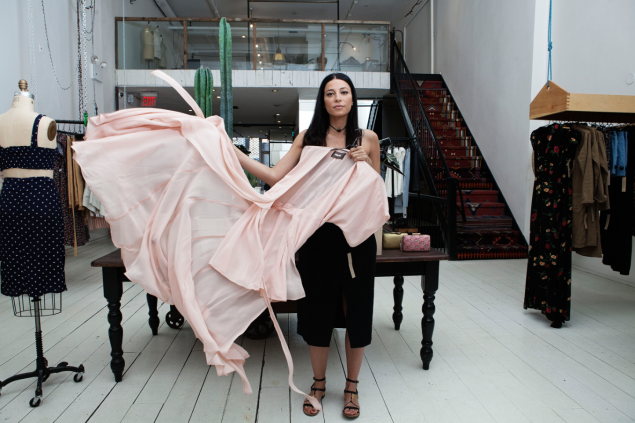 "Female empowerment has never been a strategic part of who we are," said Ms. Aflalo. "I think empowerment is something that we're very concerned with. We happen to be a company that is predominantly women and make women's clothes, so I think that has all come together very naturally."
Unlike how many companies operate, Ms. Aflalo is extremely close to all of the copy Reformation uses for marketing. She spends a large amount of time writing and editing text that is representative of the brand. "I don't think you have a lot of companies where you have the CEO writes, looks at and edits pretty much all of the copy," Ms. Aflalo said. "I think [copy] is an important part of what we do, so I think that is why it's strong."
In an effort to continue empowering women, Reformation has been hard at work trying to diversify models on the website. The "Don't Call Me Cute" collection does feature models who are actually under 5'4″, however, it has been no easy feat to find models in 'real girl' sizes.
Ms. Aflalo explained: "It's sort of an interesting problem where I went to the producer and I was like, 'I want you to find models that are more built like regular bodies and not models.' The difficulty there is that—and we try and continue to try—modeling is a skill [when it comes to] how to move around and how to be comfortable in front of the camera."
Ms. Aflalo also points out that, not only is modeling a skill, it's a time commitment when it comes down to getting 'real girls' to be a part of a shoot.
"Modeling is a skill that somebody has and develops, as well as having free time on a Tuesday at 9 a.m. and being able stay for eight hours," added Ms. Aflalo. "Models are trained, and they also have that time, so it's harder to find women who aren't models, who are good models that are available all the time, because they have jobs and they're not used to being in front of the camera for eight hours. [Finding these models] is actually harder than you would imagine."
See also: Fashion Pop-Up Celebrates Rebirth of the South Street Seaport

Although it has been a challenge for them, the Reformation team is continuing to try and show a wide range of models wearing their clothing. "We're looking at trying to cast actresses because they'll have more regular bodies," said Ms. Aflalo.
The "I'm Up Here" collection—the line targeted towards ladies with larger busts—will even be making a return later this year, due to its 2014 success. "I was working on it yesterday—it's always a fun-fitting to try and get the fabric to wrap over the boob," Ms. Aflalo added.
Reformation will continue to tailor their clothing to the "real girls" out there and tap into new markets. For Ms. Aflalo, she views those markets as one cohesive thing—something that is really fusing together. "I feel like the idea of different markets is sort of an obsolete idea," said Ms. Aflalo. "I think with the advents of the Internet and widespread information, markets are going to start to unify in that sense."
You can purchase the latest 'Don't Call Me Cute' collection on Reformation's website today.