The Rent Guidelines Board voted for a historic rent freeze on rent-regulated units on Monday night, the first time in its 46 year history that it has done so.
The Board approved a zero percent increase for one-year leases and a 2 percent increase on two-year leases, fulfilling a campaign promise that Mayor Bill de Blasio made, though one that he has shied away from weighing in on this year, declining to take a position until after the board's vote tonight.
"This was the right call. For the first time in the history of the Rent Guidelines Board, more than a million hardworking and hard-pressed tenants will see no increase in their rent," the mayor wrote in a statement. "I applaud the Rent Guidelines Board for making tonight's decision based on hard data, including the unprecedented 21 percent drop in fuel costs over this past year."
Last year's rent increase of 1 percent and 2.75 percent for one- and two-year leases was also a historic low, though one that disappointed many tenant advocates and landlords. Tonight's zero percent increase had been expected by both sides, a state of affairs that did not dissuade the famously rowdy crowd that usually attends the Rent Guidelines Board vote from calling for a rollback, which they argue is justified by excessive increases in years past.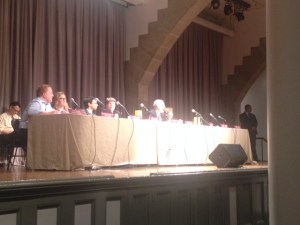 In backing the historic freeze, the chairwoman of the Rent Guidelines Board, Rachel D. Godsil, cited rising landlord income and falling fuel prices, as well as the incomes of rent-stabilized tenants, which have not kept pace with rising costs of their apartments.
"Rent stabilized tenants pay 36.4 percent of their income to rent and are considered to rent burdened," Ms. Godsil said. "Rent stabilized housing remains unaffordable for a majority of tenants living in those units." She added that homelessness in the city rose by 9.5 percent in 2014.
Both of the tenant representatives and the public members of the board voted for the rent freeze as well; in putting forth the proposal for a zero percent increase, tenant representative Sheila Garcia said that they believed a rollback was warranted, but did not have the votes. The two dissenting votes came from landlord representatives Scott Walsh and Sara Williams Willard, both de Blasio appointees.
"This is myopic, it's biased, it's selective listening," Ms. Williams Willard, who works in real estate development and management as a senior project manager at the Hudson Companies, said as Ms. Godsil tried to quell the boos from the audience. "I absolutely vote a resounding no."
The historic vote took place in the shadow of the tardy renewal of the state's rent regulation laws (it was, in fact, delayed from last Wednesday as legislators dawdled), and was colored by widespread disappointment among tenant  advocates that the renewal, which Gov. Andrew Cuomo called "the best rent reform package in history," failed to end vacancy decontrol, modestly bumping the cap up by $200, from $2,500 a month to $2,700, which many have argued is all but inconsequential and will result in the loss of tens of thousands of rent-regulated units.
Before the vote, the crowd chanted, "Cuomo betrayed us, the RGB can save us." After the vote, several politicians made unfavorable comparisons between Albany and the RGB.
"This is a very big day. Albany did not help the tenants of New York City," said Manhattan Borough President Gale Brewer. "I have to give the RGB credit, they did their due diligence. The numbers bear out a zero percent increase. If Albany had done their due diligence it would have been a very different outcome. All Albany decided to do was go up $200. As someone who knows housing in the gentrifying areas of Manhattan, it's not going to make much difference."
Councilman Jumaane D. Williams also lashed out at Mr. Cuomo in his praise of the RGB, writing in a statement that the vote sent "a clear message that the City of New York is determined to provide relief for its residents, unlike Governor Cuomo and Albany who recently enacted detrimental rent laws that could eliminate approximately 90,000 affordable housing units due to deregulation over the next four years—units that do not just provide an affordable price point for tenants, but offer protections against arbitrary evictions as well."
Even with the historic freeze, not all tenants were pleased. Beverly Reff, an lawyer who lives in Washington Heights, said that she was disappointed that the board did not enact a rent freeze on two-year leases as well. "I do volunteer work for Coalition for the Homeless and I see more and more people struggling," she said. "I'm an attorney and even I can't pay market rate."
On our way back to the subway, we also ran into Jimmy "The Rent is Too Damn High" McMillan, the erstwhile mayoral candidate who is himself engaged in an eviction battle with the landlord of his rent-stabilized one-bedroom. Mr. McMillan had parked his logo'd SUV across the street from Cooper Union, where the vote was held. He was, he said, so disgusted with the system that he was "protesting from afar" and seemed wholly uncheered by the rent freeze. "This is an embarrassment to the American citizen," Mr. McMillan said. "People say, 'oh they just raised it one or two percent. Well, that's a lot of money."