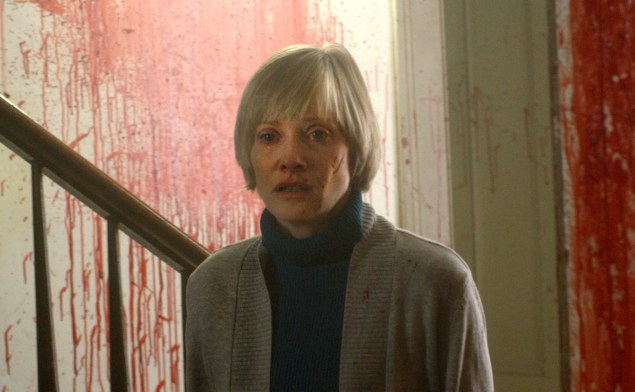 Yes, there is life after publicity. A new horror flick called We Are Still Here is written and directed by a top movie PR man, Ted Geoghegan, who learned his craft the hard way—on the job—and knows where to move a camera. After penning several thrillers in the past, this is his directorial debut. It's about moving on without giving in.
---

WE ARE STILL HERE ★★
(2/4 stars)

Written and directed by: Ted Geoghegan
Starring: Barbara Crampton, Andrew Sensenig and Lisa Marie
Running time: 84 min.

---
Still in despair after the death of their college-age son Bobby in a car accident, Anne and Paul Sacchetti (Barbara Crampton and Andrew Sensenig) leave the city noise and nerves and move to a sprawling old house in a remote New England hamlet to start a new life. But it soon dawns on them they are not alone. Before you can say "poltergeist," noises from the cellar lead to a baseball mitt that belonged to their son, Bobby's baseball comes bouncing down the stairs, shadows move in mirrors and dark corners, and an electrician who comes to fix the boiler is set on fire in the basement.
A folksy neighbor (veteran Monte Markham) warns them that the house was built in the 1800s as a funeral parlor, first housing a family of morticians named Dagmar who were accused of selling the corpses and burying empty coffins. They came to a bad end when the town burned them alive and now, every 30 years, they need fresh blood to bring them back as zombies.
Unnerved by its lurid history, the Sacchettis think the house is occupied by their son's ghost, so they invite another couple, Jacob and May, their son (and Bobby's college roommate) Harry and his girlfriend Daniela, to visit. Harry and Daniela come to a monstrous end before they even arrive, but the remaining four people, still thinking the house is haunted by Bobby, hold a séance. In a twist, they bring back the wrong spirit, and the blood starts to flow as the infected house comes alive with blackened, burned and mutilated corpses on a rampage. And not just the house. The local diner, cars on the highway, and the whole town are under attack. When the zombies unexpectedly strike, it's with hurricane force.
The haunted house genre has been done to death (pardon the pun) but this one has some genuine chills. The plotting is aggressive. The actors are uniformly believable even in the most incredulous circumstances. (The excellent Barbara Crampton is beloved by fans of the gruesome and supernatural from the famous sex scene with a severed head in Re-Animator, and bug-eyed Lisa Marie, who plays the psychically endowed May, was Vampira in Ed Wood).
Of course, you can't really make a movie that combines elements of the metaphysical, zombie and haunted-house genres without a few splatter-movie clichés, but Mr. Geoghegan makes them creepier and more unpredictable than I thought possible. You might even scream out loud. He's been admirably non-ruthless about not promoting himself or his film, leaving to others a job he could do in his sleep. No matter. We Are Still Here is so relentlessly terrifying it speaks for itself.