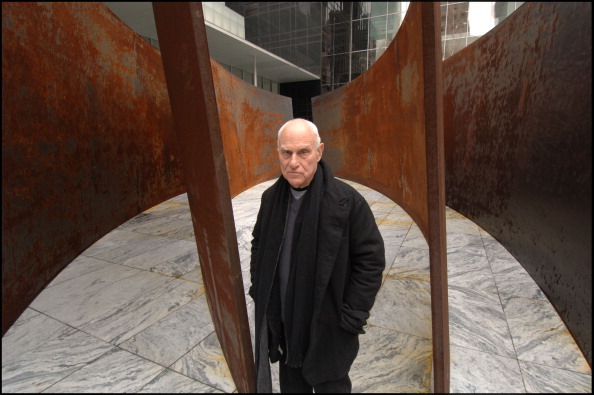 Today, New York-based artist Richard Serra will receive the French government's biggest award, the insignia of Chevalier of the French Legion of Honor. The Art Newspaper reports that French ambassador Gérard Araud will present the award Monday afternoon at the French Embassy in New York.
The Legion of Honor is the highest award given by the French government, and was established by Napoleon Bonaparte in 1802. This prestigious accolade celebrates the relationship between the American sculptor and French art institutions, and his many contributions to the field of Contemporary Art. With the decoration, Mr. Serra joins the ranks of past American honorees such as poet John Ashbery and singer and actress Barbra Streisand.
"For the French, Richard Serra is among the greatest sculptors today," Mr. Araud said to the Art Newspaper.
Mr. Serra is known for his large-scale, site-specific steel sculptures—many of them shown and made for France. His sculpture Clara-Clara (1983), comprised of two curving sections of steel, graces the grounds of the Tuileries, and his instillation Promenade (2008) creates a landscape of steel in Paris' Grand Palais. But perhaps most famously, his 1981 sculpture Tilted Arc was so divisive among Manhattanites when it was installed Downtown, that it was removed by 1989 after being defaced.
Mr. Serra's work has been shown at the Louvre and the Centre Pompidou, and is currently the subject of the exhibition "Equal," featuring a series of stacked forged steel cubes, at David Zwirner Gallery in Chelsea, on view through July 24.