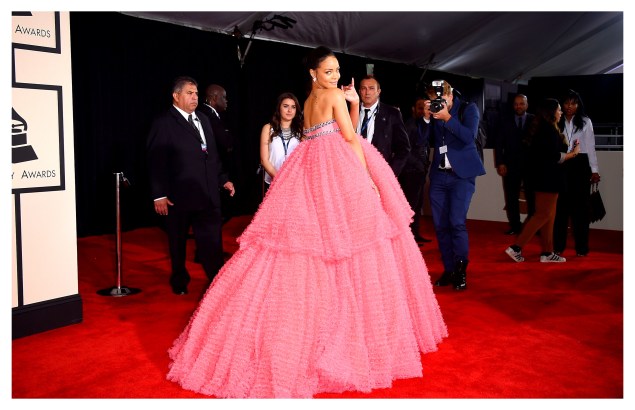 It's not enough to simply adore, follow and fawn over today's modern icons. Rather, it's much more appropriate to don something they've created in partnership with a notable brand. And now, both Rihanna and Giambattista Valli are separately making that possible through their latest strategic business ventures.
First up is the pop star, who is always photographed wearing layers of fine jewelry on top of her countless tattoos. She's smartly combined her two signatures, by working with fine jeweler Jacquie Aiche on a collection of flash tattoos. In true Rihanna fashion, the collab includes chokers, knuckle and cuticle tats, as well as a DIY touch, with an option to make a nameplate with the spelling of your choice.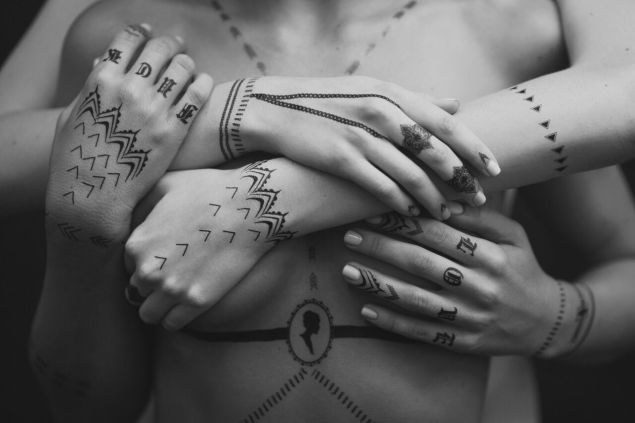 This is both a reasonable way to buy into Ms. Aiche's pricey jewelry empire (which includes a $13,750 diamond and gold belly chain and gem-encrusted rings that cost at least four figures) but it's also a noncommittal way to try out a bevy of bad girl-approved ink. There's also good news if these designs are too bold for you: "The process was so much fun we decided to make another round…Something a little softer and sexier with some unexpected inspiration." Ms. Aiche noted.
Meanwhile, M.A.C. has joined forced with Giambattista Valli to turn his frothy couture creations into a romantic line of lipsticks. While these two brands have been creating beauty looks for the runway over the past decade, this is the first time the public can get their hands on the results.
Often inspired by flowers, Mr. Valli looked towards a specific type of blossom for this range. "If I'm in Kyoto, it's Cherry Blossoms. Sometimes in New York you can see the most beautiful Tulips or in Paris there are roses that feel very Marie Antoinette. I can't name just one type," Mr. Valli said in a statement. The designer, who often dresses Amal Clooney and, ahem, Rihanna in his designs, is well-known for his whimsical-yet-wearable creations.
This M.A.C. collection includes five matte lipsticks, ranging from a pretty pale pink to a deep chocolate brown, in addition to a glossy finishing lip glaze, all of which will hit stores on July 9. Once again, Mr. Valli offers up a aesthetically pleasing yet surprisingly functional product that women absolutely cannot resist. We're sure Rihanna will pick up a tube or two as well.