Milan, the Northern Italian fashion capital, once again served as home to Men's Fashion week, which came to a close today. The biggest names in men's fashion – everyone from Versace and Brioni to Prada and Gucci – sent models down the runway in detail-focused Summer 2016 collections. But in addition to the dashing lineup of male models, this year's front row A-listers did a bit of strutting themselves. Here's who made an equally impressionable appearance from their reserved seats:
Emporio Armani, the kick-off show of the week served as an excellent place to start: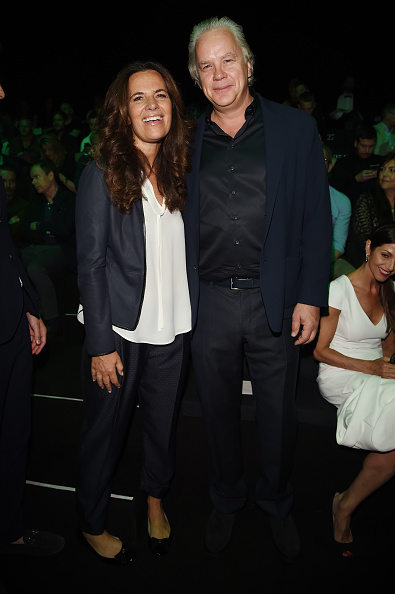 The Shawshank Redemption actor Tim Robbins and Roberta Armani, Giorgio's incredibly fashionable niece, looked similarly classic in slacks and button downs.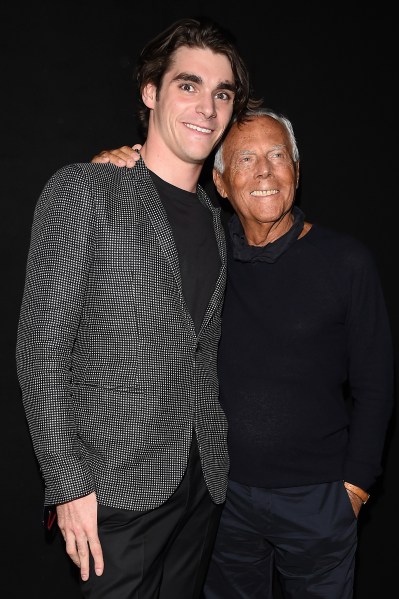 Also present was RJ Mitte, otherwise known as Walter White's son in Breaking Bad. The actor-turned-model looks rather chummy with Mr. Amarni. Do we smell an ad campaign in the near future?
As is to be expected, Dolce & Gabanna also had a number of big names in attendance: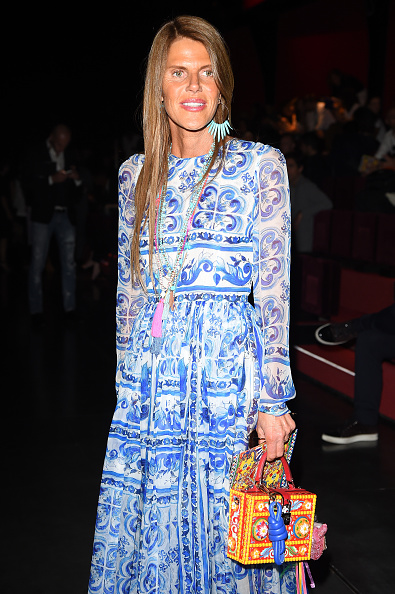 Milan resident and street style legend Anna Dello Russo is not afraid of color, clearly. As editor-at-large and creative consultant for Vogue Japan, she's always stationed front-row and with a dress like this one, she is not going to go unnoticed.
Tim Blanks, Style.com's contributing editor-at-large, was clearly prepared for a Milanese vacation, but somehow he still looked put together in a Hawaiian shirt. Perhaps it has something to do with those suede kicks.
Up next, the Fendi crowd settled in for more stunning style: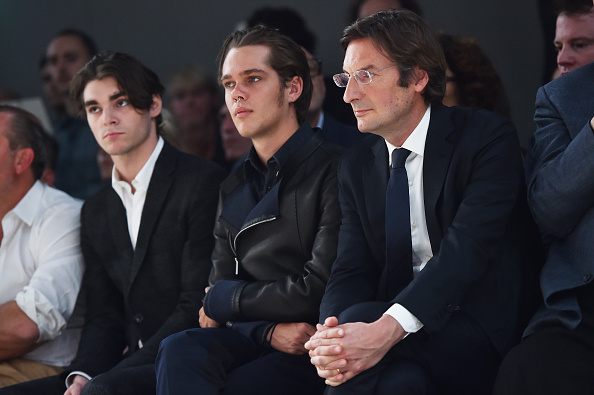 RJ Mitte made yet another appearance, and was flanked by Ellar Coltrane, the breakout star of Richard Linklater's film Boyhood. The boys have their game faces on, as they are seated next to Pietro Beccari, the Fendi CEO.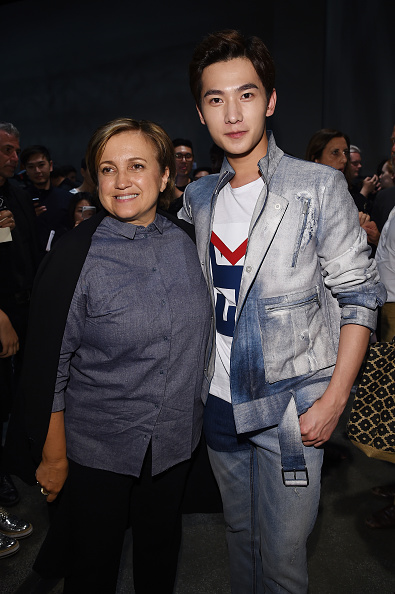 Designer Silvia Fendi warmed up to Yang Yang, a mysterious figure who's made more than a few front row appearances this week.
And of course Prada did not disappoint, at least regarding attendees who are exceptionally worth noting: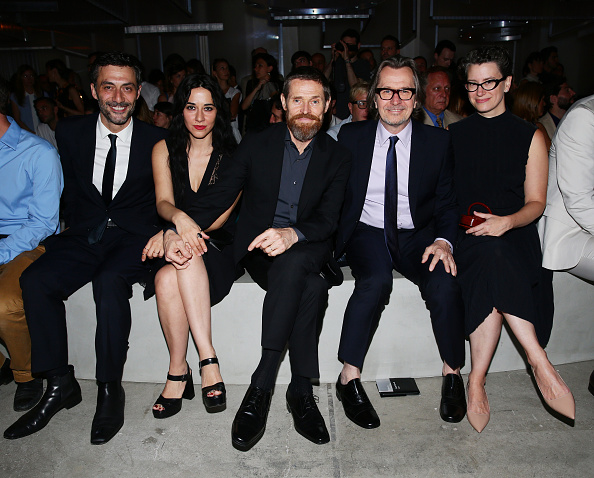 The Italians were out in full force at Prada. Case in point? Filippo Timi, an Italian actor and Giada Colagrande, an Italian director were seated to the left of Willem Dafoe, most recognizable for his performance in Spiderman. Gary Oldman is next to Mr. Dafoe, and both of them have previously starred in Prada's ad campaigns.
Jack O'Connell, the English actor from Unbroken, was prepared to pose alongside the models at Prada.
Looking sunny and charming as usual, English model Daisy Lowe wore a gorgeous knee-length red and black number with a pair of platform sandals.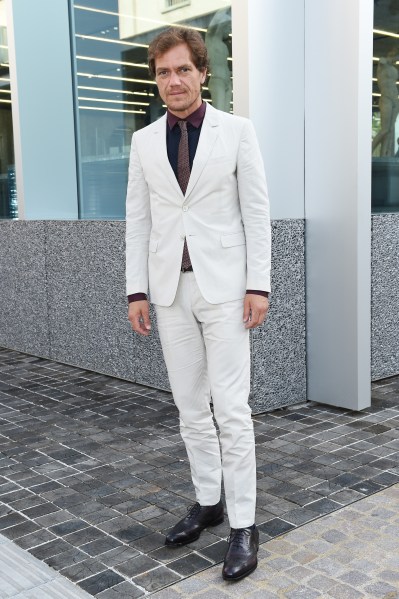 Michael Shannon, whose first ads for the maison were just released, made a brooding appearance as well. We're into his light, slim suit. Good choice, Mr. Shannon.
Gucci followed suit with it's own show-stopping slew of attendees: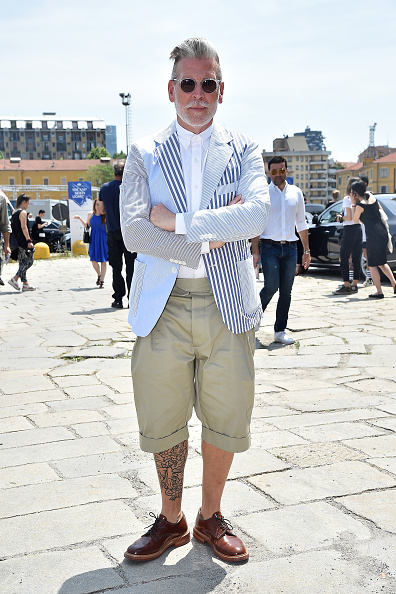 Nick Wooster smartly avoided the classic black jacket that the rest of the crowd reliably clung to at all costs. Exposing his calf tattoo to the Milan sunshine, it's no surprise that Wooster was among the most show-stopping of the event's guests.
Brioni came through with quite a crowd:
Actor Mads Mikkelsen and musician Mike Milosh looked dapper in their staples, posing with Brioni's creative director Brendan Mullane.
And last but not least, we have Giorgio Armani:
Russell Westbrook, Oklahoma City basketball star and certified fashion favorite, wore a note-worthy pair of spectacles, which fought for attention with his blue-soled sneakers.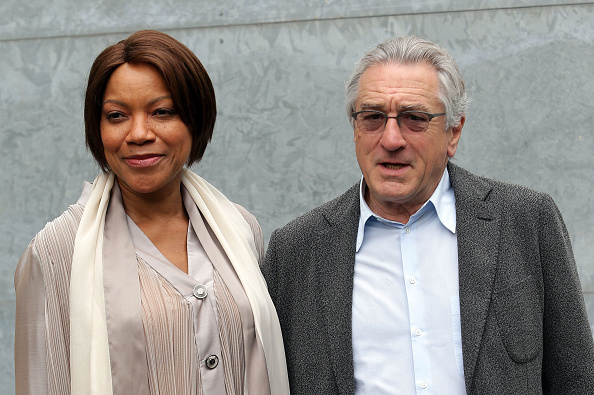 Of course, Grace Hightower and the one and only Robert DeNiro made an elegant appearance to support Mr. Armani.
As Men's fashion week in Milan comes to a wrap, complete with Far East-inspired pieces at Dolce & Gabbana and an avant-garde push from Miuccia Prada, the fashion set moves on. Next stop? Paris, which begins tomorrow.