There was a purge at the Rock and Roll Hall of fame this week. According to Billboard magazine, "16 of the 42 nominating committee have been given their walking papers … [including] more than half of the Hall's Early Rock and R&B Influencers subcommittee." The article only names four of the 16 members who were dumped, and knowing all four (blues and R&B expert Joe McEwen, label exec Gregg Geller, major record label old hand Arthur Levy and legendary publicist Bob Merlis) it's pretty obvious to me that they're deliberately getting rid of those most knowledgeable about early rock and roll. As if this institution—founded and championed and ruled with an iron fist by Rolling Stone boss Jann Wenner—wasn't a huge enough joke already.
I served on the nominating committee for two years, 1992-93, and then was summarily canned after I wrote an article for Billboard on what a sham the whole process is. It seems nothing has changed.
Today, the annual awards show, which has become a major production now that HBO produces a much-watched recap of each year's event, has become the driving force behind selecting who gains admittance.
It's not as though I was stunned to discover that the Hall seems to be putting star power ahead of actual influence and merit. It's always been about business. When I was on the committee, Sire Records honcho Seymour Stein was trying to get the '50s vocal group the Moonglows nominated and another Hall exec actually said, "They won't sell a single ticket to the dinner." Fortunately—and deservedly—the Moonglows got in.
Today, the annual awards show, which has become a major production now that HBO produces a much-watched recap of each year's event, has become the driving force behind selecting who gains admittance. That might explain why Mr. Wenner and Jon Landau, Bruce Springsteen's manager and the second most powerful influence over the Hall, are bypassing influential acts from the 1960s and 1970s in favor of more recent artists that might "sell some tickets" and attract some viewers.
Rock fans have noticed. One friend of mine groused that he was dismayed that "Too many good bands from the '70s aren't inducted yet, like Hot Tuna and Jefferson Starship." Well, he'll likely see Mariah Carey and Jay Z in there before either of those 1970s bands. After all, the Hall seems already to have passed on many major 1960s/'70s artists, among them Deep Purple, Gram Parsons, Jethro Tull, the Turtles, Electric Light Orchestra, Link Wray, the Steve Miller Band, Paul Revere and the Raiders, the MC5, T. Rex, Chubby Checker, Chicago, the New York Dolls, the Monkees, Warren Zevon, Tower of Power, Yes and dozens of others. Fans take to Facebook and compile petitions attempting to persuade the nominating committee to recognize one overlooked favorite or another, usually to no avail. Now, with the pruning of the committee, it's a fair bet most of those favorites will forever be shunned.
To be sure, debating who should and should not be in any Hall of Fame is part of its raison d'etre in the first place. Just as Ron Santo and Richie Ashburn have been the subject of years of barroom arguments by baseball fans, debating the Hall-worthiness of best-selling but critically dismissed acts like the Doobie Brothers and the Moody Blues is a perfectly natural and healthy part of the process.
One friend of mine suggested that the Hall needs to recognize "more innovators regardless of sales and popularity… Roxy Music and Kraftwerk should be in." Another made a strong case for "the first male R&B artist to get a platinum album, singer Teddy Pendergrass." Someone suggested that there's a gap regarding "African-American artists who don't fit Jann Wenner's soul template. I know Bob Marley, Sly, Jimi and Curtis are there. But Arthur Lee and Love, Nile Rodgers and Chic, and especially the Band of Gypsys should be there. I could make a fair case for Grace Jones, Labelle and Joan Armatrading, too."
That kind of jockeying for one's own favorites is part of the fun. But one problem with the Rock and Roll Hall of Fame is that there is no consistent criteria, other than the rule that an artist must have recorded for the first time at least 25 years ago before becoming eligible. When I was on the committee, both the Grateful Dead and Jefferson Airplane were being considered. They had me ask the representatives of both groups which members they wanted inducted if they got in. The Airplane's manager said just the six core members from the 1966-70 era. The Dead said induct everyone who's ever been in the band or no one at all and that's what they got, even songwriter Robert Hunter. Some artists have been inducted without their own bands (like Bruce Springsteen) while others got the full band. They make it up as they go along.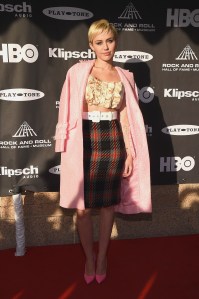 Years ago, I wrote an article for Billboard about what a sham the whole process is. That story earned me a public lambasting by legendary producer (and now convicted killer) Phil Spector at my second nominating committee meeting. He passed around photocopies and said, "What is this guy even doing here? He's calling us all assholes!" I said, "No, Phil, I'm calling you all hypocrites." Afterward he came over and put his arm around me and said, "You know I was just kidding, right?" I wasn't so sure he was but I didn't need to worry—I was kicked off the committee after that.
Last year, I interviewed twice-inducted Graham Nash (for the Hollies and for Crosby, Stills and Nash) and asked him, "Does the Rock and Roll Hall of Fame mean anything to you?" He replied, "Of course it means something. I mean, look at the people who were in there before me. Are you fucking kidding? These people think I should be in there twice?! This is crazy to me. The Songwriters Hall of Fame, we're in there twice, too. George Gershwin, Cole Porter? They think I'm one of them? They're out of their fucking minds! I'm grateful, I am, but it's not why I got into this business."
When the late heartthrob Davy Jones was asked about the failure of the Monkees to gain admittance, he responded to the effect that if the Hall had any relevance they would not have built it in Ohio. That's a good line, but the actual Rock and Roll Hall of Fame in Cleveland and the NYC-based nominating committee that decides who gets inducted are two very different entities. A trip to Cleveland is still very much worth the journey, whatever outrageous omissions and process defects there may be.
Meanwhile, official acclaim isn't and shouldn't be the motivation for any rock and roll band. My follow up question to Graham Nash went like this:
Me: So why did you get into this business?
Graham Nash: To get fucked.
Jeff Tamarkin was the first editor of CMJ and later served as editor of Relix and Goldmine. He is the author of Got a Revolution!: The Turbulent Flight of Jefferson Airplane and co-author with Howard Kaylan of Shell Shocked: My Life with the Turtles, Flo and Eddie, and Frank Zappa, etc.
***