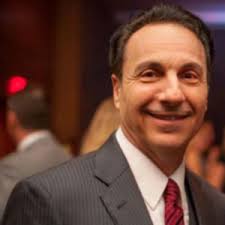 HOBOKEN – Hudson County Freeholder Anthony L. "Stick" Romano became the Hoboken Democratic Committee chairman in what was reported to be a raucous hand-raising vote on Monday night, ousting incumbent Jamie Cryan in an atmosphere familiar for the Hudson County city and its fractious politics.
"It was a compromise of different people coming together," said Romano, 58, in a phone interview following Monday's night vote, which was done by acclamation from the approximately 70 committee members present out of the overall 80 committee members. "I think that I bring stability, and hopefully some organization, to the whole party here to try to bring different factions together."
There was reportedly evidence of factional fighting among committee members at Monday's night committee member vote, with flying spittle an alleged consequence of close verbal combat between Cryan and 3rd Ward Councilman Michael Russo, among other supposed altercations.
But Cryan, who had strongly advocated for machine-count ballots before the meeting, held at Room 84 on Washington Street, declined to comment about any supposed shouting matches and instead looked to the future.
"It was incredible working with some great committee people," said Cryan, 43, the executive director of the West New York Parking Authority and first cousin of Union County Sheriff Joseph Cryan. "The new leadership has my full support."
Romano, elected to a two-year term as Hoboken's Democratic chairman in his third freeholder term, explained how he believes he got the support to defeat Cryan, who was first elected as the Mile Square City's Democratic chair in 2011. In his answer, Romano, a retired Hoboken police captain and the owner of the bar Louise & Jerry's, said that unlike Hoboken's famed native son, the late singer Frank Sinatra, he did not do it all 'My Way.'
"It was a coalition: Michael Russo, [1st Ward Councilwoman] Theresa Castellano, [2nd Ward Councilwoman] Beth Mason and Carmelo Garcia," said Romano, whose last reference to the outgoing 33rd Legislative District Assemblyman augments source reports that Garcia, who was elected honorary chairman by the committee, played a significant role in helping Romano to win. "Don't get me wrong, I think Jamie did a good job. But I think there was a sort of a disconnect somehow, and some people just felt that it was time for a change.
"We should get the committee people more involved. If you look at [neighboring Hudson County municipalities] like West New York, Union City and Jersey City, they really have a lot of stature," added Romano. "And there should be a more united party. There shouldn't be an in group or an out group. It's about trying to build a strong Democratic Party in Hoboken."