Last week, London's Royal Ballet turned up at the Koch after an absence from New York of 11 years. What a change from the old days, when the Brits—following the revelatory visit of 1949, when Margot Fonteyn and The Sleeping Beauty relit the torch of classic ballet in America—crisscrossed the country to sold-out houses everywhere. The Royal has since then gone through good times and bad (not so long ago, mostly bad), but it began to recover under the leadership of Monica Mason and now Kevin O'Hara. Reduced to a single week's visit, the company made a strong impression—or, rather, two strong impressions: one, of an ambitious artistic agenda; two, of muddled and naïve management.
There were two programs. Program A consisted of two long one-act ballets—Frederick Ashton's The Dream and Kenneth MacMillan's Song of the Earth. In the abstract, that pairing makes sense, Ashton being the company's greatest choreographer, Macmillan the man who succeeded (in truth, displaced) him. But of all Ashton ballets, The Dream is the one we most frequently see: ABT performs it superbly every few years at the Met, and with casts actually superior to the Royal's. Not that the Royal's were weak, but the seasoned and attractive Sarah Lamb and Steven McRae (Titania and Oberon) are not on the magnificent level of ABT's Gillian Murphy and David Hallberg (or Marcelo Gomes), and our Herman Cornejo as Puck is on an entirely different level from James Hay—or anyone else.
The Dream, even so, is always lovely to watch, and the Royal company certainly understands Ashton's style. But why not bring us one of the many Ashton works we long to see instead of one that even the Royal management must know we see all the time?
Deeply unlovely to watch was Song of the Earth, much admired in England, and rarely (thank the Lord!) on view here. First of all, it's endless; every time you think … hope … pray it's over, it cranks up again. Second of all, Mahler is not exactly the most danceable of composers. Third of all, the dance vocabulary doesn't reflect or embody the music. Whatever you think of Mahler and this famous song cycle, it's a large-scale and potent piece of music, whereas MacMillan's ideas are thin and vaporous.
Marienela Nuñez, in white, is a fine, clean dancer, but she's onstage forever in a role that had no variety or resonance. The Cuban bombshell Carlos Acosta, a great favorite at Covent Garden but now fading, is Death—you can tell because he's in black. Tall, thin, affectless Nehemiah Kish is the Lover. The three of them plus a large group of demi-soloists and corps dancers have their eternal ups and downs, until the three principals finally wander upstage into the Beyond. All this is accompanied by a large orchestra and a really poor tenor and only slightly better mezzo. Can't the Royal afford first-rate singers? If only there had been surtitles sporting Wikipedia's translation of the text: "O beauty! O eternal loving-and-life-bedrunken world!"
***
Program B was a lot more satisfying. Not the over-extended opener, Wayne McGregor's Infra, to an ultra-minimalist score by Max Richter, for which McGregor, now the company's resident choreographer, abandoned his usual frenzied kinetic style for something more pretentious—more minimalist. Up above ran a continuous strip of animated stick figures, apparently people rushing through a train station. (Or not.) Down below, sometimes perceptible through the gloom, six couples were stretching and thrusting, everyone flaunting the most extreme extensions yet. There's a lead couple—he's bare-chested—but in the general darkness, it's not always easy to tell who's doing what to whom. Unmissable, though, and unforgettable: at one delicate moment, a man grinds his foot into his lady friend's crotch.
Then came a divertissement, beginning with a very late minor piece of Ashton's, Voices of Spring, created for a production of Die Fledermaus. Then three male solos, one of them Calvin Richardson's junky version of The Dying Swan, danced by Calvin Richardson, and the most interesting by far, a quirky and witty snatch ("Le Beau Gosse") of Nijinska's famous 1924 Le Train Bleu. Then a smooth predictable pas de deux from Christopher Wheeldon's Aeternum, with lots of over-intricate partnering. And finally a highlight of the week: the "If I Loved You" pas de deux that MacMillan created for Nicholas Hytner's acclaimed National Theatre production of Carousel. MacMillan died six weeks before the opening, but his work won every possible choreography award in London and New York, and deserved them. My favorite Royal ballerina, the passionate Lauren Cuthbertson, and the sexy Matthew Golding swept the audience away. And so did Richard Rodgers' glorious score, reminding us of what a supreme melodist he was.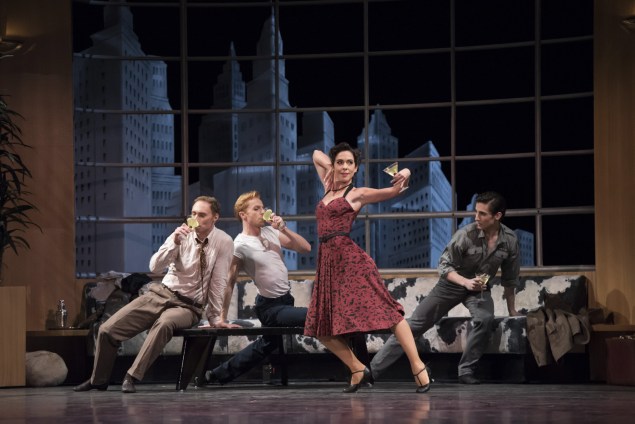 The final ballet, and the biggest surprise of the season, was Liam Scarlett's The Age of Anxiety. I've seen about half a dozen pieces of his, almost all of them in today's standard highly charged kinetic mode. But this three-scene work—beautifully designed by John Macfarlane (a wartime New York bar, a glamorous New York apartment) and wonderfully lit by the incomparable Jennifer Tipton—is unlike any of his previous work. Based on a long, somewhat stultifying dramatic poem by W.H. Auden and using Leonard Bernstein's Symphony No. 2, it projects the existential anxieties of four lonely adults emotionally adrift in the modern world. Jerome Robbins made a ballet from it for City Ballet in 1950. I saw it only once (it didn't last long) and remember only a lot of pretentious posturing and psychological intensity, but also a good deal of jazzy and appealing dance.
Scarlett's version doesn't have a clear storyline, but the poignant way he presents the inner and outer lives of his four central characters as they meet, interact and separate, left me feeling I had experienced a world and a worldview. The awkward fumblings toward friendship, even intimacy, come to nothing, yet something has happened. Only the semi-rhapsodic ending as the sun comes up over the city skyline seems hokey—but so does Bernstein's music at that point.
This ballet seems almost retro in its grappling with ideas and interior life, but for this very reason it also seems bravely untrendy. It has a quality absent from all the other new works the Royals brought us—it's interesting. And how fascinating to compare Scarlett's new Age of Anxiety with that other early Robbins-Bernstein collaboration, Fancy Free—also set in a bar, also about people at loose ends in New York, but a joyous celebration of horniness, not a navel-gazing exploration of angst. Jerry Robbins changed a lot in the half dozen years between his two ballets, and Liam Scarlett has, to considerable effect, followed in his footsteps.
 ***
So the Royals' season, despite disappointments, was well worth watching. But, dear Brits, in the future try to avoid some irritating blunders. First of all, please show us whether you can still dance the classics. Please cut down on the unnecessarily interminable intermissions. Please stop milking your curtain calls. Please don't schedule your first casts only at evening performances and your second casts only at matinees—it's insulting to your dancers, and inconvenient for your audience. Please think more sensibly about your repertory. Please, if you're going to employ singers, employ good ones. Please give us more informative playbills and, if you're singing, provide texts—this is called kindness to animals. And most important, please come for more than a week: We can't really assimilate a major ballet company that brings us only two programs.