While you were busy enjoying your weekend, the royal tots of England had some fun of their own, at least online. The very first image of both Prince George and Princess Charlotte was shared to the world via the Kensington Palace Twitter account. These pictures weren't snapped by a professional photographer; their mom Kate Middleton was responsible for capturing these moments between the prince and princess.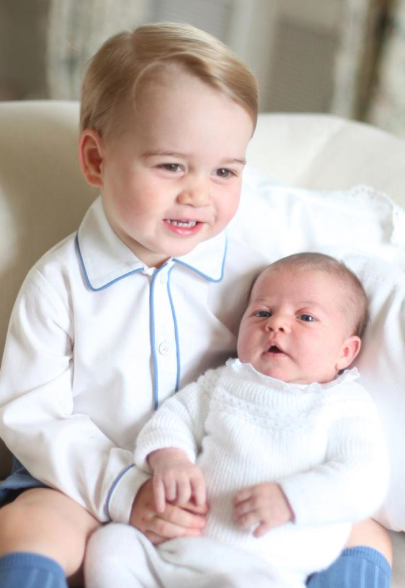 The two siblings are adorably color coordinated, with baby Charlotte swathed in a white knit sweater from Irulea and her older brother George buttoned up in a Rachel Riley outfit with blue accents. Those socks are rather cute too, right?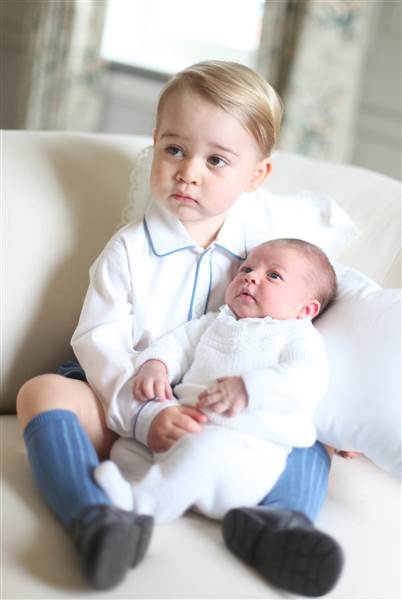 But they weren't the only relatives of Kate Middleton to flex their style muscles this week: The Duchess's sister Pippa Middleton announced her first tryst in the world of fashion design. Though it's not particularly high fashion, the younger Middleton joined forces with designer Tabitha Webb to create a dress and scarf.
Both floral pieces will be sold to benefit the British Heart Foundation, as a lead up to their Brighton Bike Ride fundraiser on June 21, which the newly minted designer will be riding in. Ms. Middleton paired her scarf with a Canadian tuxedo on Webb's website and her collaborator clearly likes pairing this print with a blue accent: "The dress is perfect for the summer –either worn with a denim jacket and pumps for a casual look or dressed up with heels for a special occasion."